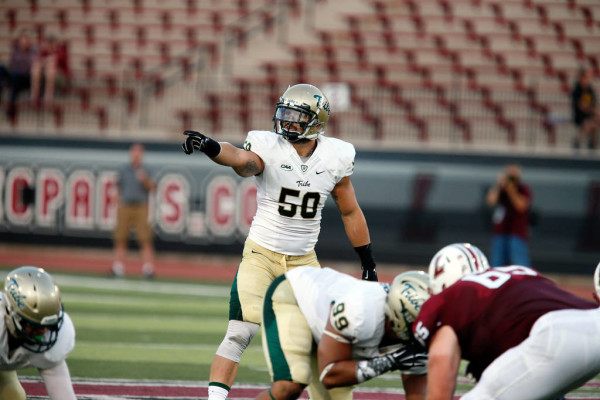 Defense in Brief: After a little more than half a decade of outstanding defense defining William and Mary football, including three Football Championship Subdivision top-10 squads (2009, 2010, 2013), the Tribe enters 2015 with more questions than answers on the defensive side.
Injuries struck every position last season, decimating what promised to be a premier unit and derailing the season with a home collapse against Richmond in the season finale with the Colonial Athletic Association playoffs on the line.  The College's woes at cornerback against the Spiders were a microcosm of a frustrating season, as the Tribe was left with third-string players in the cornerback position.
It remains to be seen if the healthy 2015 defensive unit can top the mediocre performance of the injury-riddled 2014 squad. Last season the Tribe began with sky-high expectations off the strength of eight returning starters from a 2013 unit that ranked second in the nation in scoring defense and eighth overall in total defense. However, the College never came close to those numbers, finishing fifth in the 12-team CAA in scoring defense and a dismal ninth in the CAA in total defense
The main concern of the 2015 defensive unit is its youth. William and Mary graduated five starters last year, three of whom were defensive linemen. Two of those players, defensive end Mike Reilly '15 and defensive tackle Jasper Coleman '15, were signed by National Football League teams this past offseason. The Tribe also features two fewer All-CAA preseason picks than last season. Furthermore, the defense surrendered 322 yards against Lafayette, a concerning statistic given the Tribe's upcoming schedule of higher caliber opponents, such as Richmond and James Madison.
---
Defensive Line: With Reilly's graduation, the Tribe singlehandedly lost 43 percent of the sack production from 2014, as Reilly, the CAA Defensive Player of the Year, tackled the quarterback 11 times last year. No other player exceeded five sacks. William and Mary will also have to replace four-year starter Stephan Signott '15 on the other edge. Coleman will be missed on the interior.
This year's front four will be anchored by the sole returning starter, senior defensive tackle Tyler Claytor. Claytor has excellent size at 6'3", 295 pounds and has a penchant for disrupting the passing game, as evidenced by his five sacks in the final six games of last season. Claytor will be looked to as a leader in stuffing the run as well. He finished with only two fewer tackles than did Coleman.
Lining up beside Claytor will be sophomore Isaiah Stephens, who distinguished himself last season as the only true freshman defensive lineman to start for the College since 2001. At 6'2", 324 pounds, Stephens has the elite size and leverage to become a star for the Tribe.
At the edges, the Tribe will look to sophomore right defensive end Xavier Roscoe (6'3, 235 pounds) and junior left defensive end Peyton Gryder (6'3, 255 pounds) to step up. Although Roscoe is a little undersized for his position, his four tackles in the Lafayette game — three more than any other defensive lineman — testify to his ability to still make plays. However, the pass rush is an area of major concern. Lafayette dropped back 45 times to pass, yet the Tribe did not manage a single sack.
The starting ends however, are far from set in stone. Sophomore end Matt Ahola (6'2, 250 pounds) played significant time against Lafayette, racking up a pair of tackles. Ahola will continue to compete for time as the season progresses.
---
Linebackers:    With the linebacker corps, everything centers around All-CAA senior middle linebacker Luke Rhodes.
"We're returning an outstanding player, an all-conference linebacker in Luke Rhodes," head coach Jimmye Laycock said. "He's an outstanding leader, one of our captains, and just a very good player."
"We're returning an outstanding player, an all-conference linebacker in Luke Rhodes," head coach Jimmye Laycock said. "He's an outstanding leader, one of our captains, and just a very good player."
Rhodes is currently on the Butkus Award Watch List for best collegiate linebacker, the only FCS player on that list. Rhodes started every single game of 2014 and racked up a team-high 93 tackles in addition to four sacks. At 6'2", 242 pounds, Rhodes has the size to challenge guards between the tackles. Although his stats in coverage are somewhat scarce (15 pass deflections and one interception over three years), Rhodes' ability in stuffing the run has raised speculation of an NFL career. Rhodes is fully aware of his role on the team.
"I need to keep doing what I've been doing, [which is] leading and controlling the defense while making the plays that come to me," Rhodes said. "On defense, it takes all 11 of us to be successful and make plays, and building others around me will help us all out over the season."
On either side of Rhodes will be returning starter junior Marcus Harvey at left outside linebacker, while senior Ian Haislip will start at right outside linebacker. Harvey (6'2", 210 pounds) battled injuries last season, managing to play in only seven games and accumulating 30 tackles. Haislip (6'1", 230 pounds) managed only two starts behind Airek Green '15 last season, but will certainly improve upon that statistic, as evidenced by his eight tackles in Saturday's victory.
---
"On defense, it takes all 11 of us to be successful and make plays, and building others around me will help us all out over the season."
Secondary:  The unit hit hardest by injuries last season may be facing the least uncertainty as the 2015 season gets under way. Although the Tribe graduates 2014's fifth-leading tackler Ivan Tagoe '15 from free safety, senior cornerback-turned-safety DeAndre Houston-Carson is more than ready to make the transition, leveling the Lafayette ball carriers for a team-high 11 tackles against Lafayette. Houston-Carson is ever-eager to challenge the run, returning from a season-ending injury late last season, and his team-high three interceptions last season show he's equally talented against the pass. Houston-Carson is one of two Tribe defenders awarded preseason All-CAA honors, along with teammate Luke Rhodes.
At strong safety, senior Jared Velasquez brings two years of starting experience back for the Tribe. Velasquez tracked down opponents for William and Mary's second-highest tackle total (73) in 2014. Between the safety duo of Houston-Carson and Velasquez, safety ought to be one of the Tribe's strongest positions in 2015.
Junior cornerback Trey Reed managed to start every game in 2014, a testament to his durability. Reed has shown excellent ability to play the run, forcing three fumbles in 2014 and racked up 49 tackles, although he did not record a pick. Opposite Reed will be sophomore cornerback Aaron Swinton. Swinton started in three games last season, but played in 10 games total in various roles, notching 30 tackles and a pick. Swinton also picked off a Lafayette pass in the end zone in the season opener, hopefully an indication of what is to come for the Tribe defense.
Overall, the Tribe will likely have to rely more upon the offense to come through in the clutch than in previous seasons. This is due to the questions of experience overshadowing the team's five new players, especially with a completely blank slate at defensive end. The Tribe will need to improve in rushing the passer and the linebacker corps has to stay healthy if the College wants to earn a position in the CAA playoffs.