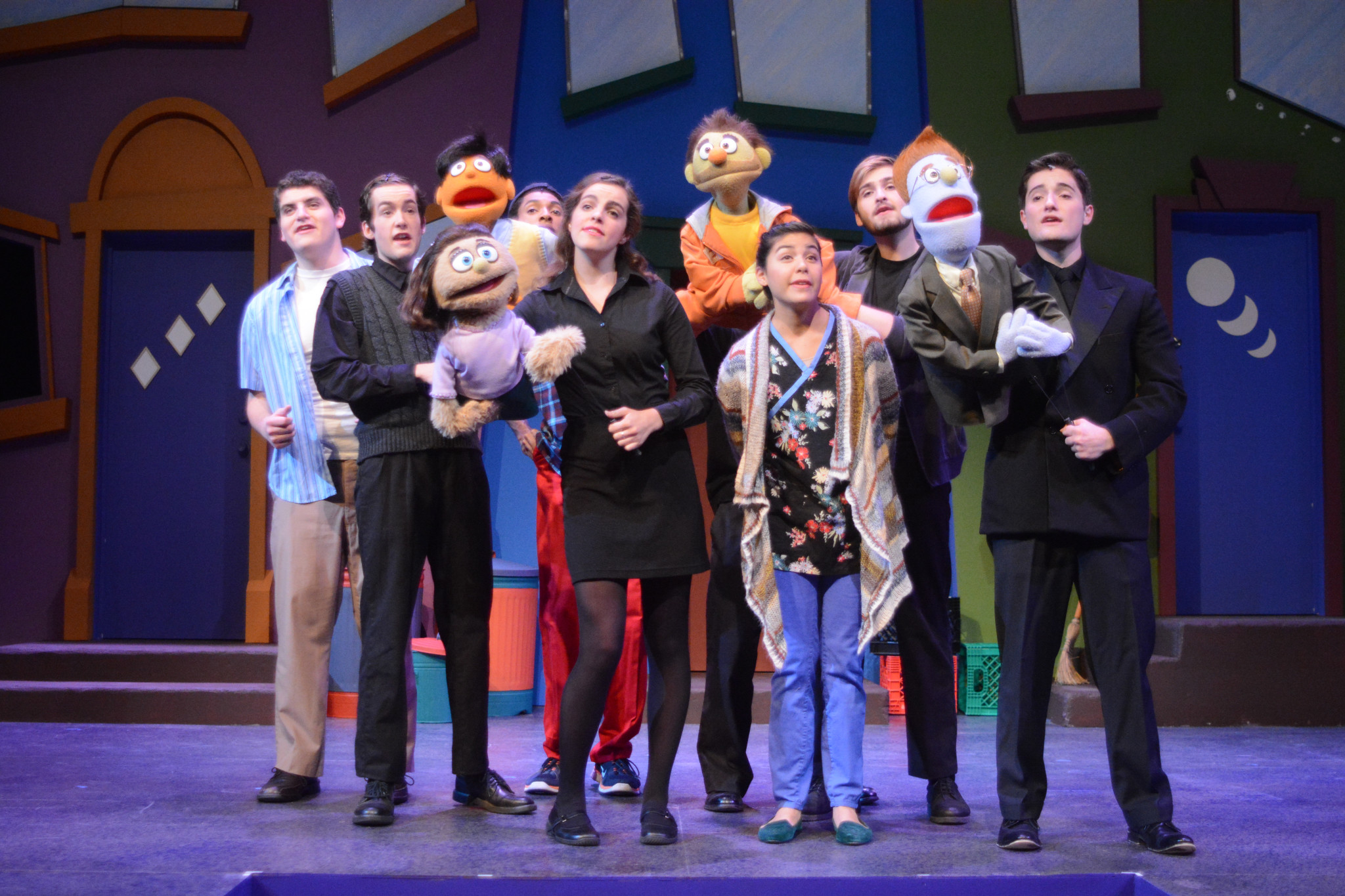 What do you do when you're a broke college graduate with a useless degree, zero job prospects and no purpose in life? William and Mary Theater presents the answers to some of life's most challenging dilemmas in their upcoming production of "Avenue Q" playing at Phi Beta Kappa Hall Nov. 12 through 22.
Since its off-Broadway premiere in 2003, Avenue Q has won three Tony Awards — including Best Musical — and has enjoyed two national tours. This snarky musical follows the residents of Avenue Q as they search for success, love and acceptance in an often unforgiving world. Through vibrant choreography, songs and, of course, Sesame Street style puppet characters, the show presents themes of race, homelessness and sexuality in a manner that is essential for college students struggling to coming to terms with the unknown, but ready to embrace their futures.
The cast of Avenue Q didn't miss a beat during this fast-paced performance and portrayed a vast array of personalities with humor and finesse. The challenges of acting with puppets were not apparent in the slightest, as the actors demonstrated great skill in breathing life into their inanimate counterparts. Never missing a chance to showcase their strengths, the dynamic group forged believable connections with each other and with the audience. Despite the fact that the cast was often overpowered by the orchestra, their collective strength was apparent in numbers such as "It Sucks to Be Me" and "The Money Song."
The adaptable ensemble made the most of their time on stage, showcasing their vocal dexterity and enthusiasm in "Purpose" and other numbers. Mary Turgeon '18 and Cat Grundy '17 stood out as the Bad Idea Bears, a persistent twosome who excelled in giving bad advice. Both Turgeon and Grundy fully embodied their characters and were a highlight of the performance.
The cast featured many dynamic voice actors. Tom Kalnas '17 played Trekkie Monster, the unsavory upstairs neighbor with a great deal of exuberance. Tyler Bell '16 tirelessly embraced his character's struggle to accept his sexual identity and proved his vocal skill during the songs "Fantasies Come True" and "My Girlfriend Who Lives in Canada." Bell played well across from Conor Wilson '19 who portrayed Nicky, a lovable but messy roommate, with excellent comedic timing. Gillian Gidice '17 played Lucy the Slut with a remarkable stage presence only matched by that of Keaton O'Neal Hillman '16, playing Gary Coleman, who exuded boundless energy with his strong singing voice.
Andrew Perry '16 and Madeline Murphy '16 led the cast as Princeton and Kate Monster, respectively, with commendable chemistry in several scenes. Brittany Liu '16 proved to be an adaptable actress in both comedic scenes and more serious songs such as "The More You Ruv Someone."
The bright and bold set breathed life into the space and allowed for spontaneous entrances that kept the audience guessing, while precise lighting cues directed the audience's attention during asides. Each actors' costumes and hair gave a subtle nod to the character they portrayed.
With a multitalented cast of actors and their puppet counterparts, William and Mary Theater presented this snarky show with wit and energy. Whether it's the friends you love, the roommates you hate or the bills you just can't pay, Avenue Q serves as a reminder to embrace your flaws and enjoy life's unexpected twists.