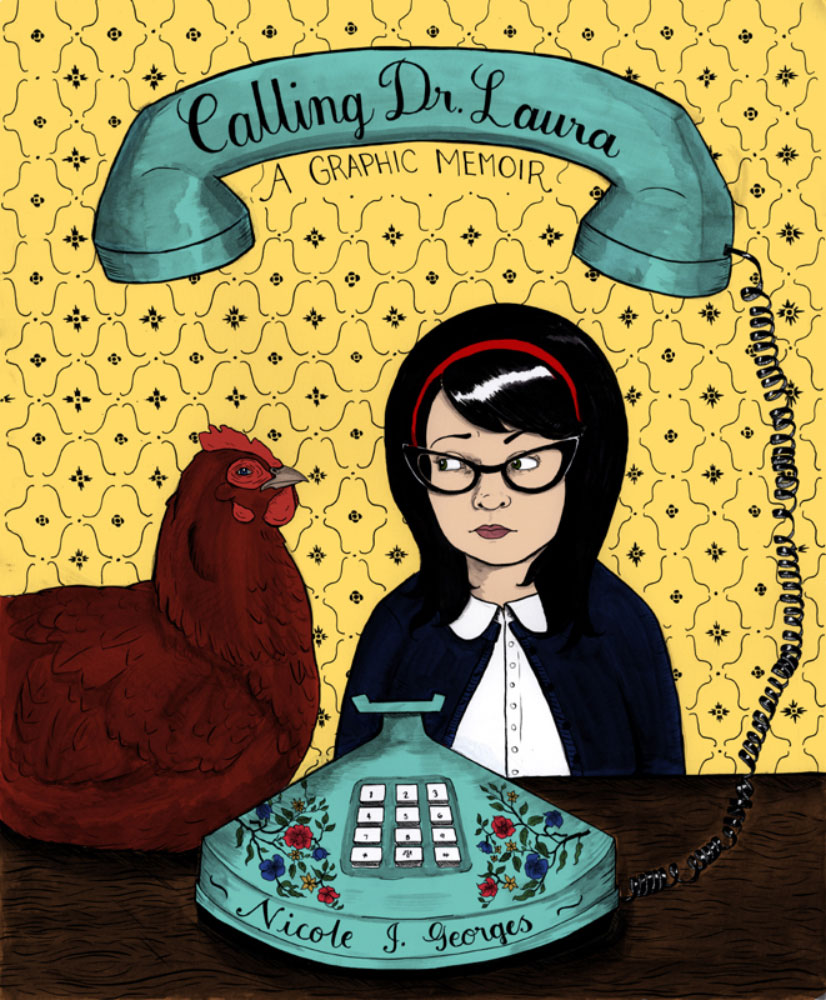 For Nicole Georges, work on her book doesn't end when she finishes writing the story. When the writing ends, the drawing begins.
This semester Georges joined the College of William and Mary English department as the 2015-2016 Donaldson Writer in Residence to share her experiences as a graphic novelist.
While at the College, she is working on the art for her next book, "Fetch: How a Bad Dog Brought Me Home," which will be finished by July, as well as teaching a master class on autobiographical comics.
"My students are great," Georges said. "They're a pleasure to work with."
Georges, a Portland-based artist, illustrator and teacher, published her first graphic memoir in 2013 after years of making autobiographical zines, or short, self-published magazines.
Her zines are now collected in two anthologies entitled "Invincible Summer." She is a self-taught artist whose work has been influenced by cartoonists such as Phoebe Gloeckner, Lynda Barry and John Porcellino.
"I put out tons and tons of comics and I knew I wanted to write a graphic novel someday," Georges said.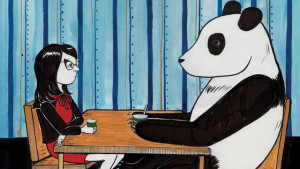 Through her work with zines, Georges said she developed her style and her voice. She says that these elements are essential for artists to find, especially when working on long projects.
"You need to commit to one style and one voice for years," Georges said.
Her first graphic memoir, "Calling Dr. Laura," intertwines the stories of Georges discovering family secrets and discovering herself.
In the memoir, Georges' girlfriend at the time gifts her with a palm reading session in which she is told her father is still alive, although she grew up being told he was dead.
Eventually deciding to phone in to speak to the famous radio talk-show host Laura Schlessinger for advice on her situation, Georges then struggles to figure out her own identity through a series of events that ensue.
"Calling Dr. Laura" was met with both national and international recognition. It was awarded the Lambda Literary Award for LGBT Graphic Novels and was officially selected at the Angouleme International Comics Festival in France.
Though new to the College, Georges is no stranger to teaching.
She has had experience teaching children, adults and senior citizens about zines, comics, graphic novels and self-publishing.
In her classes, Georges said she emphasizes her mission in art and in life:  People can be empowered through self-expression.
According to Georges, working with seniors who discover they could be published taught her that she wanted to give young people the tools to express themselves and feel like that their voices are important.
"They have never been told they could be published and that their voices deserved to be heard," Georges said.
Representation of various minority communities in art is also important to Georges.
As a woman in comics, she said she had to look for role models for herself and hopes that through art, people will be able to create more role models for other future artists.
While teaching and working on her next graphic memoir, Georges is living in Richmond.
She said she comes to campus several days a week and makes herself available to her students as much as she can, whether on Skype or in person, even if it is just to help them figure out how to draw something.
"Be a lifelong learner," Georges said. "There's always more to learn."
Georges said she encourages both artists and students to learn from everything they can and that students can learn from anything, from movies to bad art.
Georges said students can learn from all their experiences, not just their classes. She also said students are paying for classes, so they should take advantage of their opportunities and all they have available. As for artists, Georges said to start small and develop a voice.
"There aren't tools that make you a writer," Georges said. "It's just you."
Following her residency and the completion of "Fetch," Georges said she has lots of plans. She will be joining the faculty at California College of the Arts.
She plans to expand into a variety of genres, hoping to write a television screenplay for "Calling Dr. Laura" and a children's book.
Addtionally, Georges plans to continue to work on her podcast, Sagittarian Matters, for the foreseeable future. In this podcast, she interviews a variety of guests, including cartoonists, feminists and people from the queer community.
"I like that people can feel empowered by self-expression," Georges said.
Here at the College, in addition to so many other communities, Georges said she is teaching students this lesson early.