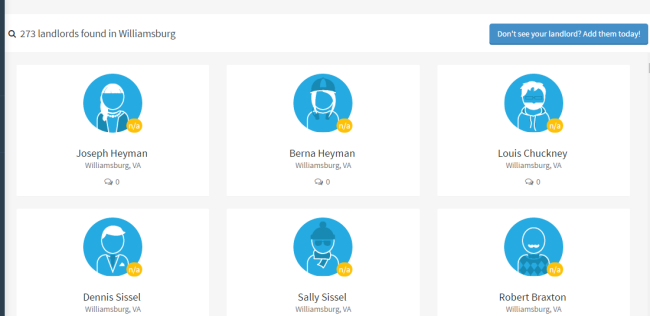 Student Assembly President Eboni Brown '17 announced in a campus-wide email that students could now review and rate their landlords or property managers in Williamsburg through the website www.whoseyourlandlord.com.
The idea for this website was conceived in a Neighborhood Relations Committee meeting and then implemented by SA. All of the data is public information acquired from the City.
According to SA Secretary for Public Affairs Jakob Stalnaker '16 J.D. '19, a lot of the issues related to student housing stem from a lack of information.
"We have a transient population," Stalnaker said. "Students are trying to find off campus housing, but no one knows who the good landlords are and who the landlords that charge substantial rent are. This is a way for people to understand the playing field of Williamsburg before the sign the lease. It helps maintain the flow of information."
Stalnaker, SA Chief of Staff Sahil Mehrota '17 and other Cabinet members input the data for all of the landlords and property managers in the City of Williamsburg. The website also includes limited licensing corporations. This website has also been used in cities like Washington, D.C.
Off-campus student housing was a big-ticket item in May's City Council elections. While all five contenders agreed that town-gown relations were much better than they had been in the past, all proposed solutions that would improve them. City Council member Barb Ramsey '75 included this proposed website in her platform.
The point of this is not to be combative in any way," Stalnaker said.
"The point of this is not to be combative in any way," Stalnaker said. "I really want to emphasize that. We are trying to advocate for students in a way that makes the dynamic between landlords and students more fair and more equitable. Part of that is through education about what students' rights and responsibilities are as property renters. Students should know what they have to do as property owners and should be able to have a mutual relationship of respect. We are not trying to attack landlords in any way."
Landlords have the option to respond to students' comments in two ways: they can comment back or report the comment if it is negative. Stalnaker said he hopes that this will be a good way to promote conversation between landlords and student renters. Throughout the year, SA will be encouraging students to use the website.
According to Mehrota, the website ties into Brown and SA Vice President Hannah McKiernan '17's platform.
Eboni and Hannah ran on a platform of inclusion, advocacy and diversity and this is just an extension of advocacy because it provides students an opportunity to have power and it is a resource for when students are deciding where to live," Mehrota said.
"Eboni and Hannah ran on a platform of inclusion, advocacy and diversity and this is just an extension of advocacy because it provides students an opportunity to have power and it is a resource for when students are deciding where to live," Mehrota said. "People should be able to vote with their wallets to support people who are good. It's a great informational resource and it's good to have in one location. It's not word of mouth. It's not like 'Rate My Professor,' it's not anonymous."