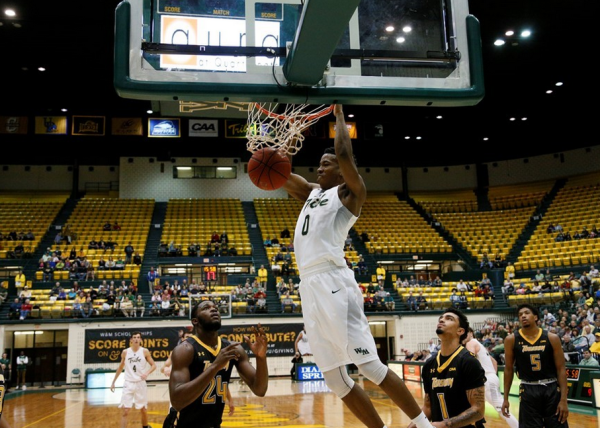 We were in attendance at the annual Green and Gold scrimmage on Saturday in Kaplan Arena. Here are our five takeaways:
Death, taxes, and Connor Burchfield will make threes
Prior to the beginning of the scrimmage, the Tribe ran drills and conducted a brief shoot-around. Watching Burchfield warm-up from behind the arc was like watching a movie after reading its plot summary on Wikipedia. You just knew what was going to happen. He would release, the ball would spiral through the air in a graceful arc, and then it would soar through dead center of the hoop. The net hardly wavered.
The junior sharpshooter led the NCAA in three-point percentage last season, converting 56.3 percent of his attempts from beyond the perimeter, and looks to continue this impressive clip in an expanded role this season. Despite his immediate scoring boost, Burchfield was a defensive liability at times last season, which made it difficult for head coach Tony Shaver to justify playing him down the stretch. In brief flashes during the scrimmage, he looked more reliable defending on the perimeter. However, he still seemed slightly uncertain of what to do with the ball on the offensive end when a shot wasn't immediately available. Burchfield showed distinct improvement from last season, and with an improvement in decision-making and defensive footwork, he could be a crucial piece to the Tribe's 2016-2017 season.
David Cohn looks sharp
You can't ask for too much more from starting point guard David Cohn. He's an excellent passer. He seldom makes mistakes: His assist-to-turnover ratio of 2.88 was the 26th best in the NCAA last season. He's a relentless defender who can change gears rapidly and blow past defenders to get to the rim. He can finish at the rim through significant contact. He never seems indecisive when the ball is in his hands; he's either setting up his offense at the top of the key or moving where he wants to go. He can really shoot it, too. Cohn shot 50 percent from the field and 47.2 percent from downtown in Colonial Athletic Association play last season.
The crazy thing about Cohn's role is that it looks to expand in 2016-2017. With the graduation of Terry Tarpey '16, the ball will be in Cohn's hands at the end of possessions a lot more. While he was primarily a distributor last season, Cohn looks to continue his impressive passing game while taking on an increased scoring load. Cohn averaged just 9.4 points per game last season, a testament to his dedication to getting his teammates involved. However, his offensive efficiency indicates his scoring is primed to take a leap with increased opportunities.
Matt Milon will be a huge addition — in 2017
Milon played his first collegiate season at Boston College before announcing his decision to transfer to William and Mary last spring. The 6'4" guard appeared in 30 games for the Eagles, earning three starts and averaging 16.6 minutes a contest. Milon's best game would come against eventual Final Four participant Syracuse in Atlantic Coast Conference play. He erupted for 25 points, burying 8 of 12 from the field and 5 of 7 from distance.
NCAA transfer rules require Milon to sit out the upcoming season, but he gave Tribe fans in attendance Saturday plenty of reasons to be excited when he becomes eligible to play in fall 2017.
Milon can flat-out shoot the basketball. He is lethal from three-point range. He shot 49.4 percent from downtown last season to record the fifth best three-point shooting percentage in the NCAA. And he's not just a catch-and-shoot player. Milon can create his own shot opportunities with the ball in his hands. Several times throughout the scrimmage, he created ample space between him and the defender with a wicked step-back move. Once free, he didn't hesitate and buried shots from all over the court.
Daniel Dixon demonstrates no regard for human life
After being hampered by injury for a significant portion of last season, Dixon looked like a different player on Saturday as his explosiveness was on full display. During one offensive possession, the senior bolted past his defender down the baseline, leapt into the stratosphere and dunked all over an anonymous guard – the Flat Hat protects the identities of poster victims –   triggering a roar from those in attendance.
Dixon showed why he's an absolute terror to opposing defenses throughout the duration of the scrimmage. The 6′ 6″ shooting guard possesses the size and explosiveness to easily penetrate and get into the lane. And teams simply can't afford to give Dixon space to operate on the perimeter. He fires away from behind the arc at a career 39.2 percent clip.
Now back to full health, look for Dixon to make his final season his best one yet.
Omar Prewitt will probably be the best player in the CAA
Omar Prewitt is very good at basketball. The 6′ 7″ senior is the most complete and versatile player on the Tribe roster. While the contributions of other players will undoubtedly be important, the fate of this season's Tribe campaign rests largely on Prewitt's shoulders. He's proven he can score, pass, rebound, and defend. He can play multiple positions. A first-team All-CAA selection last season, Prewitt finished third in the conference in scoring, averaging 17.8 a game.
Despite his past success, Prewitt showed even more promise for this season in Saturday's scrimmage. On one possession, he took the ball down the lane and drew a double team, as he likely often will in the future as the focal point of the Tribe's offense. Rather than pass the ball back out to reset the offense, Prewitt looked more comfortable with the ball than last season as he slipped a pass between the outstretched hands of a defender and to a wide open teammate under the basket. This glimpse of Prewitt's improved passing game is a telling sign that his game has matured and that he has even more to offer this season.