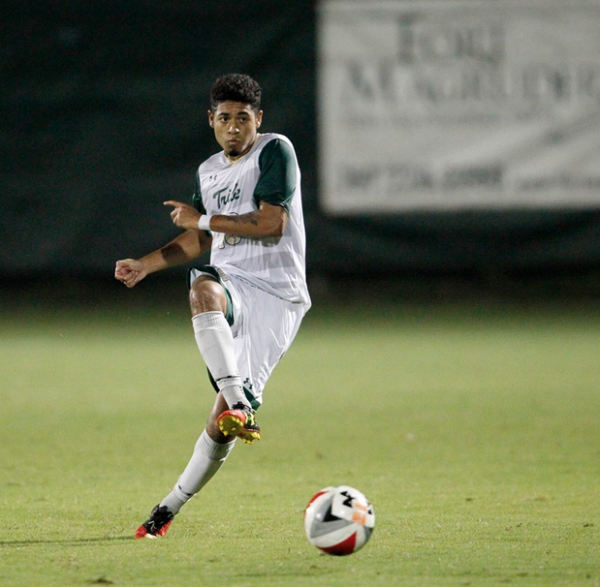 With less than 2 minutes left in its final regular season match, William and Mary (10-6-2, 3-3-2 Colonial Athletic Association) earned at least one more opportunity to take the field this year. Thanks to a last-minute winner by sophomore midfielder Antonio Bustamante, the Tribe beat Drexel (1-13-2, 0-7 CAA) and locked up a spot in the CAA Championship tournament.
Up until the 88th minute of the game, things looked bleak for the College. Despite a dominant 28 shots, no Tribe forward could beat Drexel goalkeeper Tyler Afflerbach.
"It was one of those nights where the Drexel guys fought and threw themselves in front of a lot of shots, their goalkeeper played well, and you got that feeling that it just might be one of those nights where it's going to be really, really difficult to score," head coach Chris Norris told Tribe Athletics after the game.
You got that feeling that it just might be one of those nights where it's going to be really, really difficult to score,"  head coach Chris Norris told Tribe Athletics after the game.
The College beat Virginia Commonwealth (6-8-3, 4-2-1 A10) 4-0 earlier in the week, with goals from redshirt senior midfielder Jeff Bombelles, sophomore forward Ryder Bell, freshman forward Reeves Trott and freshman midfielder Julian Ngoh. After demolishing a solid opponent, the game against Drexel seemed like a formality before heading to the tournament.
However, the Dragons' defense held strong for the first half, and although several Tribe shots found their way past the wall of defenders, Afflerbach was not easily beaten. Bustamante hit the post in the second half, and despite having seven shots on target, the Tribe still could not break through. With the clock ticking down, the College turned to two players whom Norris credited for their consistency all season: Bustamante and junior forward William Eskay.
With less than 2 minutes to play, Eskay glided by Drexel's outside defender and dribbled to the end line, sliding an inch-perfect pass into Bustamante's path.
"I like Antonio in that situation better than anyone we have, probably," Norris told Tribe Athletics.
Bustamante's right-footed shot hit the left post on the way in, and the entire Tribe team dog piled in celebration by the corner flag.
Norris was also impressed with the defensive focus of his team in a game where it easily could have slipped up. Redshirt junior Phil Breno notched his sixth shutout of the season, only having to make two saves behind a strong defense.
"It's a game where you easily can get a little distracted and think that you're comfortable, and then maybe guys aren't preparing for a counterattack well," Norris observed, which bodes well for the stronger competition that the CAA Tournament promises.
The Tribe has locked up the fourth, fifth or sixth seed in the CAA Tournament, depending on results of games played Nov. 1. UNC-Wilmington (8-5-2, 3-2-2 CAA) and Elon (7-5-3, 3-2-2 CAA) will play for seeding, and a lopsided result in this game could see the College sneak into the fourth spot, which would allow the Tribe to host a first round game. This would be a huge windfall for Norris and his team, because they boast an 8-2-1 record at Martin Family Stadium. At home, the Tribe has only dropped its opening day match to George Washington (7-5-5, 2-3-2 A10), and has won five in a row.
However, the College looks far more likely to receive a fifth or sixth seed, which would see it visit Elon or UNC-Wilmington. It holds a far more pedestrian 2-4-1 record away from home, including a draw at Wilmington and a loss to Elon. The Tribe has won three games on the bounce, though, and Norris is confident that they can continue their success.
"We just want to have another opportunity to play," he told Tribe Athletics. "We feel like we're playing as well as we possibly can, we're healthy, and we're excited to have an opportunity to keep going."
The CAA Quarterfinals are scheduled for Nov. 5, while the semifinals and finals will take place Nov. 11 and Nov.13, at the home of top-seeded Hofstra.