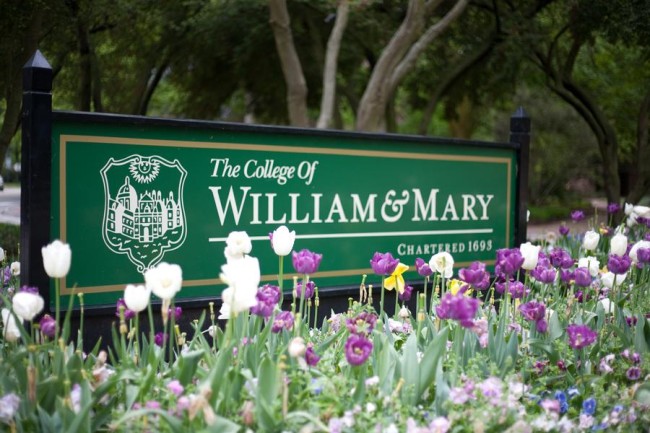 More than 10 years ago, members of the College of William and Mary's Pi Kappa Alpha fraternity promised local reporters that they would rename their annual "Vietnam" party, after Vietnamese-American students raised concerns that the party was offensive.
When the party was first held in 1964, it was done as a send-off for College students leaving to fight in the Vietnam War. In 2006, Nam Ly '06 told the Daily Press that it was an offensive depiction of Vietnamese culture, because the party featured bamboo huts and camouflage costumes.
Now, the fraternity has pushed efforts to re-brand the party as a "camo party" at the end of their Military Appreciation Week — their spring philanthropy event. However, this too has raised student concerns.
To Student Veteran Association President Tim Beck '17, this party is an offense to veterans who have served in the U.S. military, especially those who live in the City of Williamsburg and fought in the Vietnam War. For this reason, Beck said he chose to report this year's party to the College's Student Leadership Development office, and that he hopes the Interfraternity Council and the SLD office will take action.
Essentially the big picture here is that the efforts I have made on campus as the president of the veterans group on campus, [are] to help student veterans and traditional students understand each other and blend into the same community as one," Beck said.
"Essentially the big picture here is that the efforts I have made on campus as the president of the veterans group on campus, [are] to help student veterans and traditional students understand each other and blend into the same community as one," Beck said. "When we have veterans that are coming back from combat that our traditional student body doesn't understand, we have aided that blending with storytelling events, our military appreciation games, encouraging our veterans to get involved — we created an intramural sports team so that they can meet each other — you decrease this stigma that is associated with being a combat veteran. When we have these events, like the PIKA 'Vietnam' party, it derails all of the progress that we've made."
As of the 2016-2017 academic year, there are 32 undergraduate student veterans at the College. Overall, there are 251 student veterans, although the majority of them attend the Mason School of Business and the Marshall-Wythe School of Law as graduate students. According to research done by the Veterans Task Force, between one-third and one-fourth of the student body is associated with the military; this means that these students are active duty, in the reserves or have parents or children who have served.
Beck said he first heard about the party last year when he saw fraternity members promoting it on Twitter. He said he did talk with PIKA members last year, but that they were unwilling to make changes to the event. This year, he and other Reserve Officers' Training Corps cadets ran into PIKA members the night of the party, and he said he told them why them wearing military uniforms was offensive to him and potentially offensive to other veterans.
"I told them that what they were doing isn't acceptable and that the military doesn't appreciate it," Beck said. "No one is fooled by this cultural appropriation. It's a disgrace to the uniform, it's a disgrace to the people who died while wearing this uniform. It is also a disgrace to the veteran population living in this area. Why is it ok to do this here and not in Newport News? The answer to that is because they know they can get away with this here. William and Mary lets kids do things that are offensive without calling them out."
When Beck first reported this incident to Assistant Director for Student Leadership Development Joe Wheeless, he was told that he needed to gather witness statements and impact reports, which Beck said he and other ROTC cadets are working on currently. Since then, Beck has also gone to the Dean of Students, Student Assembly President Elijah Levine '18 and to College President Taylor Reveley.
Levine, who ran much of his campaign on calling out problems such as racism and sexism in Greek life, said that while he knows the fraternity has tried to rebrand it as a "camo party," he believes that if students are saying it's offensive, he is not in a place to disagree with them.
"When someone speaks out, I am in no position to go against that," Levine said. "It's just a question of supporting that. If someone with the experience says that's a desecration of the uniform, I'm in no place to question that. … It's tough because I remember my freshman year that it was still called 'Vietnam' officially and that is totally reprehensible. I think it's important to definitely continue being vigilant and calling out these overt instances, but not to let them distract us and make us think that it's some segmented problem. It's large scale. It's a case where such a privileged community is able to not see the implications of their own actions and the things they take for granted."
Levine said that moving forward, he believes that the role of SA in handling instances like this should be to promote larger conversations about issues in Greek life. He also said he believes IFC is an organization that would benefit from racial and implicit bias training.
Wheeless similarly said that the role of his office is to promote conversations on prevention and to help teach "cultural competency" to members in organizations that may not have as much knowledge about sensitive topics. He also said that he regularly talks with IFC organizations about yearly issues, such as reminding members of Delta Chi fraternity to use medical waivers for a hot chili pepper philanthropy event. PIKA's yearly party, Wheeless said, is also something he has regularly discussed with brothers.
"We support all students," Wheeless said. "There may be students who are multicultural and in the IFC and then there might be conflict that ensues. We try to empower students, work together with them, with the outcome of promoting an environment of inclusion, which may look different for every student."
To Co-Founder and former Co-Director of the Asian-American Student Initiative Pallavi Rudraraju '17 and former Co-Director of the Asian-American Student Initiative Aastha Uprety '17, this party, regardless of re-branding efforts, is racially offensive to Asian-Americans.
Rudraraju said that before this year's "camo party" she tried to meet with the fraternity's president, Adam Illowsky '18 to schedule a meeting. She said she hoped to get an apology for previous years, have the fraternity condemn anti-Asian rhetoric and make a promise of inclusivity and respect. However, Rudraraju said that she was unable to meet with them.
According to Illowsky, the fraternity's Military Appreciation Week, and all of its associated events, are to celebrate veterans and raise funds for veteran organizations.
We cannot make it more clear: Military Appreciation Week is held to honor and celebrate American veterans and to raise funds for veterans organizations," Illowsky said in a statement.
"We cannot make it more clear: Military Appreciation Week is held to honor and celebrate American veterans and to raise funds for veterans organizations," Illowsky said in a statement. "The fraternity is currently in contact with the administration as well as concerned student organizations to clarify any misconceptions. The fraternity held several fundraising events over the course of the week, which were attended by students, members of service academies, and veterans to support Disabled American Veterans. One of the most meaningful events of the week was a speech given by our honored guest, a severely wounded veteran named Army CPT Patrick Horan. While our philanthropy was highly successful, we are saddened that these events, specifically Captain Horan's speech, did not receive the media coverage that we believe they deserve. Supporting our nation's veterans and giving them a platform to voice their struggles and concerns is the sole purpose of our service week; therefore, we would like to use this statement as a platform to voice their struggles and CPT Patrick Horan's story with William & Mary community and urge everyone to donate to Disabled American Veterans and other organizations that benefit our nation's heroes."
To Rudraraju, some of the most racially offensive parts of the party were the rhetoric that was anti-Asian, the discussion of Vietnam, and party decorations such as bamboo.
"As an Asian-American woman who has been constantly dealing with micro-aggressions and blatant unchecked racism, I've been very disturbed by this party happening every year," Rudraraju said in an email. "When we found out that bamboo had been used again as a party prop this year, we felt sickened, resigned and betrayed. We had mentioned explicitly to them that despite them calling the party a 'Camo Party' last year, they still used bamboo as a party prop, which is racist. Since we had told them this, we assumed we would not see bamboo used again this year. They had also promised to make a public statement before the party disavowing the 'Nam' rhetoric, which did not happen. In light of this, in light of the lack of response from PIKA, I drafted a lengthy and detailed impact statement and have sent it to necessary people in the administration."
Moving forward, Rudraraju and Uprety put together a letter on behalf of AASI and Asian American Pacific Islander students that they released today at 5:55 p.m. on Facebook.
Student organizations including the Accidentals All-Female Acapella group, Afrodite, Afsana, Omega Psi Phi fraternity, Amnesty International, the Association of Women Geoscientists, Alpha Chi Omega sorority, Hermandad de Sigma Iota Alpha, Inc., Black Lives Matter Williamsburg, the Black Student Organization, Books Not Bombs, Branch Out Alternative Breaks, Delta Phi Omega sorority, ESSENCE Women of Color, the Filipino American Student Association, FLOW Music Group, Gadfly Media, Gender, Sexuality, and Women's Studies Program, Greeks for Respect, Inclusion, and Diversity, Health Outreach Peer Educators, Haasya, the Hindu, Sikh, and Jain Student Association, the International Performing Arts eXchange, the Japanese Culture Association, the Alpha Phi Alpha fraternity, the Korean American Student Association, the Lambda Alliance, the Latin American Student Union, Library Ambassadors, the Meridian Coffeehouse, the Metal Club, the Middle Eastern Students Association, the Muslim Student Association, the College's chapter of the NAACP, Alpha Kappa Alpha sorority, Project Pengyou, the Real W&M, the Residence Hall Association, Rocket Magazine, Society of Women in Computing, the South Asian Student Association, the Student Environmental Action Coalition, the Student Partnership for Aid and International Development, Swing Club, Team Blitz, Pi Beta Phi sorority, VOX: Voices for Planned Parenthood, WCWM, Wesley Campus Ministry, Wordshop, Zeta Phi Beta sorority, Young Democratic Socialists, the Young Democrats, Asian and Pacific Islander American Studies, Alpha Epsilon Pi fraternity, SOMOS and HEART joined the letter as signers.
Wheeless said that once Beck and other students submit their impact statements, administrators will decide whether the case will go to SLD or to the IFC. If it goes to the IFC, PIKA could be called in for a hearing, and then given sanctions such as a probation period or a ban on social activities for a set amount of time. All decisions to remove a fraternity's privileges to be on campus or to have on-campus housing would come from Residence Life and that fraternity's national organization.
"There are two possibilities here," Beck said. "The first is that these students are just ignorant and they don't know that this is offensive. The action there would be to educate them on what it means to serve in the military. … The other possibility is that they know it's offensive but they just don't care, which just means they are apathetic to the military … I'd like to see them get kicked off campus. I think that any group that year after year after year engages in such a gross and disgusting appropriation on the level that they do just can't be tolerated anymore. There needs to be an example set. With or without IFC's disciplinary actions, I most reasonably expect our campus to denounce their actions and to pressure them away from doing things like this."