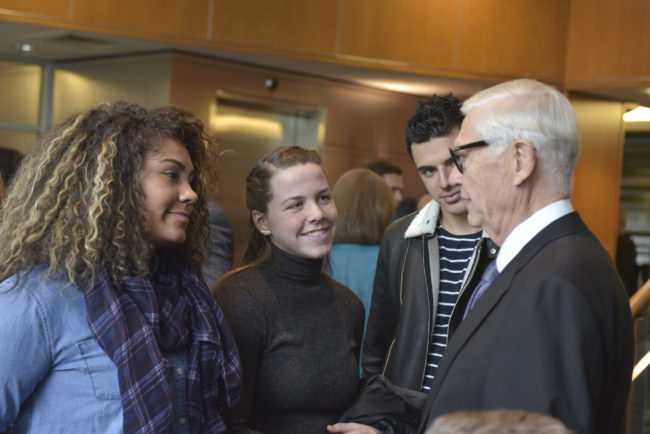 Friday, Dec. 15, the presidents of the College of William and Mary and Richard Bland College unveiled a new joint program with hopes of allowing low-income students with high academic achievement to move from Richard Bland to the College more easily.
The Promise Scholars Program offers multiple academic, financial and residential opportunities for an estimated 15 in-state, Pell Grant-eligible students who will be selected in the spring 2018. The program, which will select a new cohort of first-year students next fall, grants a $2,000 merit scholarship to Richard Bland students in their second year and guarantees housing exclusive to their program.
"These students want to go to William and Mary but they don't feel like they're welcome or they don't feel like they have the capability and they're wrong — they really do," Richard Bland Provost Kenneth LaTessa said. "I think again the support opportunity to have experience of the faculty in combination with that housing component is really going to be able to lift them to get there."
During the students' time at Richard Bland, they will receive instruction from two College faculty members who have been designated as Promise Fellows. Psychology professor and Dean of Undergraduate Studies Janice Zeman noted that faculty will be recruited in January.
"Faculty will be selected based on their enthusiasm, commitment, and experience with transfer students," Zeman said in an email. "They likely will also have experience teaching the COLL 100 or COLL 150 course. Ideally, faculty will represent different academic areas."
These faculty members, who will act as the students' academic advisors, will visit Richard Bland twice each week to teach one class on the COLL curriculum each semester, according to Zeman.
"The Scholars program provides a unique opportunity for a small group of students to get 100% attention from a WM faculty member," Zeman said in an email. "Taking the COLL 100 and COLL 150 classes and maintaining a GPA of 2.7 in these courses will provide a strong foundation of communication skills."
Even once the students have gone on from studying at Richard Bland to studying at the College, their former professors will serve as a resource for them, creating a foundation for an academic support system.
According to Vice President for Strategic Initiatives Henry Broaddus, this will ease their transition into the academic rigor of the College.
"Every student who comes to William and Mary, whether it's a freshman or a transfer student, generally goes through a transition and an acclimation period in that first semester," Broaddus said. "What the experience of having taken COLL classes as a second year student at Richard Bland we believe will do is it will start that transition earlier and spread it out in a way that makes it less dramatic."
Those in the program will receive $3,500 annually in scholarships alongside any financial aid they qualify for once they arrive at the College, according to a College press release. These transfer students will also be afforded the unique guarantee of on-campus housing, as the College does not currently guarantee housing for transfer students.
As 48 percent of Richard Bland's students are first-generation college students, LaTessa said he believes that the program's residential components at both colleges offers each student skills they might not already have.
"If we think about what happens when they transfer to William and Mary, that housing component is even more important," LaTessa said. "Because a lot of times when transfer students transfer to a school like William and Mary, they're overwhelmed, they feel out of place, they don't have a support structure already in place. … It will make their percentage of success higher. I think you remove a lot of risk when you do that."
Zeman said that through the Promise Scholars Program, the College aims to increase socioeconomic diversity by setting a goal to increase the admission of in-state students from families with annual incomes of $60,000 or less by 50 percent.
Broaddus said he believes that increasing the socioeconomic diversity of the College will enrich students' overall experience.
"Who your peers are in the classroom has a profound influence on the quality of education that you receive," Broaddus said.
The program, which will undergo review in three years, will stay committed to providing support for the first three cohorts through their college years even if the review deems the program unsuccessful. Still, Broaddus said he remains hopeful that the new program could influence other institutions to embrace similar practices.
"I think we have a chance to do something that could be a model for other places," Broaddus said. "If this works well at William and Mary, then maybe it is something that could be adopted elsewhere and improve access and affordability at more places than just William and Mary."