Over the summer, I studied abroad in Florence, Italy, where I truly fell in love with spaghetti carbonara. I know, I know, everyone comes back from their study abroad experience obsessed with the food, the language, the culture, blah blah blah. But you have to admit: the Italians know how to make delicious meals. My love of Italian food is complicated slightly by my terrible digestive system—a product of Crohn's disease— which severely limits my ability to eat any grains, especially wheat. If I want to eat pasta without dire gastrointestinal consequences, I have to resort to my favorite grain substitute: beans. These days, you can find bean rotini, bean macaroni and even bean spaghetti. For this recipe, I'm using chickpea spaghetti, but you can substitute with your favorite gluten-free pasta (or, for all of you with stronger guts, just use normal noodles).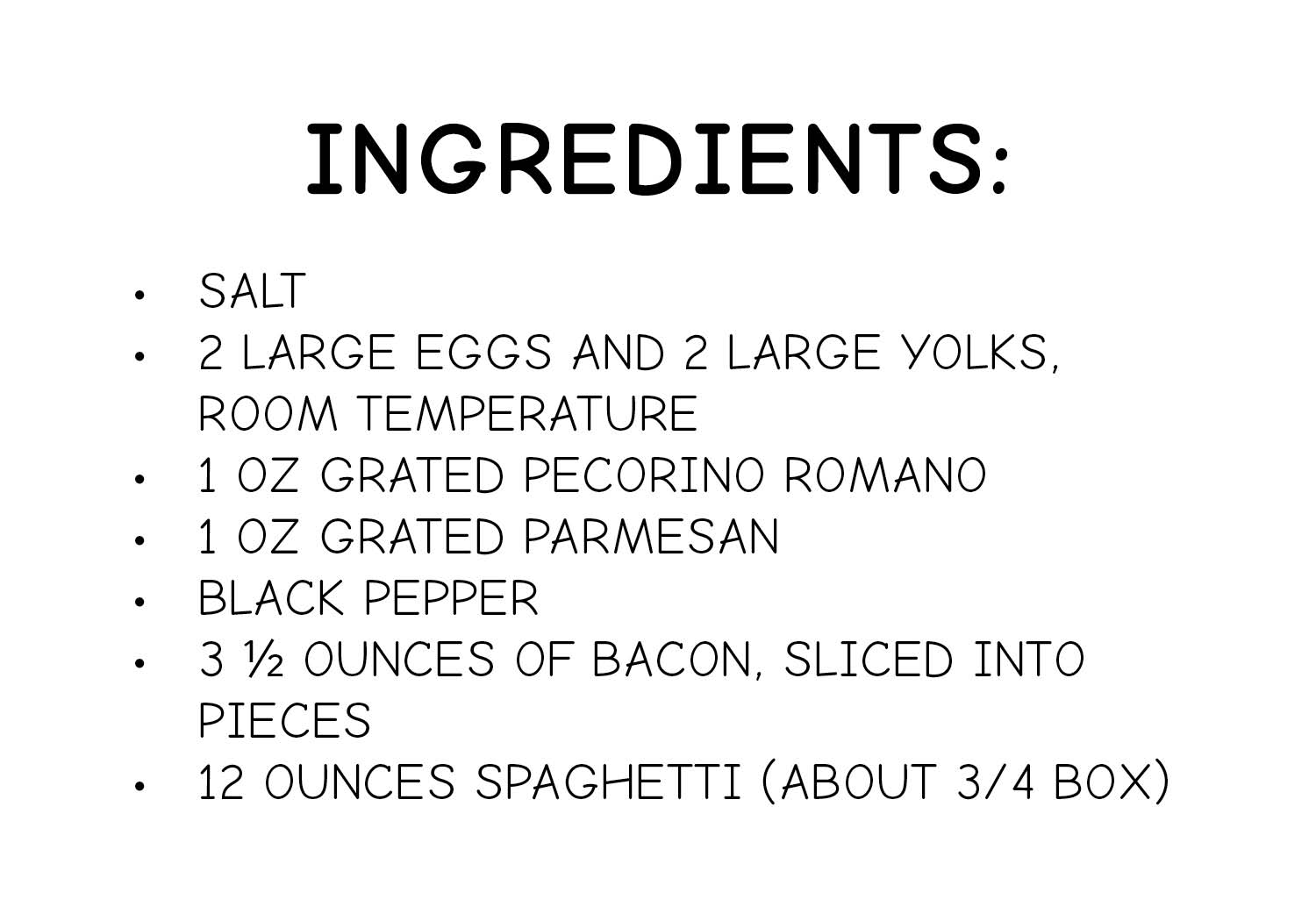 The ingredients
To start off, set a large pot of water to boil. Sprinkle some salt into the water, but not too much, or you'll get a big dose of salt from the bacon and cheese (mmm, yummy). 
While you're waiting for the water to boil, mix together the eggs, egg yolks and cheese. I used two types of parmesan, but you can substitute with your favorite hard cheese, if you like. Then add a generous amount of black pepper and a slightly less generous amount of salt.
The cheese/egg mixture
Now it's time to cook the bacon pieces. Once you've sliced them into small squares, add them to a nonstick skillet and cook until golden brown. If you're like me, you should cook extra, because you'll end up eating half of it before it even goes in the pasta. 
Bacon cooking in the pan
At this point, someone will have inevitably come into the dorm kitchen in which you are working. If you are like me and are required to take photos of your cooking, you will seem like a total idiot to this other person. No matter; soon, you will have delicious pasta.
Once the water has boiled, add your pasta and cook until slightly less than al dente— if it feels just a little too hard, that's perfect. If you're using bean pasta, this takes about eight minutes, and the noodles will produce a lot of foam. Don't worry, because this is totally normal for legumes. It'll drain off when you dump the pasta water.
Bean pasta cooking— look at that foam!
When the pasta is done, drain most of the water, but save a small amount. It'll help the sauce come together. Add the egg and cheese mixture and the bacon. If you're like me and really only have two dishes, just mix it all together in the pot you used to cook the pasta. 
Gloopy but delicious
Now all that's left is to plate it. In Italy, I saw chefs take a delicate forkful of pasta, twirl it into a spiral on a plate and garnish with black pepper. My attempts were not nearly as elegant, but I tried my best. I think the plastic plate from Target really accentuates my cooking prowess.