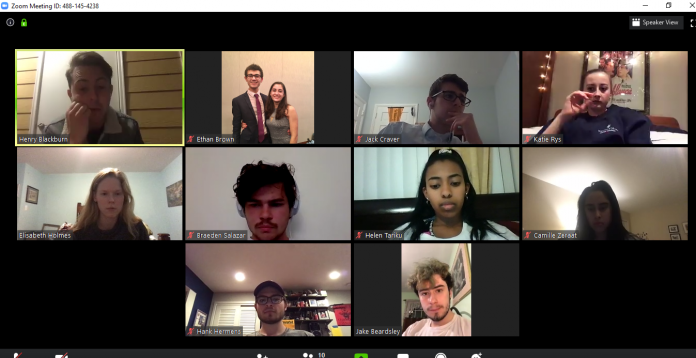 Students at the College of William and Mary cast ballots in the 328th Student Assembly elections Thursday, April 2, electing 15 representatives to serve in executive and legislative positions for the 2020-21 academic year. Now, following two separate Review Board cases filed over the weekend, one of Thursday's elections has been invalidated and another electoral result was temporarily frozen as adjudicators sought supplementary data.
Class of 2021 presidential election results invalidated, candidates await revote
As SA's judicial branch, the Review Board hears cases from students who petition SA discrepancies between bills and the Code of the Student Assembly, senatorial procedures and actions and election proceedings. Two cases were independently filed with the Review Board following the April 2 elections. The first was initiated by Helen Tariku '21, who claimed that some juniors were unfairly disenfranchised from voting in their class's presidential election between Tariku and incumbent Class of 2021 President Aria Austin '21. According to Tariku, some class of 2021 members who studied abroad this spring through a third-party provider were ineligible to vote when they attempted to do so Thursday morning.
"I had had a lot of friends who were supposed to be studying abroad this semester and on Election Day, I woke up to about 5 or so messages from some of those friends saying that they tried to vote and were told that they were ineligible to," Tariku said in an email.
Austin was not aware of these issues until April 6, four days after the election, only finding out about issues when she was notified about the Review Board's case. She said some of her study abroad friends had been able to successfully vote for her April 2, and while she welcomed the opportunity to have disenfranchised students participate in a new election, she expressed frustration with SA's election records.
"It is quite frustrating that this is the second year in a row that the 2021 election has to be re-done," Austin said in an email. "I put a lot of time into creating my campaign platform by outlining tangible solutions and addressing issues that have been brought to my attention this past school year, while actively trying to reach out to my constituency off-campus in the middle of the crisis we are in. To put in all of that work and be notified that you were re-elected, and then be notified that it could all be taken away is very disappointing and stressful."
According to Elections Commission Chair Hank Hermens '22, issues with study abroad students persisted until later that afternoon, at which point Hermens notified students letting them know that the eligibility error had been resolved and that they should be able to vote until polls closed at 8 p.m. In her case submission to the Review Board, Tariku noted that study abroad students received this message at 4:19 p.m., more than nine hours after polls opened at 7 a.m.
The election was decided by 36 votes in a relatively competitive election, with Austin capturing 54 percent of the vote compared to Tariku's 46 percent. Hermens confirmed that more than 36 students in the class of 2021 studied abroad this spring, potentially leading to a large enough population of temporarily ineligible voters that, if able to vote, could have swung the election result.
Ultimately, the Review Board's seven members unanimously accepted Tariku's case, invalidating the class of 2021's presidential election, and ordered a revote, which has not yet been scheduled by SA's independent Elections Commission.
"It is the opinion of the Board that the outcome of the election could have been altered if members of the class of 2021 who had studied abroad had the full 13 hours to vote afforded to all other students on election day," Review Board Chair Hank Blackburn '20 said in a written statement. "Given that the Review Board expects a significant portion of the 198 students who had studied abroad and were locked out of voting to be members of the class of 2021, we believe there is material cause for conducting a special election."
Class of 2023 Senate election results certified following temporary review
Review Board also heard arguments regarding a separate case filed by unsuccessful class of 2023 Senate candidate Charles Pritz '23 concerning his initial absence from the ballot. In a case written by Chief Counsel Jake Beardsley '21, Pritz said he was temporarily not listed as a class of 2023 Senate candidate, prompting him to reach out to Hermens for immediate clarification. The issue was resolved shortly afterwards and Pritz was added to the candidates list.
"I went on to vote around 7:45 and discovered my name was not on the ballot," Pritz said in a written statement. "Right before 8 AM, I got a response from Hank apologizing for the error and saying that my name was now on the ballot."
Due to administrative delays, Hermens said that SA elections went live on TribeLink later than their intended 7 a.m. time frame, which limited the amount of time that Pritz's name was not visible for students voting in the class of 2023's Senate elections. However, following slim margins in the preliminary results announced April 2 when incumbent Sen. Madison Hubbard '23 won re-election by one vote, the Review Board placed a temporary hold on the election results to ensure that Pritz's absence did not disproportionately affect the outcome.
As of Tuesday, April 7, the Review Board rejected Pritz's case, lifting their moratorium and certifying the class of 2023's Senate election results. Since there was not enough definitive proof that enough votes were cast in the narrow window when Pritz was not on the ballot to affect the election results, as well as because students' ability to vote for four candidates instead of just one, the Review Board declined to mandate a new election.
"The Review Board did not find material cause to order a special election for this race, and thus the results from last Thursday stand as official again," Blackburn said.
This story was last updated Tuesday, April 7 at 10:50 a.m.