The sense of joy and relief was palpable Saturday, Apr. 10, as over 90 College of William and Mary students, faculty, alumni and family alike gathered over Zoom to celebrate the premiere of the Filipino American Student Association's 2021 Culture Night performance, "Kamariitan." 
Culture Night is FASA's annual pride and joy. In normal circumstances, FASA's Culture Night cast and crew would perform live on-stage to a packed auditorium, a culmination of months of theme and script development, along with marketing, acting, production, singing and dancing. In light of the pandemic, FASA and its Culture Night team made necessary adjustments to the development and debut of this year's performance, which meant, among a number of other COVID-compliant changes, watching the pre-taped "Kamariitan" as a live premiere on the organization's YouTube page. In place of in-person applause, the Zoom chat function served as a way for the team and their audience of faculty, family and friends to react to this year's cultural showcase. 
Culture Night allows FASA to showcase aspects of Filipino culture in all of its forms, centered around one annual theme and message with which they tell their story. Through a range of artistic expressions, they hope to educate their audience on pertinent issues surrounding the experiences of Filipino people and the diaspora. Culture Night's efforts are led by culture chairs, elected members of FASA's executive board. This year's culture chairs, Zeta Atoigue '22, Jorge Conda '22 and Isabelle Tan '22, have worked tirelessly on creative and logistical fronts to make this year's Culture Night a reality. 
"We really wanted to touch on a lot of different political topics," Tan said. "We were thinking a lot about the anti-terror bill in the Philippines and different moments like that, that have arisen in Filipino culture. We thought the best way to do that without overwhelming our scripts was to express them through mythology and through the different gods that we included. Each of them had a specific aspect — imperialism by the U.S. in the Philippines or even the environment. Each deity had one thing they were passionate about." 
The theme and title of this year's performance, "Kamariitan," is an homage to ancient Visayan (a region of the Philippines) mythology, in which "there were three divisions of the world: Kahilwayan, the sky; Kamariitan, the earth; and Kasakitan, the underworld," as the play's script describes. Without spoiling the play, the performance can best be described as a journey in self-discovery and personal growth for young Filipino Americans visiting the Philippines.
The performance presents the conflict of intergenerational and cultural differences, as well as themes of reckoning, and weaves in ancient Visayan mythology to showcase these lessons. In between, viewers are treated to a mix of modern and traditional Filipino dance, from original numbers choreographed by FASA members to Filipino cultural staples such as Tinikling, a folk dance that uses bamboo poles, Maglalatik, an indigeneous folk dance that uses halved coconut shell halves, and singing and traditional fighting performances. 
The culture team emphasized the importance of Culture Night as a way for FASA's members to bond and hoped that despite the pandemic, the organization's current freshmen would be able to have unforgettable experiences working on the performance in the same ways they once did as freshmen.
"So there's what we call the freshman lead actor to culture chair pipeline," Atoigue said. "My freshman year, I was in Culture Night, and it was me and three other women who were a part of the show. After that, it's what really got me into FASA and cemented my place in this organization."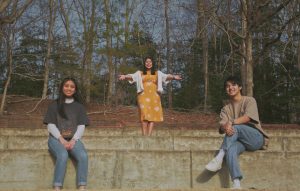 Despite the flashbacks the culture chairs experienced by reliving the realities of COVID-compliant Culture Night rehearsals and meetings, they found that their biggest concern was ensuring that they could use this time to allow their newest members to have a sense of normalcy and socialization despite the circumstances. 
"These new members were seniors in high school and didn't get their graduation and didn't get a normal introduction into what college is supposed to be like your freshman year," Tan said. "Giving them the space to have a good time with rehearsals and having a group of people they were seeing every day, and doing our best to be safe in doing that, means the world. It's really rewarding to see the aftermath of the relationships they've created within the show. That's the biggest reward for me." 
As a cultural organization, FASA members' bonds with one another are nearly familial. And while the pandemic has created some obstacles to the club's ability to allow members to socialize, the organization's sense of community has persevered. Among so many other moments, Tan remembered one instance that truly captured their resilience. Traditionally, table reads with the newly-selected Culture Night cast members and the newly-revealed script are done at one of FASA's general body meetings, where friends gather and bring food to share for a potluck dinner. Instead, the pandemic forced FASA to adapt this tradition virtually. 
"We had a mass Zoom call," Tan said. "I just remember being so overwhelmed and so fulfilled at the same time for all the work Jorge, Zeta and I put into the script, and hearing our actors say the lines out loud really brought it to life. That was really surreal for me — hearing what we wrote for half a year and having our actors picking it up so easily and really taking on the characters like it was their own personalities." 
And for what FASA lost in a live performance this year, they gained in their ability to foster connections with the greater FASA community. 2021 marks the 30th anniversary of FASA at the College, and the virtual watch party presented a unique opportunity to gather together a number of FASA alumni who may not have been able to see the performance live otherwise. 
"I remember it meant a lot that they took the time to show up, even if it was virtually," Conda said. "Because I even remember seeing culture chairs from years past, and their reactions and support meant a lot." 
Despite the added pressures of technical difficulty, the culture chairs experienced a special, pandemic-era kind of relief once they were able to successfully premiere the Culture Night performance, as the video uploaded to YouTube and the number of viewers quickly climbed. 
"Boy, that night, as stressful as it was trying to upload the video, right when I got on the Zoom and saw 90 people come in — lolas, titas, friends from high school who wanted to see our show and our creation was so fulfilling in that moment, like I couldn't breathe," Atoigue said. "It was rewarding to get to see it all compiled together."