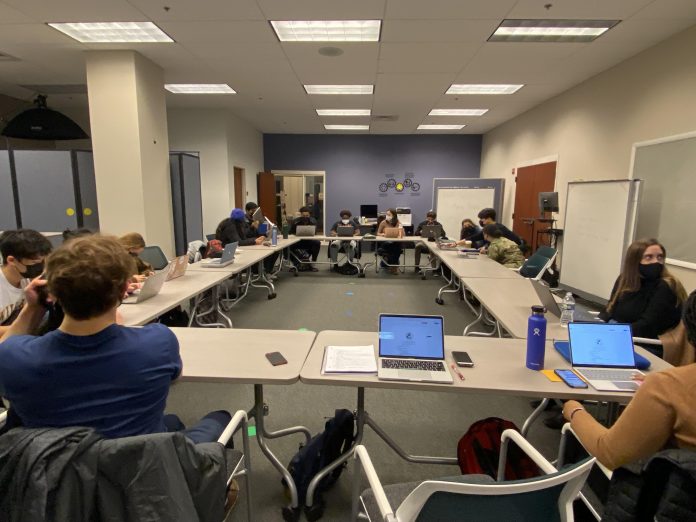 Tuesday, Jan. 31, the College of William & Mary's 329th Student Assembly held its first meeting of the Spring 2022 semester. SA swore in two senators and introduced two pieces of legislation. 
Sen. Salaar Khan '24 and Sen. Sean Kinard PhD '22 were sworn in at the beginning of the meeting, replacing former Class President Vicka Heidt '24 and Sen. Abbey Sistey PhD '22. While Khan replaces a senator who is transferring, Kinard is one of a slew of new senators this session that replaces senators who were on the brink of impeachment due to attendance regulations. 
Additionally, Sen. Matthew Hwang '25 was nominated and elected as the new Secretary of the Senate, replacing Sen. Cody Armstrong '22. 
New Business
Senate Chair Owen Williams '23 introduced The Student Assembly Financial Procedures and Oversight Act, stressing its importance and the amount of work put into it. The bill restructures the way the student activities fee is allocated and, among other important changes, changes the appropriations process for registered student organizations to request money from SA from a yearly appropriation to a quarterly appropriation. 
"Between the working group we had last semester and last summer and also working groups that went into the Quarterly Budget System Act, this is the result of years of work and evaluation of other institutions around the country, looking at their finance procedures, seeing how we could evolve ours to better suit the needs of clubs and organizations that request money from SA," Williams said. 
In an interview shortly after the meeting, SA President Meghana Boojala '22 and Director of the Office of Student Leadership Development Anne Arseneau '89 commented on the history and significance of this legislation. 
"The idea [for the bill] has always been there for a very long time now," Boojala said. "I was Finance Chair my sophomore year of college, and through that, I got a lot of exposure to SLD [The Office of Student Leadership Development], I had a lot of exposure to the problems that were happening during our first executive appropriations process which was our annual budgeting process, and then our internal operations such as our activities and events funding, how our guidelines were very subjective but also that means they were really inconsistent…Through that exposure we decided we could continuously do band-aid fixes where we fix a sentence of the code every week or every other month, but instead we decided maybe it's worth looking at other institutions, researching them, reflecting on our historical data and completely overhauling the current system to pave the new one, maybe that could better address student concerns because also sophomore year, and even until now, we get a lot of student concerns about how inaccessible and confusing the system was; system is." 
"If a student organization had a key spring semester event," Arseneau added, "it [is] in our current process typical that they would be applying for that a year and a half in advance, and it just, it didn't work for the student organizations and that was really frustrating to see an organization not use the money that they had because they didn't know the money was there, or because there'd been a leadership transition… We really didn't have a shared funding philosophy about what and why we wanted to spend money one, which is what made it subjective, and I think the student government should have a philosophy about why and where and how we will spend this money that is transient to different groups each year and I think this group has written out a nice approach to what we think the purpose of this funding is." 
Arseneau also emphasized the longevity of the project, and praised Boojala's long-term involvement. 
"I think it has been the longest, most sustained project that I've observed SA work on," Arseneau said. "…[Boojala's] leadership has really helped the persistence of this…I also think that staff and SLD were also committed to problem-solving because year after year, we were helping every group navigate the same problems, both SA and the student organizations," she added.
Arseneau also anticipates the next step for the project.
"The next challenge is going to be, we've gotten here..and it was a lot of work to get here, but now we have to educate a whole campus population on a totally new approach, and that's always hard to do," Arseneau said.
Additionally, Sen. Taylor Fox '22 introduced The Plan Committees Funding Act Part 2, which allocates $6,000 from SA reserves towards "research, training, and initiative purposes for The Plan: The Reparations Committee, The Academic Diversity Project, The Student's Rights Initiative, The Committee for the Contextualization of Campus Landmarks & Iconography, and The Student Community Policing Advisory Board."
Also at this week's meeting: 
Sen. Zach Outzen J.D. '22 announced that the

Feeding Students in Isolation Act

, past late last semester, had already begun deliveries to students which have been "successful." 

Sen. Shaunna Scott '23 announced that she had received "tons of donations" after passing the

Winter Clothing Drive Act

.