Tucked away at the end of The Flat Hat website's front page banner is the newspaper's graphics section — easy to miss, but definitely something you won't want to skip. Beginning in the fall semester, Arianna Stewart '24 has been steadily growing her comic series "Fuzzy," which follows Fuzzy and Blues, two aptly named animal characters navigating their version of college life. In the span of six comics, Stewart has already touched on significant aspects of the College of William and Mary culture while sprinkling humor, relatability and "fuzziness" throughout. 
Before joining the newspaper, Stewart had already established a solid foundation in drawing.
"I didn't really have an introduction to art," Stewart said. "I just always liked to draw when I was a kid since elementary school, and then I just progressed from there."
Stewart's art interest quickly narrowed toward cartoon drawing.
"I liked 'Phineas and Ferb' when I was younger, and I based a lot of my cartoons off of 'Phineas and Ferb,'" Stewart said. "For a while, I just copied their artwork. And I also copied the work from 'Calvin and Hobbes.' Then I made my own, like combined different styles, and used my style after that."
Stewart knew the newspaper's cartoonist gig was a no-brainer, as she could combine her art background with a natural inclination for cracking jokes.
"I really enjoy making comics," Stewart said. "I like to make jokes. And I also have too many ideas going on in my head of these characters that I made, Fuzzy and Blues. They're actually based on stuffed animals that I have, so I gave each one of them personalities and they have come to life in my drawings."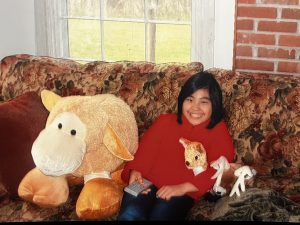 When it comes to the less-than-glamorous process of coming up with jokes, Stewart said she often relies on day-to-day occurrences as a starting point, from which she takes an idea and spins it into a scenario with an animal twist.
"A lot of my inspiration comes from everyday life, like my own experiences at William and Mary, because my comic is based on William and Mary," Stewart said. "And then I try to put myself in the perspective of an animal sometimes. I would say Blues is more human-like. He's more of the thinker, the philosopher, and then Fuzzy is more like a typical animal — he just likes to eat."
Although her characters are animals, Stewart doesn't miss a beat in fusing her personality into her work.
"I'm really outgoing, so the characters talk a lot in their dialogues," Stewart said. "And I like to add a lot of dialogue because, for me, it's easy, it flows really well. I think that's one of my strengths."
Having animals replace the typical student allows Stewart to deliver her jokes in a gentle, subdued manner that doesn't sacrifice punchiness.
"I really like the one where Fuzzy is rushing, and the ending of that where the bear asks him to join his frat," Stewart said. "I found that really funny because obviously he's not going to want to join, because bears are carnivores."
Although the premise of "Fuzzy" is lighthearted and endearing, she's been working toward infusing realism into her drawings and straddling the line between uncanny and cartoonish.
"As I've gotten older, I've been able to add more details to my drawings and gotten better at realism," Stewart said. "I know readers don't want any real-real sheep. The plush animals look very cartoonish, and yeah, mine still look cartoonish. But I'm trying to make a medium between realism and cartoonish so you can kind of still tell what the animal is."
This personal goal, in turn, drives Stewart to pay close attention to the quality of her images and the delivery of her jokes.
"I think if the cartoons are too 'cutesy,' it will turn the reader away, and they won't take them seriously enough," Stewart said. "So I want it to be a happy balance of realism and cuteness, to have the reader engage but also have a respect and interest in the characters."
While Stewart focuses on enhancing her drawing techniques, the adventures of Fuzzy and Blues will surely continue. 
"I'd like to add more animals to it. I think that would give people a better idea of each character's personality," Stewart said. "I want to expand Fuzzy's personality as well, as you've only seen him in six comics so far. You can kind of get an idea of him, but I want people to understand more."
One of the perks of drawing cartoons as a side gig is that Stewart gets to keep up with her hobby without it becoming stressful or burdensome.
"I want to give people a laugh between classes or take a break," Stewart shared. "They can read my comics and enjoy them. It's a relaxing time."
Looking into the future, Stewart sees the potential to steadily raise her cartoonist profile into the world of mainstream publications.
"It would be really cool if I could get my work syndicated into a newspaper like the Washington Post," she said. "I did read one of Bill Watterson's books — he's the one who made 'Calvin and Hobbes' — and he talked about his process. He also drew for college, and he finally worked up to bigger newspapers, which I thought was pretty cool."