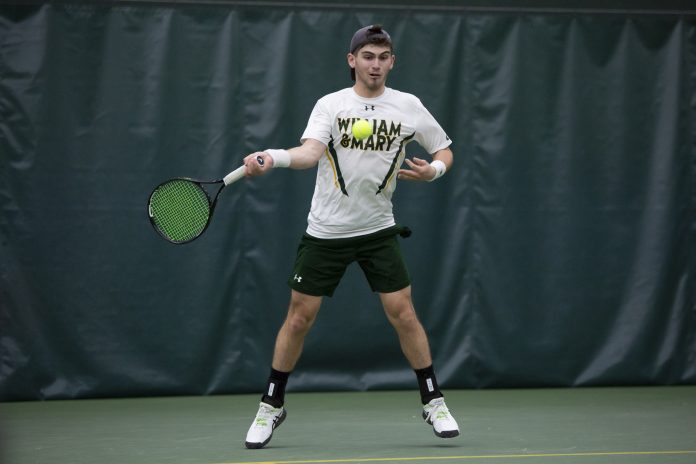 William and Mary (9-5, CAA 2-0) defeated the University of Alabama at Birmingham (UAB) (6-11) 4-3 after a late comeback from senior Daniel Pellerito last Saturday, March 19. The victory marked the Tribe's sixth straight win.
The Tribe faced hardship as half of their usual singles players were unable to play. The team relied on their underclassmen, including freshman Sean Joseph, stepping up.
Joseph won his match and brought his record up to 4-4, giving the Tribe their first point of the day. Saturday was the first time Joseph played at the No. 5 spot. After losing the first singles match, Joseph's victory proved key for William and Mary.
Senior Joseph Brailovsky continued his winning streak, scoring his sixth straight victory for William and Mary and clinching the second point for the Tribe. He won his games 6-1 and 6-3, helping to spike the morale of the Tribe. 
Graduate student Harrison Brown struggled in his singles match as he lost to UAB junior Michal Lusovsky. However, Brown and junior George Davis mounted a comeback in their doubles match. This marks the duo's fifth straight win together and was the only doubles match William and Mary won.
The most impressive comeback of the match, however, was between Pellerito and UAB freshman Nikola Puric. Pellerito and Puric went one-for-one in their first two sets, and the fate of the match rested in the third. Pellerito was down 4-1, but just as his team had rallied all day, he shut down Puric to win five straight sets and secure a 6-4 win in the game to lead the Tribe to victory. This win was especially exciting for Pellerito, who had previously lost to Puric in the doubles match earlier in the day. 
After losing to No. 49 Penn on Sunday, March 20, The Tribe will host Drexel on Tuesday, March 22, at the Mackesy Tennis Center at the Millie West Courts.