As students at the College of William and Mary were preparing for final exams in Earl Gregg Swem Library, Stacey Harris was preparing for a fresh start in Williamsburg as the College's new Dean of Students. She began her deanship in May, hearing students ring the bell for graduation and seeing the special aspects of student life at the College in full bloom.  
Born on an army base in Germany, Stacey Harris moved to Boston with her parents at a young age and settled there for most of her life. Harris remained in the Boston area for the entirety of her academic career, including law school. 
Diagnosed with severe dyslexia as a child, Harris first followed her parents' advice and pursued trade school in place of a traditional university. After graduating high school, Harris began her higher education by going to hairdressing school.
"That was one of the most important things I ever did, because it taught me how to talk to every kind of person and not give a bad haircut if I was in disagreement with someone," Harris said. "So keep that in mind, you don't have a debate with your hairdresser. But I think through that I gained a lot of confidence kind of using my voice and learning about lots of people." 
After finishing hairdressing school, Harris found a program for students with dyslexia at Curry College in Milton, Massachusetts. At Curry, Harris double majored in philosophy and communications, crediting the program with helping her learn to love reading again.
"I am often saying things like, 'The reason I do this work is because of the people there that I know reached in and understood me,'" Harris said. "You know, it's about helping every student on their journey. And I always felt that I wanted to make sure I could be that person for other people."
Harris was in part drawn to the College because she saw this individualized care emulated in the classrooms on campus in Williamsburg. 
"It was a small school, like Monmouth, a small school. But it reminds me of the high touch here. The smaller classrooms and faculty that are really caring about students," Harris said.
Harris has worked in higher education for over 20 years, at Boston University, Lesley University and Monmouth University in New Jersey, spending 14 of those years at BU. Harris came to interview at the College to spread her wings upward in higher education, as she felt she was growing horizontally in her career in Boston. 
"When I came here, there was a sense, for one, when I met with this team, the Student Success Team, it felt like we were already doing the work," Harris said. "There was this comfort, it made me feel at home. Every person that I met with was very real — real about the successes, the celebrations and the challenges. There's such an openness here, too."
Harris knew from her first experience with the staff on campus and her student-led tour that she wanted to be a part of the Tribe.
"I remember going home and saying, 'I really hope they call because it really did already feel like home.' And that has held true," Harris said. 
Over the summer, Harris has been working with the Student Success Team in the Dean's Office to strategically plan for the beginning of her time at the College. Harris wants to immediately cultivate direct student engagement, while embarking on initiatives such as peer mediation and conflict coaching. 
"My plan is one morning a week to just walk around campus and have any students that want to come to just join," Harris said. "Don't think you have to be an introvert or an extrovert or a student leader or someone struggling, I want to have conversations with lots of students. I think that's one piece. I plan to be at lots of events and eating on campus and theater events and sporting events. So, I hope to just be present. We'll have a Dean's Council of students every year and want students advising me more regularly. And I'm going to hold some secret office hours each week that no one's allowed to schedule over just in case students want to connect."
Harris detailed the importance of student-to-student mediation. She believes part of her role as Dean of Students is to provide pathways, like peer mediation, for students to help each other during difficult times.
"I think the idea of leaning on each other is a great way to build community and for upperclassman students to welcome in newer students, into the fold, and say, 'We're here for you, we're going to help you through this.' I think we all have the same questions. We're just nervous to ask them," Harris said.
Harris is looking forward to hearing from students about their different events on campus. After watching the Botetourt Chamber Singers perform this April in Boston, she has been itching to get to more concerts, sports games and other campus life happenings. A true Bostonian at heart, Harris is a die-hard Red Sox fan and wants to fill the void of Fenway Park games with Plumeri Park Tribe baseball games. She is also curious to watch rugby and football, as Boston University did not have a football team while she was there.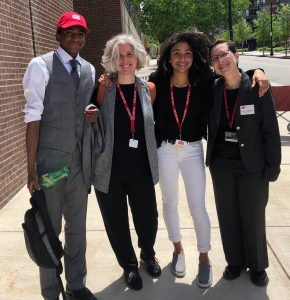 Besides watching Red Sox games and taking walks across campus, Harris likes to spend her time with her wife, son and daughter while hiking, kayaking and going to outdoor concerts. A fan of artists like P!nk, Harris plans to always have music playing through her office in Sadler Center to create a welcoming environment for students.
As a Boston native and New Jersey frequenter, Harris is completely new to the Williamsburg area and still getting her feet wet in the Tidewater. 
"Folks from student government brought me to Craft 31. Let me just say — burgers, very good. Mostly, I like just kind of exploring some of the places that are outside. You know, it's all new. So we went down to Yorktown and went to Virginia Beach and saw the Neptune sculpture. Very different from Jersey. But every weekend we've tried to just kind of take a walk. We went to Tipsy Beans for coffee. You know, just trying different places," Harris said.
At the beginning of August, after the Sadler Center West expansion is complete, Dean Harris' office will be on the third floor of Sadler. Harris is always reachable by email at harris@wm.edu and deanofstudents@wm.edu. She plans to go on campus walks every Monday morning and always wants students to join her, but also wants students to reach out so she can join them. 
"I want different groups of students to say 'here's where we gather,' you know, 'here's where we like to be outside' or 'here's what we do for fun, here's what we do after practice or to study,'" Harris said. "I don't just want students to come on my walk. I want to go on your walk."
"I want different groups of students to say 'here's where we gather,' you know, 'here's where we like to be outside' or 'here's what we do for fun, here's what we do after practice or to study,'" Harris said. "I don't just want students to come on my walk. I want to go on your walk."