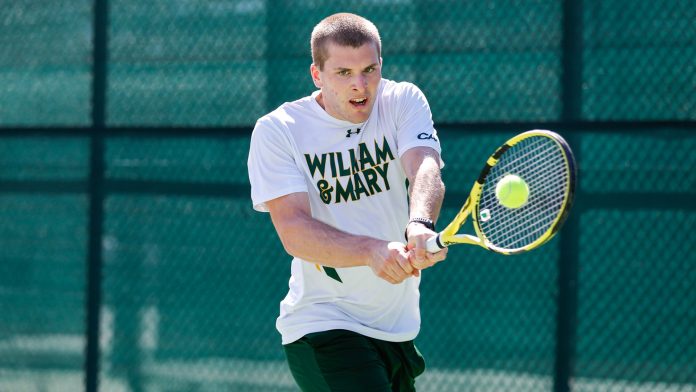 William and Mary men's tennis continued to sharpen their game in preparation for its spring season. This weekend, they traveled to the Richmond Open at Virginia Commonwealth for more match experience and to build on its momentum from the Penn Invitational tournament last week.
Graduate student Joseph Brailovsky set the tone for the Tribe, going 3-1 over the weeked, including a 6-2, 7-5 win over Penn State redshirt sophomore Harrison Jane and a three-set victory (6-4, 5-7, 10-0) over James Madison redshirt sophomore Youssef Sadek. Brailovsky's only loss was a hard fought 6-4, 6-4 match against VCU freshman Romain Gales. Brailovsky's record now stands at 4-3 for the fall season. 
Graduate student Daniel Pellerito also came away with an impressive 3-1 record this weekend. His impressive weekend included a win in a tie-break against Morgan State junior Mikeal Carpenter. Pellerito improved his fall singles record to 5-2, which leads the team.
Graduate student Andres Silva and freshman Daniel Cohen also notched victories, with Silva beating JMU freshman Julian Lozano in straight sets. Sophomore Alexander Karmann also played three hard-fought matches, but this time the luck was with his opponents.
The Tribe will travel back to Richmond on Oct. 7-9 for the River City Open, their next tournament of the fall session.