Thursday, Oct. 20, the Institute for Integrative Conservation 2022-23 Conservation Speaker Series featured Ken Ilgunas, author of "Walden on Wheels", "Trespassing Across America" and "This Land is Our Land." Ilgunas shared his personal experiences of hitchhiking, paddling and walking across America to students and professors in Earl Gregg Swem Library's Ford Classroom. His experiences with roaming has led him to believe that individuals should have the freedom to responsibly traverse on lands, whether publicly or privately owned.
Ilgunas's ideological journey began with an expedition across the Great Plains and the Keystone XL Pipeline, both of which entailed trespassing across America. The Keystone, being over 2,000 miles, gave Ilgunas plenty of space to shape his perspective on what would become his version of Scotland's right to roam philosophy.
 "Walking across the Great Plains, I saw a beautiful country closed off by an ugly law," Ilgunas said.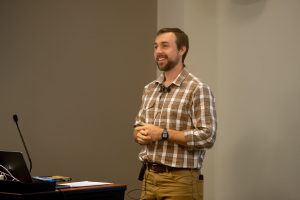 Throughout the talk, Ilgunas continuously referenced Scotland's right to roam, a law which provides the public the right of responsible access to land for recreational use. He spoke on the possibility of seeing this Scottish law in America, given how often travelers are seen roaming in American literature, movies and games. He noted that free roaming is the ultimate freedom, yet people are forbidden from doing so.
"We have been driving by off limits countryside, never thinking, 'Should we have access to this?'" Ilgunas said.
Ilgunas' journey inevitably led him to encounter skeptics who made it abundantly clear that his ideology was provocative, controversial and radical. Though Ilgunas acknowledges his beliefs to be off-putting to some, he counters that America's view of private property is unique within a broader global context.
"We can't orient our customs, values and laws just for the sake of individual freedoms or individual rights," Ilgunas said. "I think more than anything we need to think about the health of the community, and the collective, and the common good."
The concept of land being "our" land is seen by Ilgunas to unite the country from an egalitarian and social standpoint. To Ilgunas, it is both a way for people to feel equal in an unbalanced society and a means to bring rural and urban individuals together. He views collective land as healthy and good for society. During his presentation, he brought up a study done by Stanford that unearthed benefits of green spaces — namely decreased depression rates and improved memory.
"Easy access to green space is good for society and our spirit," Ilgunas said. "It's good for our physical and mental health." 
In terms of conservation, Ilgunas explained that obtaining access to restricted lands better enables us to protect ecosystems. By having free entry to green spaces, people can develop closer relationships with these lands, resulting in greater concern for the environment. Audience members, such as Sarah Thomas '26, echoed similar views to Ilgunas's beliefs.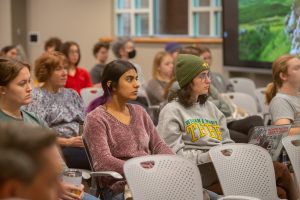 "The idea of dividing up land and privatizing it, and making humans as trespassers, really, creates this barrier between us and the land, and it's so alienating," Thomas said.
During Ilgunas' talk, he also highlighted examples of tragic consequences private property may bring, such as closing off sacred lands from Native Americans, obstructing scenic views or blocking cemeteries from loved ones. To Ilgunas, everyone has a right to fresh air, and he found that this right should be obtained through legal means.
"I would like to see our institutions of private property and land ownership revolutionized," Ilgunas said. "I'd like us to have a better relationship with the natural world, to improve our physical health and our mental health."
The presentation concluded with a question and answer session with the audience. Many asked how right to roam laws may be seen with lands with cultural significance, in urban areas or with issues of littering. 
"The only issue is that it's very idealistic," audience member Sebastion Tesauro '26 said. "Because of our culture and our long-standing policies, people are not just going to give up their lands and take down their no trespassing signs."   
However, Ilgunas does not focus on the logistics of implementing right to roam laws domestically at the moment; instead, he aspires to be a catalyst to begin the conversation in the United States. Although there are cultural differences between Scotland and the United States, Ilgunas believes America is not irredeemable in its path to open land.
"Because Americans have a different education from Scotland, we do things like litter," Ilgunas said. "If we had an anti-littering campaign within our school systems, roadside littering would decrease, and things like free roaming would be more plausible."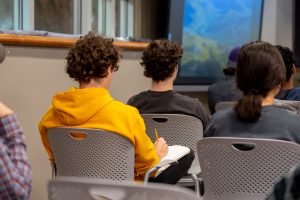 Acknowledging that he may be America's only right to roam advocate, Ilgunas expressed hope in finding a strong audience for his aspirations on private property. Despite understanding his vision may not be implemented within his lifetime, his ultimate goal is to advocate for a policy that may be established in the future. 
"Once I thought of this project as a 100-year project — that maybe it's not a policy for today, maybe not tomorrow, but maybe 20 years, or even 100 years from now," Ilgunas said.  "I was energized because maybe this is me planting a seed in the ground for a tree that I won't be able to walk under, but maybe my daughter will."