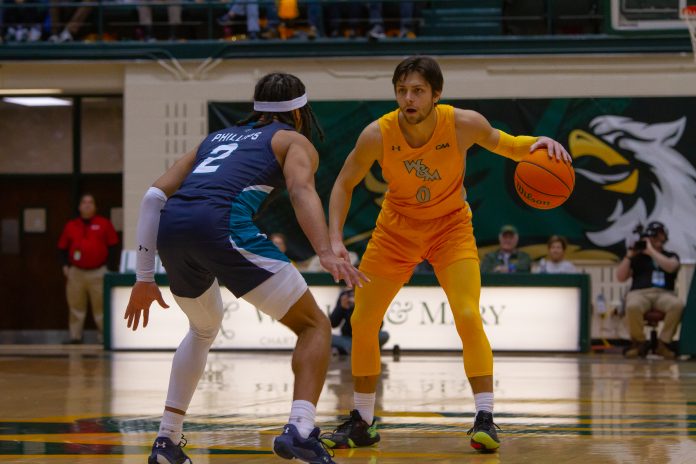 Saturday, Feb. 4, William and Mary (9-16, 4-8 CAA) battled back but fell short against UNC Wilmington (19-6, 9-3 CAA) 70-63 at Kaplan Arena in Williamsburg, Virginia.
Fans filled Kaplan Arena for the Annual Gold-Rush game against Colonial Athletic Association foe UNCW. 
Despite a determined defensive start, the Tribe was stagnant offensively, in large part due to UNCW's strong defense.  After several tough defensive possessions, a Tribe timeout, three Tribe turnovers and seven UNCW points, the home team needed a spark. Graduate student guard Chris Mullens scored the Tribe's first points on an inside jumper with 16 minutes, 29 seconds left in the first half. UNCW senior forward Amari Kelly immediately responded with a jumper of his own. 
After a quick 6-0 UNCW run and three more Tribe turnovers, junior guard Jake Milkereit scored the Tribe's second basket with 10:08 left, cutting the lead down to 11 points.
After a brief timeout, graduate guard Anders Nelson, junior forward Noah Collier and sophomore guard Gabe Dorsey reentered the game with a change in strategy that provided the offensive spark the Tribe needed.
"I think it was a little bit of an adjustment going smaller and opening up the floor a little bit," head coach Dane Fischer said. "We made an adjustment with how we were attacking ball screens and we were popping our bigs to try to open up the floor a little bit more to allow for better reversal."
During the next Tribe offensive possession, Dorsey nailed a deep three-pointer off an assist from Nelson. The crowd erupted in cheers, but UNCW sophomore forward Trazarien White drained a three-pointer of his own to silence the Tribe fans sporting Gold Rush t-shirts.
The teams began to exchange baskets, including notable shots from Chris Mullins and sophomore guard Tyler Rice. UNCW sophomore Trazarrien White and sophomore guard Donovan Newby led the visiting team's offense.
Towards the end of the first half, the Tribe began picking up steam. The Green and Gold went on a 9-3 run, cutting UNCW's lead down to three points. With the clock expiring, Nelson missed a three-pointer that would have tied the game heading into the locker room. Entering the second half, Fischer made an adjustment to his lineup, starting Rice instead of Collier.
"I just thought we had a good way about us with those with three guards out there. Anders Nelson, Chris Mullins and Tyler Rice," Fischer said. "The three of them playing together, I thought, is what gave us our best look in that first half." 
However, the Tribe started off slow in the second half. The once manageable three point deficit quickly ballooned to nine points after UNCW went on a 7-1 scoring run. 
Five minutes into the second half, the Tribe found their groove after a Nelson assist led to an easy Milkereit layup with 14:56 left in the second half. Similar to the middle of the first half, both teams battled back and forth for the next several minutes. The Tribe managed to pull within five points of UNCW, but was unable to even the score.
Nearing the end of the game, the Tribe had one final chance to make a run and force overtime. For five straight minutes, the Tribe scored on every possession, but failed to contain the UNCW offense. On top of consistent scoring, UNCW forced the Tribe to use up the shot clock on nearly every possession. In short, despite a hot offensive performance to end the game, struggling defense and long possessions caused the Tribe to simply run out of time. 
Mullins led the Tribe with 19 points in eight shots. He drained seven of his eight free throw attempts. Rice finished the contest with 14 points. The Tribe will look to recover against Elon on Saturday, Feb. 11 at 2 p.m. in Alumni Gym in Elon, North Carolina.