Performing live in the Williamsburg Regional Library on Feb. 6, dancer and social justice advocate Kerry Lee, whose Chinese name is 李凯妮 or Lǐ Kǎinī in Pinyin, of the Atlanta Chinese Dance Company (ACDC) presented the local community with a Chinese ribbon dance and explained how her art is a personal celebration of her culture and upbringing.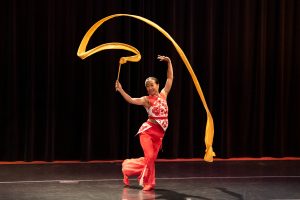 Lee's performance consisted of both a roughly ten-minute-long ribbon dance and a 30-minute-long video titled "The Chinese Ribbon Dance of Empowerment." Narrated by Lee, this brief video documentary tracked the hardships she endured growing up in the American South as a Chinese American woman and her relationship with the label "American."
Lee's short film featured ribbon and other styles of Chinese dance, depicting how Chinese dance provided her with a vital outlet throughout the various stages of her life. Performers like Lee traditionally use dual long, colorful ribbons to weave intricate shapes like figure eights in the air while performing complicated stepping patterns. Though these ribbons can vary in size, the ones Lee used at the library reached five meters in length.
Lee's exposure to Chinese dance started with her mother. She danced extensively as a child, instinctively knowing how to hold ribbons by observing her mother. She eventually rekindled her passion for the art form during her undergraduate years at Stanford University. After working in economic consulting after college, she switched tracks to work for Alternate Roots, a nonprofit focused on promoting the arts and social justice in the southern United States, while still continuing to practice dancing in her own time.
Through her time at Alternate Roots, Lee began to appreciate Chinese dance more seriously and realize its inherent worth. Through this newfound interest and experience with social justice, she joined several professional troupes before eventually joining her mother in the ACDC.
Founded in 1991 by Lee's mother, Hwee-Eng Y. Lee, the ACDC gives lessons to both adults and children and puts on performances, notably having participated in the ceremonies for the 1996 Atlanta Summer Olympics. In addition to ribbon dances, the ACDC incorporates other Chinese dance staples such as swords and fans in the productions put on for the dance troupe. Now at over 80 members and counting, the mother and daughter helm the group together as co-artistic directors.
The ACDC draws from all of the geographically and temporally diverse styles throughout China's various dance traditions. Having grown up in Singapore before relocating to the United States, the elder Lee was exposed to varied dance styles as a child.
"The feet work [of these dances] is ballet, but then the upper body is Chinese-influenced and has Chinese dance elements," Lee said, commenting on her mother's artistic inspirations. "So that's kind of how she started her choreography."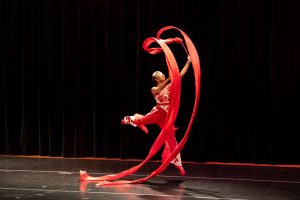 In addition to pieces that reflect the challenges of her own upbringing as Chinese American, Lee focused on Chinese and Chinese American history through her dance. At the library, she talked about some of her previous dances that focused on events such as the Nanjing Massacre and migrant workers in contemporary China. She also discussed plans to put together a work focusing on Vincent Chin, a Chinese American man who was murdered by autoworkers harboring anti-Japanese sentiment in 1982.
Along with dance, the film was also interspersed with commentary on her upbringing. Having been one of few East Asian children in the area of Georgia she grew up in, she often felt out of place and unwelcome among peers, often facing racist insinuations that she was less American than them. Scenes that reference these tribulations were featured. For instance, a solo dancer wanders a classroom alone amid patriotic music in one scene while a single yellow-clad figure is surrounded by other dancers dressed in black and white outfits in another.
To combat the oppression she faced, Lee embraced Chinese dance, a key part of her upbringing. Doing so allowed her to overcome her doubts with her identity and to accept and celebrate both her Chinese heritage and her American sense of self. Referencing a previous performance of "The Chinese Ribbon Dance of Empowerment," Lee recalled being touched by the intensely positive reaction to the film's triumphant line: "I'm indeed a real American, too."
"To me, it isn't just about applauding that I'm a real American, but to anyone else who can relate to that story," Lee said.
Following the performance, the College of William and Mary's Program Director of Chinese Studies Emily Wilcox, whose Chinese name is 魏美玲 or Wèi Měilíng in Pinyin, interviewed Lee before an interactive question and answer session with the audience. The event served as a part of an exhibit showcasing Wilcox's work in the Williamsburg Regional Library's Stryker Center, which displays her work in translating Chinese dance history.
"I wanted her to present her work because she is an active professional dancer here in the United States who has a company in a school focused on Chinese dance," Wilcox said. "And I wanted them [my students] to learn from her in terms of what it's like to be a practitioner of Chinese dance and to see some of her choreography as well."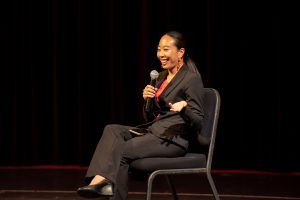 Wilcox, whose academic focus is in classical and folk Chinese dance, invited her students to the exhibition to study some of the dance concepts she lectures on and hear about the experiences of a Chinese American dancer firsthand. However, the event was intentionally left open to the greater public.
"It's open to not just William and Mary's students, faculty, and staff," Dr. Ying Liu said, whose Chinese name is 刘颖 or Liú Yǐng in Pinyin, who represented the Reves Center for International Studies at the event. "It's open to the whole community."
To finish out her discussion with Wilcox, Lee commented on her refusal to accept bigoted perceptions of Asian Americans, citing a need to humanize Asian American communities.
"I want to peel back this façade," Lee said. "You see us in a certain way on stage, but behind that is an American — a human being."