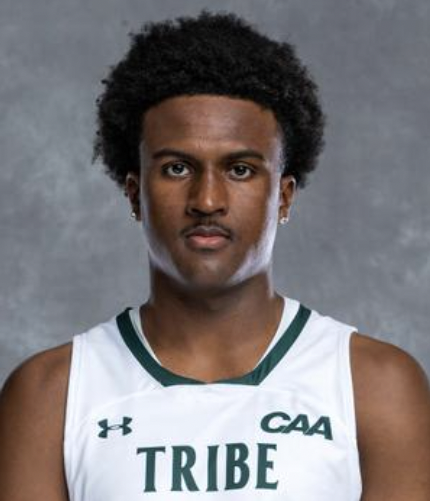 This season has been a rollercoaster for the William and Mary men's basketball team. Despite big wins against Richmond and Army early on, the Tribe is struggling in the second half of the season, in part due to injuries to multiple players in the Green and Gold's starting five.
Amongst the highs of this season, one Tribe player established himself as not only one of the elite shooters in the Colonial Athletic Association, but in all of college basketball — sophomore guard/forward Gabe Dorsey.
This season, Dorsey is one of the Tribe's most consistent players, starting every game he has played. In 25 appearances, Dorsey is averaging nearly 11 points per game, enough for second-most on the team. Much of Dorsey's scoring success is due to his outstanding shot-making ability, shooting 44% from the three point line, putting him ninth in the country and first in the CAA in that category.
When asked about his recent success on the court, Dorsey attributed his upbringing. Growing up in Westminster, Maryland, Dorsey was born into a basketball family.
"My dad grew up under very tough circumstances in Baltimore City, Maryland and basketball became an outlet for him, as well as a way to pay for his education," Dorsey said. "He passed down his love for the game to my brothers and I from the time we were very young."
Before arriving in Williamsburg, Dorsey was a four-star recruit out of The Hill School, one of the top high school athletics programs on the east coast. After graduating, Dorsey spent his freshman year at Vanderbilt, appearing in 22 games for the Commodores and averaging less than one point per game.
After his freshman year, Dorsey entered the transfer portal. Shortly thereafter, head coach Dane Fischer and assistant coach Nate Bollinger reached out.
"Coach Fischer and Coach Bollinger were the very first coaches to call me as soon as I entered the transfer portal," Dorsey said. "And, not only did they make me feel that I was a priority, but I felt an immediate connection with them as well."
While the coaches made Williamsburg an attractive landing spot for Dorsey, William and Mary's academics ultimately convinced him to attend the College.
"A William and Mary degree can do a lot of positive things for my future," Dorsey said. "I know that I can form meaningful relationships here that can set me up for the long run."
After completing his transfer to William and Mary for his sophomore season, Dorsey immediately got to work in the gym.
"Anyone that knows me knows that I live in the gym, and after the year I had shooting the basketball as a freshman, I was very determined to flip the script this year as a sophomore," Dorsey said.
This season, Dorsey let his hard work speak for itself. On Jan. 7, Dorsey scored a season high 21 points against Hofstra, shooting seven of 15 from the field with all seven of his baskets coming from behind the arc. He also matched that season high two weeks later against N.C. A&T on Jan. 21, adding five more threes to his already impressive season total.
According to Fischer, Dorsey's success on the court can be attributed to his tremendous work ethic and training over the past year.
"I think the first thing with him is his incredible work ethic that he has. He's constantly getting in the gym and shooting the ball whether it's before practice, after practice, coming in at night," Fisher said. "He really takes a lot of pride in working on his shots and on his craft, and it's one of the reasons why he's been able to shoot the ball at such a high level."
Besides his stellar scoring and shooting ability, Fischer described Dorsey as an excellent leader and locker room presence.
"He's a tremendous teammate," Fischer said. "Guys love being around him."
According to Dorsey, his mentality off the court is centered around going with the flow.
"I think that my biggest strength is my ability to adapt to different situations, and my openness to understanding people and ways of living that are different from mine," Dorsey said.
Dorsey is currently sidelined with an injury, but hopes to return to the court soon.
As the Tribe wraps up the regular season within the next week, Dorsey believes it is most crucial to the team's success moving forward to play unselfish basketball.
"The biggest key for us is to continue to share the ball like we have as of late," Dorsey said. "We are a team that thrives off of ball movement and unselfishness, and I believe the sky's the limit for us if we continue to do that like we've been doing."
According to Fischer, Dorsey has potential to play basketball at a higher level.
"I think it's going to be continuing to just build his offense off of his ability to shoot the ball and become more of a threat to put the ball on the floor," Fischer said. "We also talk a lot about him being a more vocal leader for us because he is such a smart player that he can add more to our team with his poise."
Dorsey is an integral piece of the Green and Gold's young core of players. With Dorsey, junior forwards Noah Collier and Ben Wight, sophomore guard Tyler Rice and freshman guard Jack Karasinski, the future of Tribe basketball is bright.