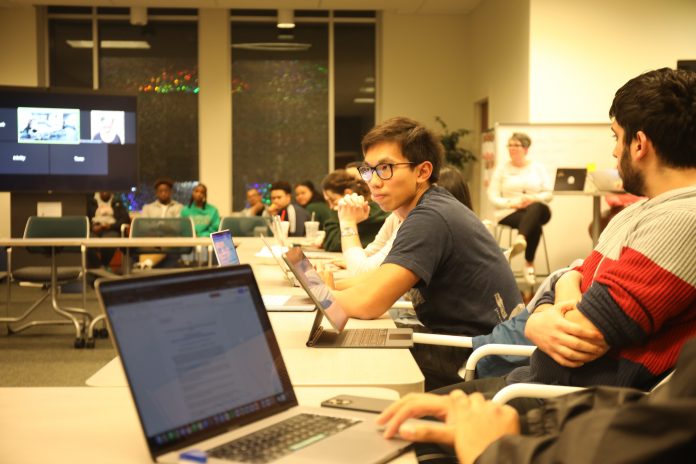 Tuesday, Feb. 28, one day prior to the College of William and Mary's announcement of its decision to indefinitely extend the test-optional policy for admissions, the Senate of the College's Student Assembly adopted a resolution recommending the move, following a unanimous vote of approval from all senators.
The Senate also approved a $50,000 grant to the National Panhellenic Council for the organization to use towards the construction of its garden project. The body also approved changes to the Organization Budget Allocation Process and heard from the Steering Committee for Computing, Data Science and Applied Science Initiative on their plans for a new autonomous academic entity for computing, data and applied sciences.
Test-Optional Resolution
Citing his background as a first-generation college student from a relatively underfunded school district in New Hampshire, Sen. Matt Swenson '26, introduced The Indefinite Undergraduate Test-Optional Policy Resolution along with Sen. Justin Bailey '24.
"Making colleges like William and Mary more accessible to students with lesser resources is very important to me," Swenson said. "William and Mary is one of the least socioeconomically diverse public schools in the country and privilege runs deep here."
Swenson said the resolution received support from Associate Vice President for Enrollment and Dean of Admission Tim Wolfe '95 M.Ed. '01 and the Admission Policy Advisory Committee and knew a decision was forthcoming. He said Vice President for Strategy and Innovation Jeremy P. Martin Ph.D.'12, M.B.A. '17 and Provost Peggy Agouris were making the final decision.
Because graduate schools have a different admissions system, Swenson said he and Bailey would not be pursuing a similar course of action in the near future, despite desires to do so.
"The overall goal is just to kind of work and reducing barriers where there would be socioeconomic [challenges], increase diversity, and just kind of work toward a more equitable, fair admissions process," Bailey said.
Due to the upcoming decision from the College at the time, Swenson motioned to move it to old business. The Senate then unanimously approved it, affirming its support for the test-optional policy.
The College announced its decision to extend the policy indefinitely on Wednesday, March 1.
"Following a highly effective three-year pilot program, William & Mary will continue its standardized test-optional undergraduate admission process indefinitely," the announcement by Senior Associate Director of University News Erin Zagursky said.
The NPHC Garden Support Act
To aid the NPHC in their fundraising efforts for their NPHC memorial garden project, the Senate passed The NPHC Garden Support Act, introduced by Sen. Sean Nguyen '25 and Sen. Daniel A. Bess '24. It allocates $50,000 for a donation towards the construction of the National Panhellenic Council Garden during the One Tribe One Day event.
One Tribe One Day, which this year the College designated as Tuesday, April 18, is an annual tradition where students and alumni engage in donation challenges to fundraise for the College community.
NPHC President Kevin Bloodworth '23, a member of Alpha Phi Alpha, pointed out that while the plot project is relatively small to others, including athletically-related ones, it is not receiving much financial support from the College or the community.
"This plot project for us, at this point, has been a five-year project," Bloodworth said. "National Panhellenic Council, specifically at William and Mary, is, again, majority like Black and African-American students, like most of us don't have the institutional and financial support that like other organizations at William and Mary do, like athletics for example."
Bloodworth said he wants to lay the groundwork for future generations to be able to take advantage of the plot project.
"Right now, morale is very low on our end because we see it as an impossibly high number for us, relatively speaking," Bloodworth said, "I'll be 53 years old when William and Mary celebrates a hundred years of Black and African American students on campus, our NPHC organizations are intrinsically linked to Black America and Black American culture and history."
According to the bill, the NPHC needs $380,000 for construction of the garden to begin, and approximately $17,000 has been given or pledged toward construction since July 2021.
The NPHC is the governing council for five of the nine historically African American fraternities and sororities on campus. Bess is also a member of the Alpha Phi Alpha, the oldest intercollegiate historically African American fraternity.
According to the project's page on the College's website, the garden will be located along the east edge of the sidewalk that cuts across the Crim Dell Meadow, connecting the Sunken Garden to James Blair Dr. and the Sadler Center. A pedestal and plaque will note each organization's name and crest, the chapter name and the charter date.
According to Nguyen, every dollar raised by the Office of University Advancement on One Tribe One Day will match the donation up to $50,000.
The Senate unanimously approved the bill, giving $50,000 from SA Reserves to the NPHC.
NPHC Vice President Kaya Lee '24, a member of Alpha Kappa Alpha, commented on the support the NPHC received from the Senate.
"I'm really glad that we received support from Student Assembly, but I wish that it were more support from the university as a whole. I feel like us having to go and beg for money from certain areas isn't as much of a support from the university as it should be," Lee said.
Lee cited efforts at other institutions as a reason for her desire that the process was less difficult.
"Especially, because most other PWIs, the university just funds plot projects, whereas here we have to raise our own money. But I am very glad that we were able to get that funding just now."
Lee said to break ground the NPHC needs $80,000. While to get the design, the NPHC needed to raise $50,000 in his sophomore year, Bloodworth said.
According to Bloodworth, the NPHC is in its third and final stage of fundraising for the project.
The Review of OBAC's Annual Revisions Act (ROAR)
The Senate passed The Review of OBAC's Annual Revisions Act (ROAR), sponsored by Nguyen, who serves as chair of the Senate Finance Committee and a member of the Organization Budget Allocation Committee.
As a result of the bill, numerous OBAC code revisions have taken effect. Namely, SA will no longer enter into a funding contract with Steer Clear — a free, student-operated transportation service for students walking home late at night that dealt with operational issues during the COVID-19 pandemic.
The bill would also increase funding for club interest meetings from $20 to $50, but decrease the maximum request amount $40 to $20 for printing services.
Graduate schools will now also receive 75% of funds collected from graduate students' Student Activities fee, a gesture following the passage of The Graduate Fee Allocation Model Resolution, which Arts and Sciences graduate student Sen. Morgan Brittain introduced earlier in February.
Despite receiving positive unanimous support from all committees, the bill saw one no vote from Sen. Hashir Aqeel '25, four abstentions from Brittain, Sen. Matthew Hwang '25, Class President Maheen Saeed '23 and Sen. Shaunna Scott '23.
Aqeel's no vote represents the first one since Chair of the Senate Eugene Lee '23 voted against Sen. Sophia Tammera '24 and Class President Zoe Wang '26's Create Your Own Fragrance Act. SA will host the event sponsored by the bill on Thursday, March 23.
The Medical Service Informational Campaign Act
The Senate unanimously passed Hwang and Class President Yannie Chang '25's The Medical Service Informational Campaign Act, which allocates $523 to fund flyers and cards aiming to raise awareness for medical services in Williamsburg.
New Business
Hwang, Sen. Hazel Vineet '25 and Chang introduced The Meadows Wellness 'N Chill Act. The bill aims to allocate $1,350 from SA Reserves to purchase items for an event aimed at promoting mental health and relaxation that would be held on Sunday, March 26th, from 2-4 p.m. at Crim Dell Meadows. It also aims to allocate the Class of 2025 budget for refreshments.
Saeed, Sen. Jiexi Lin '26 and Aqeel introduced The Funding Iftar Act II, which aims to allocate $6,000 to purchase meals for 100 people and a Ramadan Banquet with an expected attendance of 250 people to support students observing Ramandan.
SA Chief of Staff Owen Williams '23 said funding for the banquet has already been requested through OBAC and is likely to be funded at a high level. In response, Saeed said the Muslim Student Association has agreed that if this bill passes they are willing to rescind their OBAC request.
Wang introduced The Saturday in the City Subsidization Act, which aims to subsidize student costs of participating in the Saturday in the City program hosted by the College's Washington Center. If passed, SA would subsidize costs for $35 per person for 55 people, totaling $1,925. The cost for each individual would lower to $15 from $50.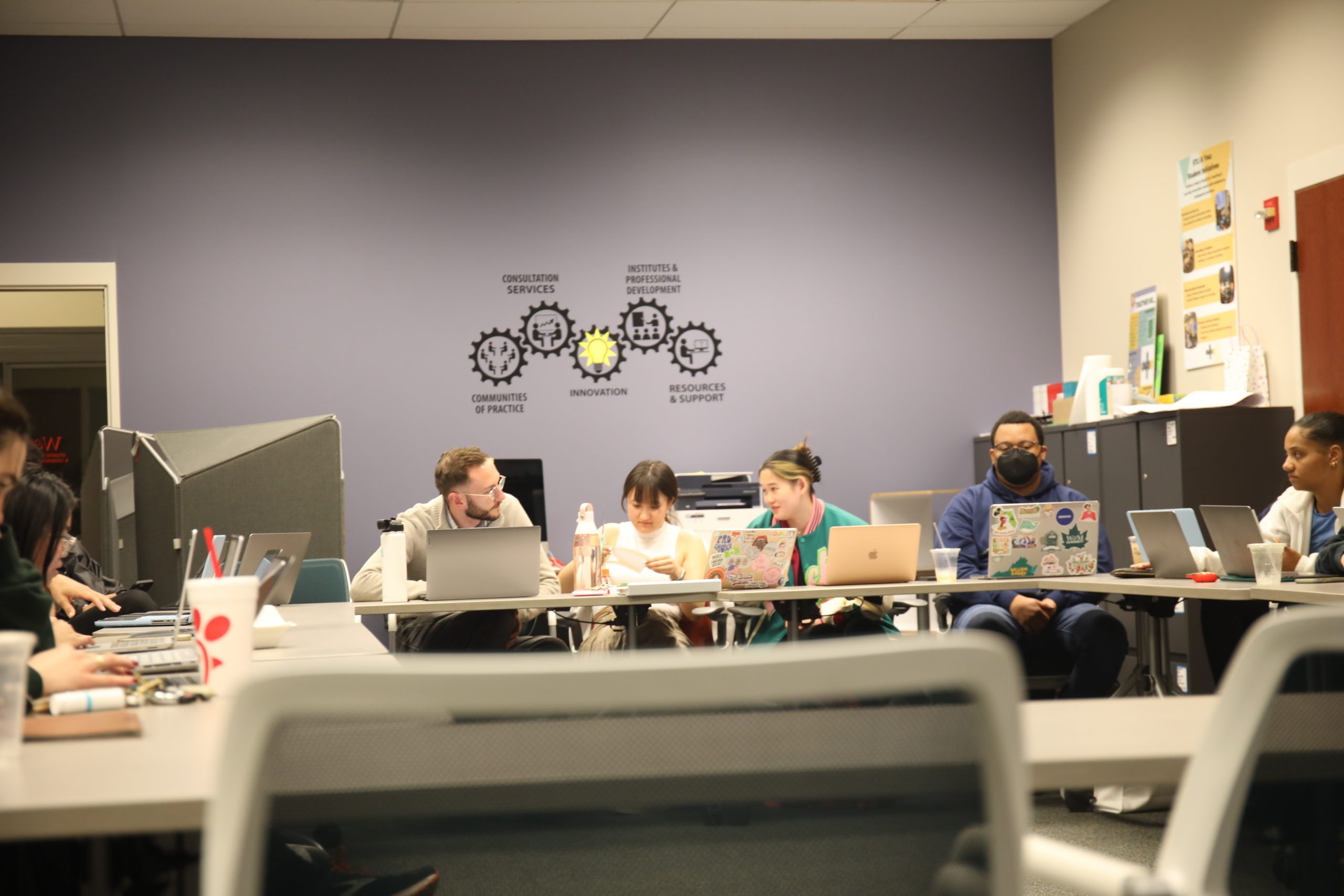 Class President Mia Tilman '24 introduced The Taylor Swift Night Act, which aims to allocate $8,000 for a collaboration event between SA and Alma Mater Productions.
"This immersive experience will transform Chesapeake ABC into a small concert-like space, creating an environment where like-minded students can gather, but also allowing other students to explore this Taylor Swift Night experience," The Taylor Swift Night Act reads.
The event is an extension of the "Swifties, Stuffies, and Stars" event held last semester, which, according to the bill, saw over 275 students in attendance.
"WHEREAS, the average ticket cost for a Taylor Swift Night ranges from $40-$150. Making this event free and accessible will allow the 'Swifties' of campus to party together in a safe environment from 10 pm-12 am. Also, this will allow students who were unable to afford Taylor Swift concert tickets to have an experience similar to it, … this event will have the following event enhancements: Taylor Swift-themed promo, a photo booth with unlimited printed photos, Taylor Swift-themed decor, and more," the bill further reads.
Also at this week's meeting:
Members of the Steering Committee for Computing, Data Science and Applied Science Initiative asked members of the Senate for input on a new autonomous academic entity for computing, data and applied sciences. They announced that there would also be a town hall on the matter in the Sadler Commonwealth Auditorium on Tuesday, March 7th from 10:00 to 11:30 a.m.
SA President John Cho '23 announced that SA is partnering with interim Chief Operating Officer Jackie Ferree and Martin to create educational materials, including a video, explaining how each funds, such as the endowment and donations, that the College has are utilized. He cited a previous announcement from the College explaining philanthropic funds as a resource.