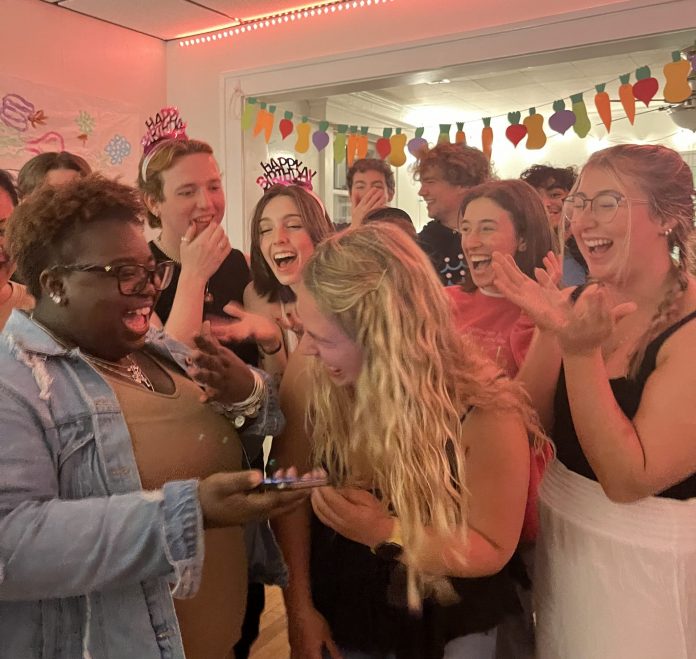 Thursday, March 30, the College of William and Mary student body elected Sydney Thayer '24 and Taylor Fox '24 as the next Student Assembly president and vice president.
"We're celebrating with people who supported our campaign, and looking forward to celebrating with friends tonight and supporters," Thayer told The Flat Hat soon after learning of her victory.
Thayer and Fox received 86.68% of the votes, while write-in challengers Max Beers '24 and Ian Chen '24 received 9.78%.
In the 330th SA administration, Thayer serves as secretary of Sustainability and senior advisor for Internal Affairs and Logistics, while Fox serves as senior advisor for Community Engagement and Outreach.
Students also voted for a class president and four senators to represent them in SA.
In this year's election, 1,186 eligible voters cast their votes in the SA presidential election, representing 17.45% of overall undergraduate student enrollment. The Independent Elections Commission (IEC) did not immediately release data on how many students were eligible to participate in the election.
Last year's election saw 23.96% of eligible voters cast their ballots, which marked the first contested election since 2019.
SA President John Cho '23 called Thayer to congratulate her and inform her of her victory shortly after the votes were tallied.
Fox noted the significance of a write-in option.
"We were really happy to actually see a write-in option so students can actually voice who they want to office," Fox said.
In the call with The Flat Hat shortly after the results were announced, Fox discussed what she learned from the campaign.
"Something that we learned is just still listening," Fox said. "We also had a feedback form and a support form. So, you could just hear from people that supported us [with] what they want to see on campus."
Fox thanked the student body for its support.
"We're so appreciative of that. One, we're students alongside you. But two, you voted for us to represent you. And that means a lot to both of us," Fox added.
Fox said their day one agenda is addressing the internal culture of SA and ensuring that everyone works to the best of their abilities.
According to Thayer, she called Beers after learning the results and thanked him for a healthy competition. She added her support for the write-in campaign's proposal to create the world record for the largest game of duck, duck, goose.
"I told him that moving forward, if they wanted to move forward with the duck, duck, goose plan, we were here to support," Thayer added.
Incumbent class presidents Mia Tilman '24, Yannie Chang '25 and Zoe Wang '26 all won re-election.
Tilman was re-elected as class of 2024 president in an uncontested race, receiving 234 votes. Senators Justin Bailey '24, Daniel Bess '24, Soleil Garnett '24 and Sophia Tammera '24 were also re-elected to their seats.
Bailey, who endorsed Thayer and Fox, received the most votes at 186.
Challenger Karalyn Timmes '24, who currently serves as the SA undersecretary of New Student Affairs (Non-traditional/Transfer), received 128 votes, but was not elected.
Chang defeated challenger Isabel Torres '25 for the class presidency with 84.35% of the vote. Senators Hashir Aqeel '25, Matthew Hwang '25, Sean Nguyen '25 and Hazel Vineet '25 also kept their seats, with no outside candidates running for class of 2025 senate.
Vineet received the highest number of votes at 263 votes.
Wang was re-elected as class of 2026 president unopposed. Senators Spencer Krivo '26, Jiexi Lin '26, Ashlynn Parker '26 and Matt Swenson '26 were also re-elected. Lin received the most number of votes at 271 votes.
Challengers Nick DeSante '26, Helena Huber '26 and Skyler Smith '26 received 118, 134 and 130 votes, respectively.
With Thayer-Fox's victory, SA secretary of Public Affairs and former IEC Chair Marley Fishburn '24 is expected to serve as the next SA chief of staff, according to the Thayer-Fox campaign website.