Friday, March 31 and Saturday, April 1, the Raymond A. Mason School of Business hosted its eighth annual Women's Stock Pitch and Leadership Summit for undergraduate students. Twenty stock pitch teams from universities around the world competed for a first place cash prize of $5,000.
The Boehly Center for Finance within the Mason School of Business and the philanthropic Society of 1918 funded the summit. Smart Woman Securities, a nonprofit organization that teaches students, particularly women, about finance and investing, organized the Stock Pitch portion of the event.
Each team had 10 minutes to present their stock pitch, an argument on why an investor should consider buying shares of a specific stock, and 10 minutes to answer questions from the judges. 
The preliminary round of pitches began on Saturday morning. By mid-morning, the College, Utah State University, Memorial University of Newfoundland and the University of Notre Dame were selected as the four teams to present their final-round pitch later in the afternoon. 
The leadership portion of the summit consisted of two panels.
Dr. Deborah Tannen, professor of linguistics at Georgetown University and author of You Just Don't Understand: Women and Men in Conversation, presented the first panel. She shared her findings that men, from childhood, communicate directly, whereas women tend to communicate indirectly. A woman's inability to speak in a way understood by men can hinder her longevity in a male-dominated industry like finance.
"Women in the workplace are facing what I call a double bind," Tannen said. "A double bind is a no-win situation, you have two sets of requirements and anything you do to fulfill one actually offsets the other."
Tannen stated that assertive women are often seen as bossy and unlikeable, while demure women are often not taken seriously. To the largely female audience, she suggested they find a middle ground and be aware of both direct and indirect communication styles to network more efficiently and have a more successful career overall.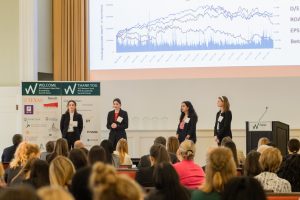 Aside from gaining experience in the pitching process, networking was the main goal for participants at the summit, especially for those who traveled for the event. The leadership portion gave attendees the space to talk with other tables. Associate Director of Alumni Relations Abby Everard shared that over the years, event coordinators have incorporated more time between pitches for visiting students to build relationships at the College.
"We like to have kind of a more robust schedule for [participants]," Everard said. "Then they can talk to alumni, they can talk to mentors and professors and professionals who come, just so they can get more out of their experience."
Some non-competing students from the College also attended to network with visiting industry professionals and other undergraduates. The event also served as a learning opportunity for younger students wanting to learn and compete in future years.
"I think [the summit] is really beneficial," Kendyl George '26 said. "Both for networking, but also developing my understanding of different areas within finance."
Keynote Speaker and College alumna Michelle Avery '98 gave a brief talk on the importance of upholding her own personal values in her career path. She shared a humorous story about having to wear the only heels that she packed for a work trip, which were both left-footed. She tied the story back to her key value of grit in her work.
After Avery, the audience split for a second panel in one of four rooms: Reflections of my first job: Ten things I wish I knew as a young professional, Composing Career and Life, A Profile: The Intentional Philanthropist or Leadership with a Passport.
Final round pitches began Saturday afternoon, with Utah State presenting first. While the judges deliberated, event organizers handed out raffles to attendees.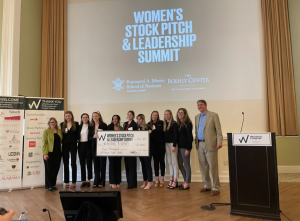 To conclude the summit, Richard C. Kraemer term professor of business Julie Agnew '91 and School of Business Dean Todd Mooradian offered words of advice before announcing the winners. The fourth place prize of $1000 went to Memorial University. Notre Dame received third place and $1500. The College and Utah State, who advocated for purchasing stock from CVS and Costco, respectively, tied for first place. This marked the first ever tie in the event's history, and both teams won $5000 each. Each team also received a glass award to take home.
When asked what they would do with their money, the College's team said to invest in more CVS stock.