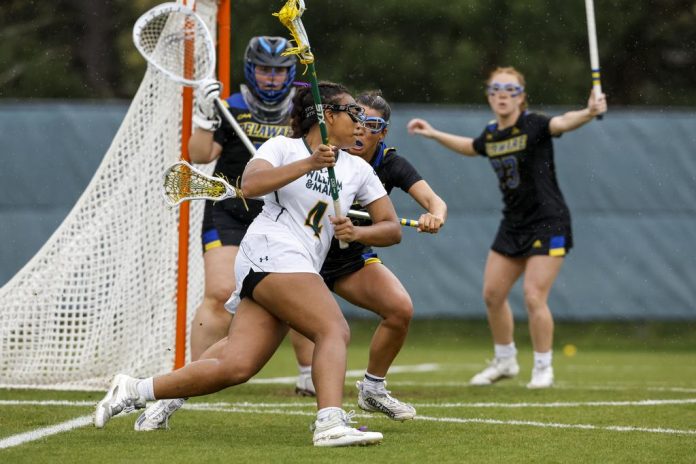 Saturday, April 1, William and Mary Women's Lacrosse (6-5, 2-1 CAA) narrowly escaped Delaware (5-6, 1-2 CAA) 13-12 in overtime at Martin Family Stadium in Williamsburg, VA.
The game was dedicated to the Crohn's and Colitis Foundation, an organization that raises awareness and support for Crohn's Disease and Ulcerative Colitis, a cause near and dear to many people in the William and Mary community, including Caroline Donovan, a senior defender and two-year team captain.
"During August of 2020, I was diagnosed with Crohn's Disease after enduring unexplained pain and symptoms everyday for three years," Donovan said. "The diagnosis and following treatment gave me an opportunity to lead a normal life and regain some comfort and happiness in my daily life. Having Crohn's Disease while playing Division I athletics has presented numerous challenges, and it's nearly pushed me to my breaking point, but being able to compete with the people I love and play the sport I love makes all the hard days worth it."
The team often dedicates its home games to raise money and awareness for specific issues or organizations. According to Donovan, Crohn's Disease is underrepresented, so the focus of the recent game is beneficial in drawing attention and showing support.
"By dedicating our game to something like the Crohn's and Colitis Foundation, our team is able to play outside of ourselves and take the pressure off of the game itself. The cause is bigger than us, and therefore we play bigger than ourselves. You can feel the love and energy on the field. The game was an amazing opportunity for our team to bring the community together in support of a great cause," said Donovan.
The game itself was a thriller, with commanding attacks and tough defense from both the Tribe and the visiting Blue Hens. Sophomore midfielder Justyce Barber started off the scoring for the home team. The teams then traded goals until freshman midfielder Morgan Gore scored Delaware's third goal with 3:22 remaining in the first period, giving Delaware a 3-2 lead as the second period began.
Barber again opened the period with an unassisted goal, tying the score at 3-3. Delaware went on a quick run in response, tacking on three goals in the span of a minute and a half. Barber and sophomore midfielder Miranda Bate responded for the Tribe, each scoring a goal that cut the lead to 6-5 Delaware scored one more goal, giving the Blue Hens a two goal lead going into the half.
The Blue Hens opened the second half strong, with sophomore midfielder Keira Grant and junior midfielder Lizzie Yurchak expanding Delaware's lead. Senior midfielder Sarah Cipolla responded, scoring two goals back to back and holding the Tribe deficit to two as the final period began.
Sophomore midfielder Serena Jacobs scored for the Tribe just 46 seconds into the fourth quarter. Delaware held its lead with another goal from Yurchak, followed by a goal from junior attack Riley Gillin that expanded its lead to three. With just 3:55 left in regulation, the Tribe went on a 4-0 run that allowed the home team to take the lead. Barber scored two, Bate tacked on another, and freshman midfielder Maresa Moyer added one to give the Tribe their first lead of the game since the opening period, 12-11. Delaware's junior attack Danielle Livornese answered about a minute later with another goal, tying the score and sending the game to overtime.
As the overtime period began, Barber found success again, scoring the game winning goal with 2:03 remaining. The Tribe's defense was able to hold Delaware scoreless for the rest of the game, concluding the thrilling matchup with a Tribe win, 13-12.
"The game was all about heart, hustle and grit. I am so impressed by our team's ability to stay calm under pressure and to battle back. Today was a 38 person win, from the sideline to the field," Donovan said.
Barber dominated for the Tribe, scoring a career high six goals, one of which was the game winner in overtime. Cipolla and Bate both had a pair of goals. Moyer, Jacobs and senior attack London Simonides each tallying one.
For Delaware, Livornese scored four goals tying her season-high, with Gillin and Yurchak scoring two goals each.
Delaware took 28 shots compared to the Tribe's 29 and edged out the Tribe in draw controls 20-10. The teams were even in ground balls, with 23 each, and William and Mary had just 16 turnovers, compared to Delaware's 22.
In such a tight game, leadership on and off the field is essential for success. As a senior on the team, Donovan is proud and inspired by the efforts of her team.
"This team pushes me to be a better player, person, and leader. We inspire each other every day," Donovan said.
In Donovan's experience with Crohn's Disease, working together is the best way to make a difference. Supporting each other and coming together to help important causes is a fundamental part of the Tribe lacrosse program.
"I am so proud of every single member of our team, and I know that they have my back on the field and in my personal life, especially as I continue to battle Crohn's Disease," Donovan said. "Our team is making history this year and setting new goals every week. We're excited to continue climbing."
William and Mary will face Towson in an inter-conference matchup on Saturday, April 8 at Martin Family Stadium in Williamsburg, Virginia.