Tuesday, April 11, the College of William and Mary's Reves Center hosted writer, travel expert, photographer and entrepreneur Jessica Nabongo as part of the annual McSwain-Walker lecture series. The series strives to host speakers across a wide array of disciplines to discuss the ways in which other countries and cultures interact with the United States. Past speakers include author Viet Thanh Nguyen, Cuban filmmaker Orlando Rojas and Swedish Ambassador to the United States Karin Olofsdotter. Nabongo joined this distinguished list as the first Black woman to travel to all 195 United Nations-recognized countries, using her story to educate the audience about the many emotional and mental strategies she has used throughout her life. 
Nabongo's talk, titled "Intentional Travel: How Education, Empathy and Confidence Will Help You Create the Life You Want to Live," was held in Tucker Hall's theater. College students and members of the Williamsburg community attended the event. Nabongo discussed her life, career and personal travel tips before opening the talk up to questions from the audience. 
"The most important thing to see here is that life is not linear, right? It's not a straight line," Nabongo said. "This thing is a wild roller coaster, and I'm so grateful for the ups. Also for the downs, because they taught me so much."
Born to Ugandan immigrant parents and growing up in Detroit, Michigan, Nabongo mentioned that her parents were the first people to introduce her to travel. Later, Nabongo received her bachelor's degree at St. John's University in English literature with a double minor in advertising communications and Africana studies, a minor that Nabongo herself helped create. Following graduation, she quickly decided to take a job at Pfizer, a pharmaceutical company, until she realized that a corporate job was not the right decision for her.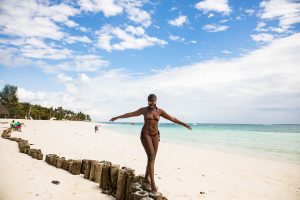 "In 2007, it was bonus day. I remember it like it was yesterday and my bonus was so sad — it was three digits. I was so angry because I was raised to believe the world is a meritocracy. I graduated on the dean's list from college, I graduated magna cum laude, all of that, but my hard work in that role wasn't being acknowledged because of external factors like the market was changing, generic drugs, etc. And I remember, that day something in me broke," Nabongo said.
After quitting her job at Pfizer, Nabongo moved to Japan for a year to teach English and started her travel blog, "The Catch Me If You Can," before applying to earn her master's degree in development with a focus on agriculture at the London School of Economics. 
"It was just such an incredible experience to be in a place with people from all across the globe," Nabongo said. "My worldview expanded greatly because I'm hearing from other people what their experiences were and also getting to share some of mine."
After graduating with her master's in 2010, Nabongo moved to rural Benin with her then-boyfriend before moving back to Europe in 2011 to take a job at the U.N. Food and Agriculture Organization for a year and a half. Her job in Rome eventually allowed her to become a "digital nomad," or remote employee. Nabongo took this opportunity to travel to Buenos Aires, taking six weeks to explore Brazil and Argentina. 
"That time that I spent in South America, it was just so incredible," Nabongo said. "Again, staying in hostels and meeting people from all over the world. Just meeting people who were living very free lives and lives that I think were full of possibility. And that's really what gave me the confidence and sort of bolstered me to think differently about what was possible in terms of my life and ultimately my career."
In the fall of 2014, Nabongo decided to quit her job in Rome and return to the United States, feeling a bit melancholic for the many birthdays, weddings and major life events she had missed. 
"Seven years abroad — the return hit me like a ton of bricks," Nabongo said. "Reverse culture shock is very real because when you're born in a country, you don't realize what is happening to you, right? Because everything is normal. But when you go abroad, in particular as a Black woman, what I hadn't realized was the weight of racism living in America. Every day almost, I'm being made aware of my race. That was something I wasn't experiencing very often at all. Certainly not on a daily basis. Of course, sometimes things happen, but just not on the same level as in the U.S."
After deciding that this path was not for her, Nabongo launched her boutique travel agency, Jet Black, in 2015. Two years later, Nabongo had an epiphany while traveling to Bali after hearing about an American woman who had earned the Guiness World Record for visiting every country in the world the fastest. 
"After that, I found out there is this whole community of weirdos like me that are country counters," Nabongo said. "And I also found out, at that time, less than 150 people in the world had been to every country, and one black person. Then I was like, okay, I'm going to be the first Black woman to go to every country in the world. And then I did it. I visited 135 new countries in two and a half years."
In 2020, National Geographic contacted Nabongo with an idea for a book after seeing her comments in a Washington Post article. Two years later, Nabongo published "The Catch Me If You Can: One Woman's Journey to Every Country in the World." She detailed her recent experiences as a writer, traveler and entrepreneur, such as going on talk shows like Good Morning America and interviewing Vice President Kamala Harris on Apr. 5, 2023, during a conversation about Harris's recent trip to the African continent. 
Nabongo then launched into a discussion of the three elements of her life that she believes made her successful — education, empathy and confidence.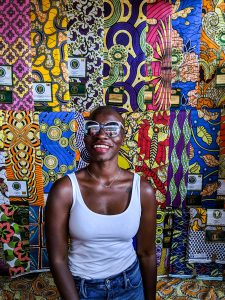 "Education comes in many forms, both inside and outside of the classroom. And I think, obviously, practical education is great. I love education. I'm a super nerd. I would like to get five more master's degrees if I had the time. But I think there is such a beautiful opportunity to learn outside of the classroom. Travel, obviously, is a great way, but I think the other thing is just realizing that all of us are going to have different experiences," Nabongo said.
Nabongo emphasized the power of kindness, the magic involved with travel, the importance of reading and the power of pivoting to different jobs and hobbies. She then discussed the importance of empathy and recognizing the beauty of strangers while traveling globally. To Nabongo, the experience of traveling has allowed her to recognize that she often does not have negative experiences with other people while approaching life with a more positive mindset. 
"I think that we have to stop walking around with this heaviness of the fear of the stranger because it's unfounded," Nabongo said. "Of course, terrible things happen. I've had horrible things happen to me both domestically and abroad, but I've never allowed those things to deter me from my belief that most people are good. I think that's really important to remember, just human kindness. And I think right now we're living in a world and a country that really wants us to hate each other. But those aren't our natural inclinations."
Isabel Rose '25 discussed how Nabongo's talk inspired her as she navigates a transition out of the pre-med pre-professional program. 
"I found it interesting how many jobs that she started and she quit," Rose said. "I know that I'm not the only person that has stopped being pre-med. But seeing someone do it so many times and still be as successful as she is is kind of eye-opening. I really like how she doesn't focus on the yeses that she said she thinks of the no's and how many opportunities that it's led her to. I think that's really interesting because I feel like we have a tendency to think about all the negatives instead of all the positives."
Lastly, Nabongo discussed the importance of having the confidence to find passions, travel and express personal needs. She mentioned that she has found power in the ability to say "no" and prioritizing her own values and time. Finding her passion, Nabongo said, helped her find who she truly was and the life she wanted to live.
"When you find that frequency, you find other people who are on that same frequency," Nabongo said. "You know, I meet a lot of people now and it feels like we've known each other forever in the first five minutes because we're all on that same frequency."
Nabongo ended her talk with a brief question and answer session from the audience. Molly Gaffney '23 attended the talk and discussed the inspiration she drew from Nabongo. 
"I just like the energy that she has and the approach that she has that I'm sure gets informed by all the travel she does," Gaffney said. "That was super empowering. Sometimes I think 'Oh my gosh, I'm 22, I'm running out of time to see the world,' but that's clearly not the case for her."