On July 1, Aramark officially replaced Sodexo as the College of William and Mary's primary food service provider. The move, announced in May, comes amidst the College's plan to modernize campus facilities, including the construction of two new dining halls by 2032.
The College awarded a contract to Aramark over proposals from two other bidders following a comprehensive procurement process that included student feedback through surveys, focus groups and a selection committee.
"We wanted to make sure we could deliver our best in-class dining program," Executive Director for Auxiliary Services Jackson Mathews said. "[Aramark's] proposal really talked about collaborating with students, bringing a high standard of food quality to campus and also bringing new technologies."
Aramark's overhaul of College dining services will include expanded menu options, extended dining hall hours, a new student dining plan, local food partnerships, and GrubHub mobile ordering.
Adam Poling, Executive Director of Hospitality for Aramark Collegiate Hospitality, emphasized increasing student satisfaction and food safety as main priorities. In the spring 2022 semester, the Virginia Department of Health found and corrected multiple on-site food safety violations.
Katherine Reback '26 is gluten and dairy-free, and follows the autoimmune protocol diet. She described the difficulties of eating on-campus this past year as a student with dietary restrictions. As a result of the lack of consistent ingredient labeling on food served in campus dining halls, Reback expressed her anxiety about cross-contamination.
"It was tremendously challenging last year for sure," Reback said.
Reback specifically thought there was a lack of protein and hot food items for breakfast, as well as a lack of nutrient dense vegetables last year. She noted that she would periodically grocery shop off-campus at allergen-friendly grocers.
Poling recognized the benefit of seeing the dining experience first-hand when crafting Aramark's changes.
"I'm certainly excited to be here on campus," Poling said. "I've been fortunate to have been here on and off campus pretty much weekly since mid-January. I got to see a semester, which was very insightful and very eye-opening, and I certainly appreciated that opportunity. I think it will bode well for how we execute moving forward."
Poling detailed Aramark's intention to be responsive to and engaged with student demands. He noted several initiatives, including placing kiosks in high-traffic areas during peak dining hours, as well as introducing a text concierge service and a dietician marketing team to receive feedback and answer dietary questions in real time.
"I think [it] will allow for instant feedback so that we can then implement those changes and updates at a much quicker pace," Poling said.
The new All Access meal plan, which freshman and sophomore undergraduate students are automatically enrolled in, will cost $2,885 per semester, an increase of $262 from the Spring 2023 All Access plan. It includes unlimited meal swipes, $400 in dining dollars and replaces the Freedom, Gold 19 and Block 175 meal plans. For residential juniors and seniors, Block 125, Block 100 and Commuter plans will remain available.
In addition to being able to use dining dollars at the Chick-fil-A in Tribe Square and Domino's, students will also be able to use them at the weekly Williamsburg Farmers Market on Duke of Gloucester Street and campus cafés, which will now be operated by Column 15 instead of Aromas.
Mathews said the increased cost of meal plans factors in developing more menu items — including vegan, vegetarian and plant-forward options — expanded dining hall hours and adjusted for inflation.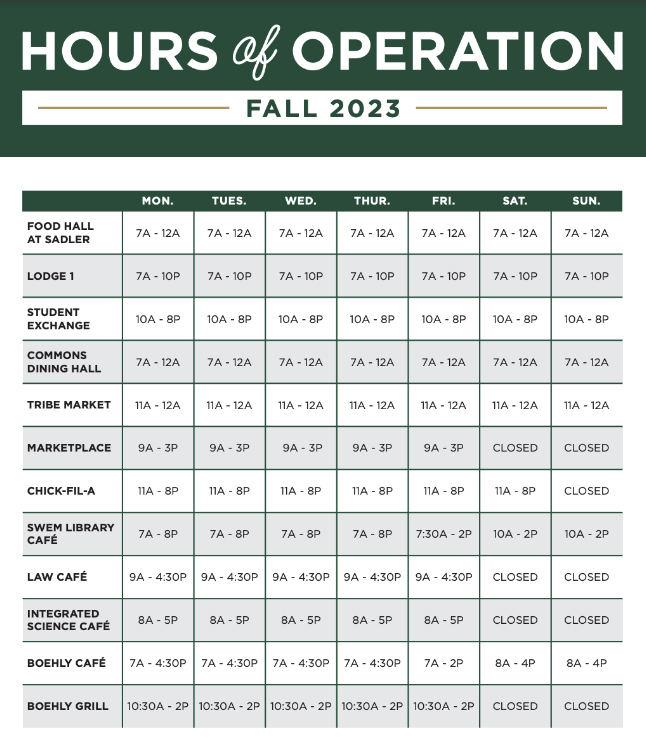 Aramark plans to partner with regional food suppliers and farms in an effort to make dining more sustainable and inclusive on campus. Some plans include using an organic, halal-certified and Virginia based provider as their primary chicken source at the Commons Dining Hall and Sadler. Additionally, they will be working with distributors to bring in produce from BIPOC farmers, rotating local partners to serve specialty dishes at dining halls and a new station — True Balance — which will feature menus without the top nine allergens.
"If we're doing good food, we're doing it safe and we're presenting it well — we tell that story — it's a win for the students, it's a win for our culinarians," Poling said.
According to Poling, Aramark has also sought to maintain relations and contracts with now-unionized Dining employees — 218 of the 245 hourly associates employed by Sodexo will continue with Aramark under the same pay rate, stature and title. The collective bargaining agreement, which is under review due to the change of providers, has not been finalized yet.
Aramark is also helping plan the new dining facility that is slated to open in the fall 2025 semester where Yates Hall is set to be demolished this month.
"I'll look for engagement and collaboration from the Student Culinary Advisory Council, Student Assembly, students in-general across campus," Poling said. "As we develop that relationship and that feedback, it'll help us specifically get some venues, get some stations built into there."
Reback, who has been vocal about the necessary improvements to the dining program following dietary concerns and limitations, was not contacted by Aramark during the consultation process.
"I didn't actually know about that, but I'm kind of surprised, frankly, since I was pretty vocal," Reback said.
In the early stages of the dining procurement process in February, Chief Supply Chain Officer Marra Austin told The Flat Hat that the dining services procurement team included input from students, faculty, parents, auxiliary services, athletics and every part of the College's multiple campuses with satellite food services.