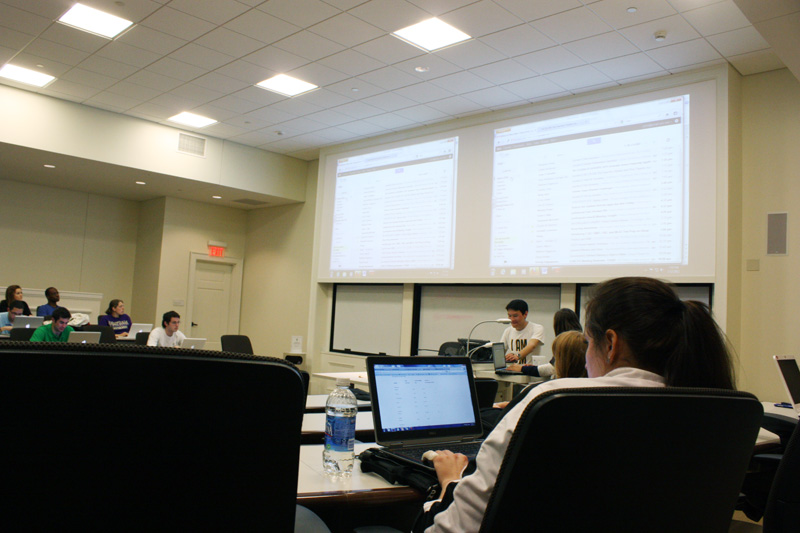 The Student Assembly senate approved three referendums to add to the SA election ballot Tuesday.
The referendums will ask for student opinions regarding continued free STI testing, free massage chairs in Swem Library and a $1 donation to a socioeconomic fund for financially struggling students at the College of William and Mary.
Vice President Molly Bulman '13 also returned to the senate Tuesday after multiple absences due to a class conflict.
The senate proceeded to pass a variety of bills, including the Unite 4 Humanity Grant Act and the Feed the Children and their Parents Act.
The Unite 4 Humanity Grant Act, sponsored by Sen. Matt Paganussi '14, passed unanimously after little debate. The Act allocates $2,977 to aid in funding a series of events for Human Rights Week, a collaboration between various groups on campus.
"There's actually going to be a number of virtual and physical activities on the Sunken Garden, including a mural where students can go up and put their handprints," Paganussi '14 said.
The Feed the Children and their Parents Act allocates $2242.81 to provide pastries and coffee to students and parents during the annual Day for Admitted Students. It passed after the senate added an amendment to take the funds from the Student Reserve rather than the Student Activities and Events Fund.
"The Activities and Events Fund is directly raised from student fees," Senate Chairman Noah Kim '13 said. "That fund is primarily used to benefit current students at the College who have already paid into that fund."
Four other pieces of legislation were introduced to the senate: the Voices of South Asia Act, the Recycling Awareness Stickers Act, the I Am W&M Week Act and the Competition Fund Reorganization Act.
The Voices of South Asia Act, sponsored by Kim, would allocate various funds to aid in the production of an intercollegiate dance competition and other activities to promote Asian culture on campus, which would be run by the South Asian Student Association.
"[The celebration] would not only promote culture on campus but also elevate the profile of the college nationally," Kim said.
Senator Kendall Lorenzen '15 sponsored the Recycling Awareness Stickers Act, which would pay for stickers to put on dorm recycling bins to explain what should and should not be placed in the bins.
While wearing last year's T-shirt, Kim introduced the I AM W&M Week Act, which would fund this year's festival T-shirts. The shirts will depict words submitted by students that they feel define them. These will be presented in a "word cloud" in the shape of I AM W&M.
"They're going to be really great looking T-shirts," Kim said.
The Competition Fund Reorganization Act would work to publicize and reorganize the Competition Fund.