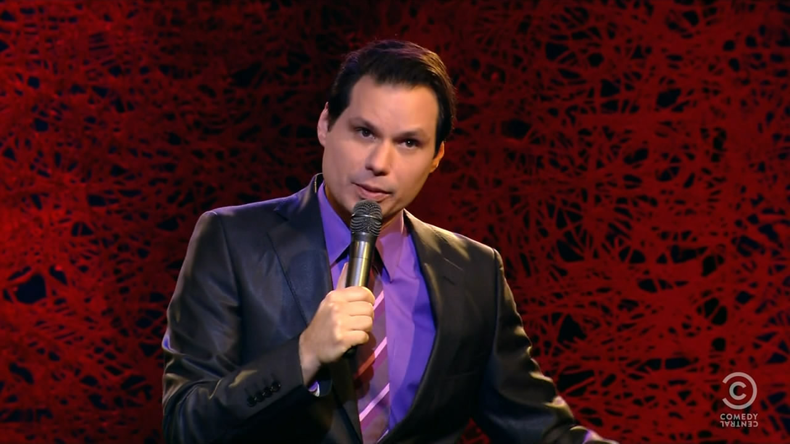 "When someone says that [the College of] William and Mary is the second oldest school in the nation, it must be the only time you get mentioned in the same sentence as Harvard," Michael Ian Black said as he took the stage for his second visit to the College on March 29.
Black is a comedy veteran of both screen and stage. He has starred in numerous shows, including "The State," VH1's "I Love the…" series and "Michael and Michael Have Issues." His guest spots include roles in "Crank Yankers," "Robot Chicken" and "Reno 911!"  Through a combination of unique style and charm, he has gathered a cult following and regularly performs sold-out shows across the nation. Black is also the author of a well-received children's book, "Chicken Cheeks."
To kick off the show, Brian Terrill '12 opened with a short performance, mostly poking fun at life in Williamsburg. He commented on the absurdity of a brochure he found at his job at the Ripley's Believe it or Not Museum that claimed, "Now this is a real plantation."
"What makes these other plantations not real?" he asked, running through a hypothetical list of requirements that might qualify a plantation as real, including a brick house, gardens and slave quarters that tour guides tend not to mention.
He also made light of a looming concern for many soon-to-be-graduates — joking that he, as a film studies major, will probably be living in a box soon after graduation, and he might as well enroll in clown college.
After a round of applause for Terrill and a brief introduction, Black began his routine with a shout-out to an audience member who had tweeted at him earlier: "What if he's a dick in person?" To prove that he is not a dick, he invited her up to the stage, gave her a hug, and slowly handed her three dollar bills, one by one, reimbursing her the cost of admission.
Black's routines generally follow the principles of observational comedy, which focuses on the humor and irony found in everyday situations.
"I thought [the performance] was really good. I think his routine was pretty typical of his humor. I've been a big fan of his over the years," Jennifer Cummings, a librarian at Earl Gregg Swem Library, said.
Black indeed managed to split the sides of several audience members with episodes from his seemingly mundane life. A recurring motif is his constant struggle to curtail his comedic tongue when dealing with people he encounters throughout the day.
His first story was a detailed account of how he told his hotel maid that he had cancer, out of embarrassment over leaving an inordinately large mess for her to clean up in the bathroom. He also recounted his fierce urges to shake his baby once it was born, despite the numerous warnings from his wife, parenting books and Lemaze class instructor.
"I'm a parent, but I liked the baby one. It was off-color and a bit inappropriate, but still amusing," Cummings said.
Elsa Voytas '13 preferred another story.
"I really liked the Amsterdam story," Voytas said, referring to one of the highlights of the show.
In the Amsterdam story, Black chronicled the first time he ever smoked pot at the seemingly late age of 27. He was on his honeymoon with his wife, and they decided that they would stick by the old expression, "When in Rome, do as the Romans do." Nervous of getting high for the first time and leery of inhaling smoke, they decided to each eat a "space cake," a baked good infused with the psychoactive chemical THC. After an hour, he declared that the cake wasn't working and he had his wife go purchase him a joint, deciding that a more traditional method of ingestion would surely get him stoned. Only after he passed out on the floor of the coffee shop did he admit that he was truly inebriated.
Despite the audience's many laughs throughout the show, some audience members commented on the fairly vulgar nature of Black's routine, which included the use of nearly every conceivable swear word and plenty of excremental humor.
"I thought it was pretty funny, but some of the stuff I didn't really want to laugh at because I thought he crossed the line," Wilson Kuhnel said, an admitted student enrolling as a freshman for the next academic year.
Others were of the opinion that stand-up comedy is often designed to shock, not to offend, simply for comedic effect.
"I am not very politically correct, so I don't really care about that," Emily Gilfillan '13 said. "I know he was joking, so I didn't really take offense to it."