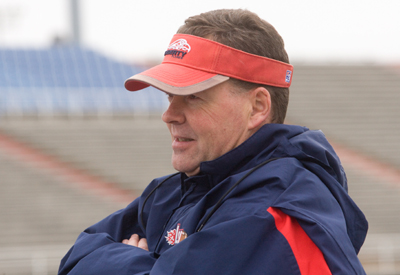 William and Mary landed an experienced and familiar defensive backs coach when head coach Jimmye Laycock introduced Tom Clark Wednesday. Clark comes over from in-state foe Liberty, where he served as defensive coordinator for the past six seasons.
Clark coached the Tribe from 2001 to 2003, when he served as the team's defensive coordinator. During his first tenure, Clark helped the College secure a share of the Atlantic 10 Conference championship in 2001.
"I am excited be back in Williamsburg. While I was only here three years in my previous time on campus, my family and I created lasting roots in the area. Coach Laycock has built a great program with an incredible tradition, it is a great opportunity for me," Clark said.
After leaving the Tribe in 2003, Clark assumed the head coach position at Catholic University in D.C. prior to accepting a defensive coordinator job at Liberty University. While coaching the Flames, Clark helped lead a defense that ranked as high as No. 12 nationally in scoring defense.
Now in his second stint at the College, Laycock hopes Clark will bring stability to a defense that, at times last season, was inconsistent.
"We obviously are getting a quality coach with a great deal of experience and a familiarity with our campus. Tom brings us a proven coach with a great history of developing players.  I am sure he will bring immediate and valuable contributions, both to our defensive staff room and on the road recruiting," Laycock said.