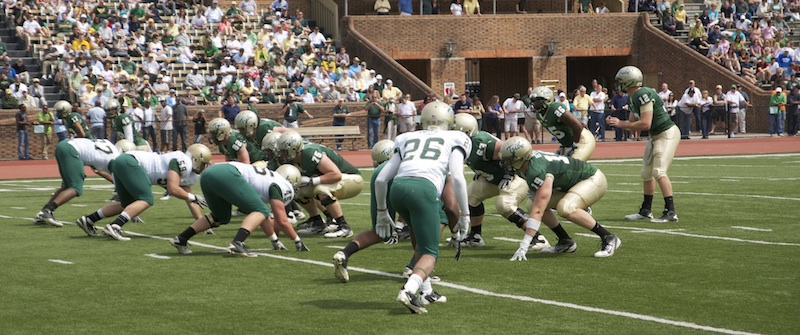 After enduring a disappointing 5-6  2011 campaign, William and Mary fans began singing the same, repeated refrain: There's always next year.
The Zable Stadium scoreboard was lit up again after being dim for months, and players scrimmaged at full speed in the annual Green and Gold game Saturday. One thing was clear: Next year is here.
The game featured a physical, highly competitive contest. The offense showed signs of recovery after a tumultuous 2011, while the defense turned in a dominant performance. (More after the slideshow.)
"Defensively, the linebackers and the secondary probably have as good overall speed as we've had in quite a while," head coach Jimmye Laycock said.
Predictably, the most notable storyline heading into Saturday's game was the quarterback competition. Junior Michael Graham — the de-facto starter for most of last year until he went down with a leg injury — and junior Brent Caprio, the hero of the Tribe's thrilling, last second 25-23 victory over Richmond last season — were the two starting quarterbacks.
"I thought Caprio did probably a little better job today than Mike," Laycock said. "Now, [Caprio] was running against the second defense a lot of the time. … They both did things alright; they did some things really well then they made some mistakes. We can't turn it over; we can't force throws."
Graham was featured against the first team defense for the majority of the time and struggled, overthrowing several of his receivers. As the game wore on, he got into more of a rhythm, eventually hitting sophomore tight end Bo Revell for a four-yard touchdown score. Graham finished the day at 3 of 14 for just 13 yards.
Caprio had an uneven showing, as the junior completed nine passes for 103 yards and showed capable scrambling ability, but tossed three picks later in the contest. Caprio had a number of good throws, including a near-touchdown pass to senior wideout Ryan Moody.
"We put them in situations that we wanted to put them in, we threw it like we wanted to throw it, we put them into where the quarterbacks had to make decisions," Laycock said. "Some of them made some good ones and some of them made some bad ones. If you're going to make them, make them now, don't make them in the fall."
Caprio said the competition between quarterbacks was a friendly one.
"We're still friends, we want the best for each other. We're going out there and we're playing hard and we're competing with each other, but we're doing it the right way. We're not looking for that other guy to fail," Caprio said.
Moody appeared a bit rusty, but fully healed from the ACL injury that kept him out for much of 2011. Sophomore wide receiver Tre McBride complemented Moody on the other side and played well, totaling three receptions for 43 yards. Sophomore wideout Sean Ballard also performed well, leading all receivers with three receptions for 47 yards.
Another offensive storyline was that of the Tribe backfield, which was without star tailback Jonathan Grimes '12 for the first time in four years. Laycock employed a mix of three backs. Junior halfback Meltoya Jones rushed for 27 yards on five carries and a six-yard touchdown scamper, while sophomore Keith McBride showed his speed, running for 20 yards on four carries. Freshman tailback Mikal Abdul-Saboor got a number of carries as well.
While the offense continued to work out the kinks, the defense turned in a memorable performance, totaling six interceptions and three sacks. Junior defensive back Ryan Smith, who had not seen any game action in his Tribe career, made the biggest impact on the day by recording two interceptions.
In addition to Smith, several other young defensive players made an impact Saturday. Sophomore Ivan Tagoe, who played well last season in a limited role before getting injured against Old Dominion, recorded an interception. Sophomore linebacker Jake Wasco and freshman Andre Houston-Carson both picked off the Tribe quarterbacks after seeing sparse action last season.
While many new additions played well defensively, the usual suspects didn't disappoint either. Senior defensive end Quincey September played exceptionally well Saturday, earning a sack, two tackles for loss, a forced fumble and a blocked field goal. Senior linebacker Jabrel Mines, a third-team All-CAA selection last season, also recorded an interception. Senior cornerback B.W. Webb also turned in an expectedly dominant performance, consistently locking down Tribe receivers.
"The guys, even the younger guys coming up, getting interceptions — I love it. They're doing great [in the secondary]," Webb said.
Caprio, who has spent all Spring practicing against the Tribe's defense, said he thought it could be one of the best defensive units in the conference come September.
"You saw how athletic their [defensive] backs are. They're coming up and making plays and even the linebackers are so athletic," Caprio said. "It's definitely one of the best defenses I think we'll see. It's good to go against a defense like that and get experience like that."
At the conclusion of the game, the squad announced its two captains for the 2012 season. Mines and senior safety Brian Thompson, a second team All-CAA selection last year, were named captains by virtue of a team vote.
"They're good players; they're good leaders," Laycock said.
While a great deal of hard work remains, the College will resume its preparations for next season in August ahead of its 2012 season opener Sept. 1 at Maryland.