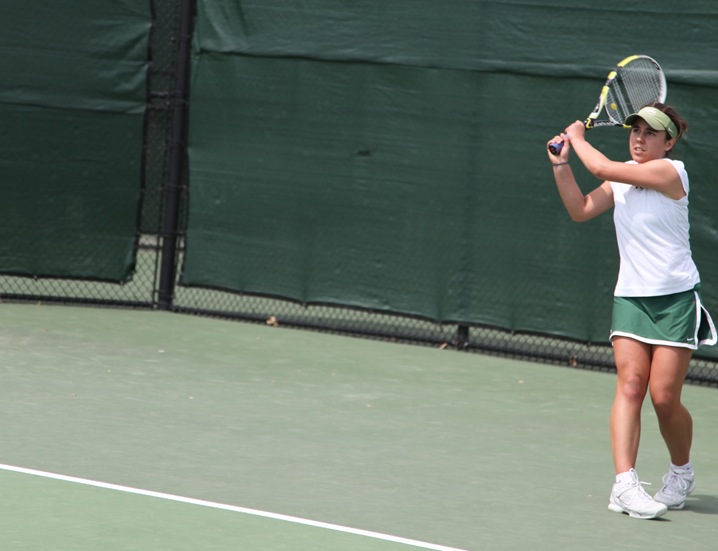 Even a warm, blustery wind could not daunt William and Mary as it closed out its regular season Saturday against Boston University. The Tribe (6-15, 2-2 CAA) recorded a 5-2 victory over the Terriers by claiming three doubles matches and four singles matches to give their seniors a triumphant final outing at Millie West Tennis Facility.
With the win, the College gained some momentum just in time for the upcoming conference tournament and received a confidence boost after a challenging season.
"This team really believes in each other," freshman Maria Belaya said.
The College entered the match reeling from a 6-1 loss to Virginia Commonwealth earlier in the week. Nevertheless, the Tribe jumped out to a quick start with victories by the doubles tandems, sophomores Hope Johnson and Jeltje Loomans and Belaya and junior Anik Cepeda.
The two pairs sent the team roaring out of the gate, as Johnson and Loomans defeated their BU counterparts, 8-0, while Belaya and Cepeda defeated the Terriers' Monika Mical and Sami Leib, 8-3, in the No. 2 spot.
With a 1-0 lead in hand, the College headed to singles play. The Tribe endured a loss in its No. 1 slot when Maria Belaya fell in straight sets to the challenging Vivien Laszloffy.  Belaya captured an early 2-1 lead before dropping five straight games to lose the first set.  The nationally ranked sophomore struggled with her control early in the match, firing her laser forehand out of bounds on multiple points in the first set.  Belaya overcame her initial frustration and challenged Laszloffy on nearly every second set point, as the two players exchanged powerful backhands and soaring volleys through the windy air.
"I was trying to play my game, play aggressive. … In the second I tried to stay more patient and hit higher with her, try to play her game," Belaya said.
Belaya also noted that Laszloffy pushed her out of her comfort zone and challenged her to adjust her playing style.
A highlight of the day belonged to senior Katie Kargl, who earned a dominant 6-1, 6-4 win over Amelia Martinez.  Kargl rebounded from an early doubles defeat to help lead the College to victory.
"It was surreal and bittersweet, but I just had to make sure I was focused on my match," Kargl said.
The Tribe picked up three additional singles victories when Cepeda cruised to a 6-2, 6-2 win over Lieb and junior Nina Vulavic rebounded from a dropped first set to pick up a 4-6, 6-4, 6-3, victory over BU's Jesse Linero.  In addition, Loomans added to her dominant doubles win by posting a stellar second set in a 7-6, 6-1 victory over Mical.
The Tribe grabbed a 5-1 lead late in the day to seal the win before BU's Petra Santini earned a win over Johnson, 6-4, 4-6, 10-6.  The 6-2 win came at a critical point for the Tribe, which will carry its newfound momentum into the upcoming CAA tournament.
"We're just going to go in fighting," Kargl said.