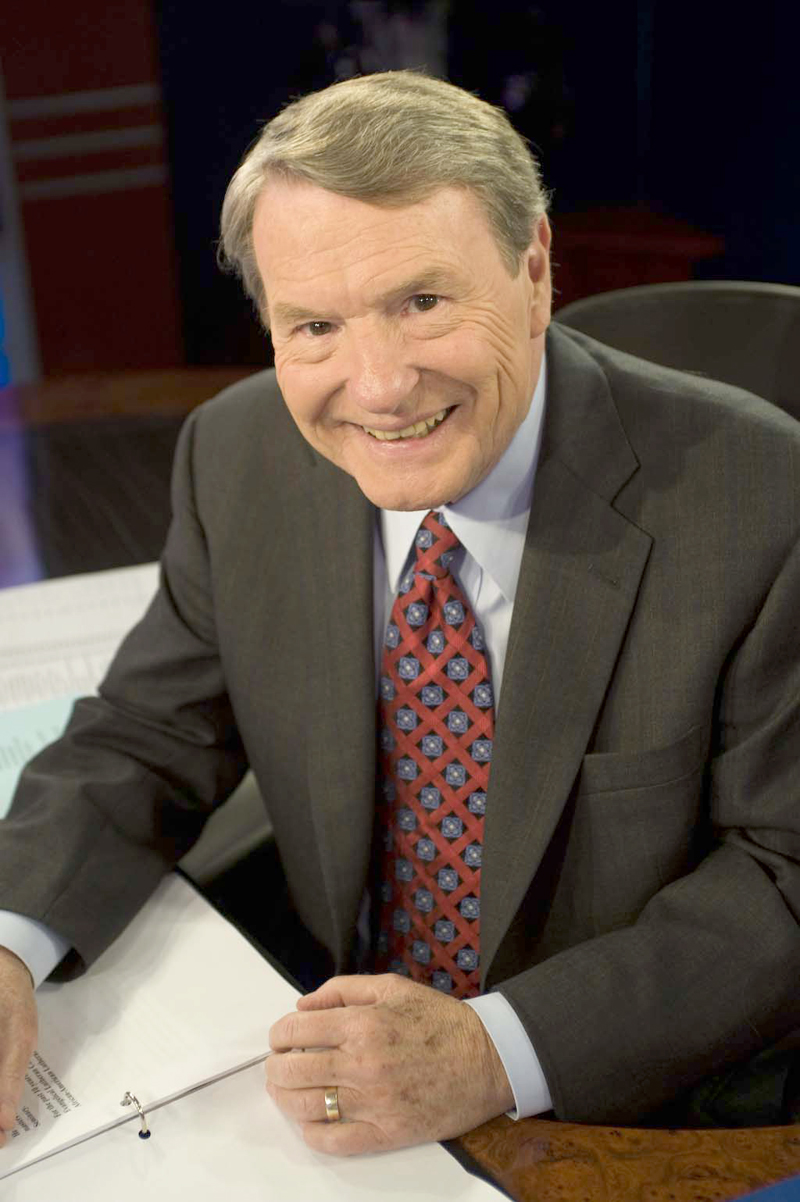 Jim Lehrer's commencement message at the 2012 College of William and Mary graduation ceremony was primarily directed at the students clothed in graduation robes, but family members, faculty and guests were also recipients of advice from one of the most familiar faces in news.
Lehrer began his career as a print journalist in Dallas, Texas. From Dallas, Lehrer joined the Public Broadcasting Service's NewsHour, where he served as the lead news anchor for 36 years.
In his long and distinguished career, Lehrer has received countless awards for his contributions to journalism. And at the graduation ceremony, the College added an honorary degree to that list.
"I know that this honor is not so much for me personally as it is for the kind of journalism I have had the opportunity to practice at PBS," Lehrer said.
Lehrer maintains a strong connection to Williamsburg after serving 12 years as a trustee for the Colonial Williamsburg foundation. He remains a member of the Raleigh Tavern Society.
"I have a long time connection to Williamsburg, and I have always been very fond of the place and the idea of it," Lehrer said.
The message of Lehrer's commencement address boiled down to two commands: risk and serve.  Lehrer recognized his own service through his commitment to journalism over the years.
"I am a big believer in service, serving, in whatever you do, serve something beyond yourself," Lehrer said. "One of the best ways to serve is to stay informed, and I think it is an obligation of everybody."
After years in both print and broadcast journalism, Lehrer is not afraid of the changing tides in the industry with the rise of social media and new technologies.
"The future for all elements of journalism, print included, are terrific because all of the evidence is that people are interested in what's going on," Lehrer said. "The new role of the future journalist is to kind of curate all of this information in a way that is accessible."
Before breaking into broadcast news, Lehrer worked at a newspaper in Dallas as the city editor. His primary goal was to be a writer and Lehrer subscribed to the newspaper industry after taking advice from another writing generation.
"I come from the Hemingway generation, and Hemingway said, 'If you want to be a writer, then go into journalism,'" Lehrer said. "It will keep red on the table, it will force you to deal with the English language in a semi-coherent way on a regular basis, and if you really pay attention, it will give you potential people, characters, and plot lines for fiction."
After working for years in the print industry, he quit to focus solely on writing. He was then offered a job at a local news station in Dallas, and a career in broadcast followed.
"I never made a concrete decision," Lehrer said. "I quit to write full time and then the publication station in Dallas asked me to become a consultant to a news and public affairs program."
Decades later, Lehrer has become the author of over 20 novels and two memoirs combined with 36 years on PBS airwaves. Lehrer recently released "Tension City," a book of his observations of personally moderated presidential debates.
Lehrer described the job of moderator as a person walking down the blade of a very sharp knife.
"Suddenly you can get cut," Lehrer said.
Lehrer listed the principles that have allowed him to practice the kind of journalism he believes the public deserves. His final principle was founded in the constant reminder that journalism is not the entertainment business.
"I'm a gatekeeper, a journalism gatekeeper, someone who goes through the news and decides what to run and for how long to run it," Lehrer said.
Lehrer credited his success from his time working in a Texas bus station to graduating from the University of Missouri School of Journalism, believing an education is only the starting point.
"Learning happens every day," Lehrer said. "All a good education can do is provide you with the possibility of getting on with your life in a way that is satisfying to you."