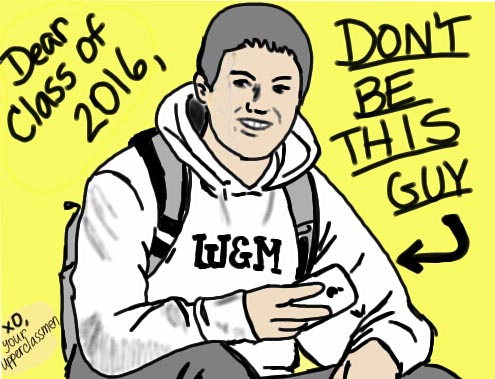 As new freshman at the College of William and Mary, you are being bombarded by advice (especially by this paper); however, there are a few helpful hints and tips that we wish someone had told us when we were in your shoes.
Most importantly, do not panic. If you did not get into the class you wanted, if you did get a roommate whom you cannot stand, if you did miss your first class because you ended up in Blow Hall when you were supposed to be in Morton Hall, stay calm. The faculty and staff, as well as your fellow students, are almost always eager to help resolve any major crisis you are having.
Don't wear your I.D. on a lanyard around your neck; nothing screams "I'm a freshman" quite so loudly as the I.D. necklace. The same goes for the green orientation bags; Unless you're going to the Student Recreation Center, carry a real bookbag — did you seriously think that you would be able to fit your biology textbook in that tiny bag?
Be aware that the bus lines keep irregular hours, and plan to be at the bus stops early. Furthermore, if you need a car, apply to have one. Parking services allows freshman and sophomores to purchase restricted parking passes for a variety of reasons, including transportation to work and student activities. If you do not qualify for parking from the school or only want to bring your car for a couple of months, you can purchase a spot at the Prince George parking garage, which is located right behind Aroma's.
Try to find good deals around the City of Williamsburg. There are numerous stores, including J. Crew, that offer discounts when you show your student I.D. at the cash register. Several of Williamsburg's restaurants, including The Cheese Shop, also have special offers for students — just don't forget to call ahead with your order to The Cheese Shop to avoid waiting in line.
Don't try to do all the required reading for class; learn the art of skimming. Prioritize readings and find the important sections, or else you will find yourself buried under a massive pile of books. Also don't panic if you get a grade that is lower than what you are used to making. All classes at the College are challenging and difficult — sorry to those of you who decided to take Math Power of Flight because you heard it was an "easy A." Don't believe that Rate My Professor is the gospel truth on determining if you should take a class — just because someone thought one professor graded unfairly does not mean that all students had the same experience. Take classes that interest you and don't be afraid of damaging your GPA.
Finally, remember to enjoy your freshman year. You only get one year to make mistakes and brush them off with the excuse: "I was a freshman." Take time to make as many memories as possible, because when you graduate, the nights you spent with friends playing Sporcle until 2 a.m. or the spontaneous midnight trips to Wawa will be the things you remember.