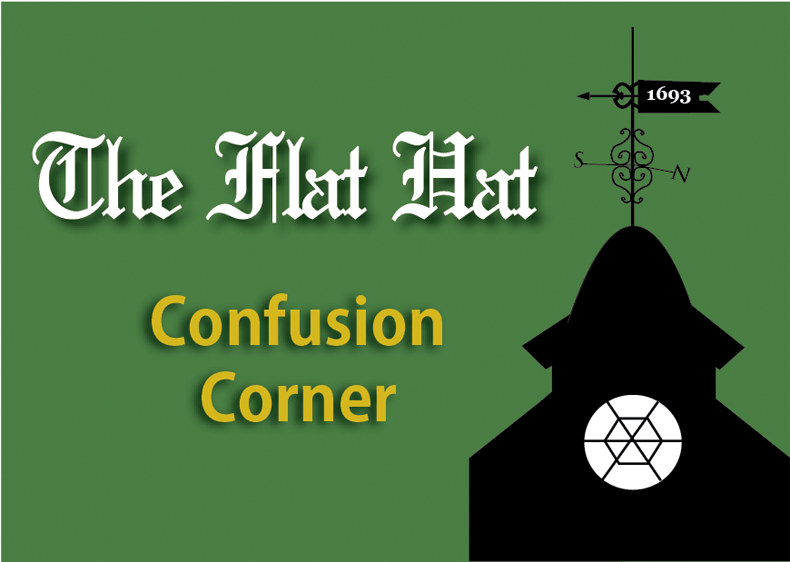 First of all, I am happy to report that this weekend will not be nearly as monsoon-like as last weekend. Regardless, I think our newest freshmen have learned the importance of being equipped with adequate rain gear when living in Williamsburg and have probably been scarred enough to remember that if the forecast is partly cloudy or calls for a slight chance of rain, they should expect absolutely nothing less than a torrential downpour.
To all members of the Tribe — both new and returning — welcome. With a full nine months of late nights, beach trips, concerts, dance parties, free food and colonial tourists ahead of us, I cannot imagine a place I would rather be on this very hot August afternoon. Somewhere in the midst all of that, we might also write some research papers and attend a class or two, but both of those things depend on motivation and an ability to resist the snooze button.
Now that the members of the Class of 2016 have experienced the grueling rite of passage otherwise known as Orientation while the rest of us have prepared for classes only by skimming over the syllabi and hiding our textbooks in the very darkest drawers of our desks, there are a few words of wisdom all of us stand to be reminded of as the fall semester gets underway.
First and foremost, if you are torn between going to class and spending an extra hour in the Sunken Garden, I advise you to make the Tribe choice — sunscreen and extra vitamin D, not attending the introduction of the history of something or other.
Second — and I'm looking at you, Class of 2016 — if you bring your laptop to class and spend the entire time furiously typing away, it is safe to assume either that your professor is brilliant or that the rest of your freshman hall is also trolling Facebook chat. Just take note that the rows of classmates behind you would much rather look at the Facebook pictures from last weekend that you have been stalking than listen to the lecture on 16th-century Asian Art, so please remember to stalk carefully.
Just a friendly reminder: since campus food has certainly improved this year, feel free not to use any of your meal swipes and instead to donate all of your meals to your friends who are seniors — we've been paying for college for almost four years now, and we need the money more than you do. How to spot a hungry senior: we can often be found waiting outside of the Sadler Center entrance during lunch with hungry expressions on our faces.
Last, but not least, as you trickle back to campus and catch up on your summers, you may once again feel like you are surrounded by overly accomplished individuals — people who have spent their summers opening a medical clinic in South America, volunteering at an elementary school in South Africa or researching a cure for Alzheimer's and solutions to the world's most pressing environmental issues. However, despite the few born to save the world, the majority of us have spent our summers earning meager restaurant tips and folding clothes at the nearest retail shop, only to come home and leave no HBO or Netflix series unwatched. So have no fear — for most of us, the laziness was still there.
And so, my dearest Tribe members, go forth and spend the day at the beach, and follow it up with a fantastic nap. Now smile and relax. Take a little time to enjoy the moment. Then smile again, because there is another glorious year ahead of us and not a single minute should be wasted on stress and unhappiness. People always say that these are the best years of our lives, and as William and Mary students, I know we never want to disappoint.
Dasha Godunova is a Confusion Corner columnist and plans to spend the majority of her senior year relaxing on the Sadler Center Terrace and avoiding all thoughts of job hunting and resume workshops.