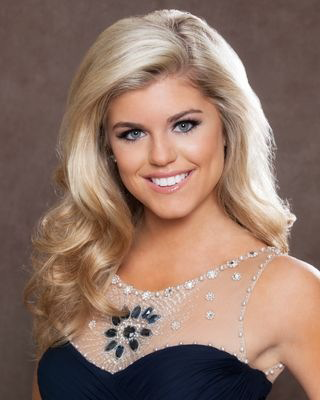 Rosemary Willis '13 has much in common with the typical student at the College of William and Mary. She is highly involved in a variety of campus activities, including the Accidentals, Baptist Collegiate Ministries and Tribe Fellowship. She is also a certified Group Fitness Instructor and Personal Trainer, and she taught Body Pump at the College's Student Recreation Center.
But there is one major difference between Willis and the average College student: After competing in pageants since her freshman year, she was crowned Miss Virginia 2012.
Willis would have graduated with the class of 2013, but she is taking the year off to fulfill her responsibilities as Miss Virginia.
"This is a full time job, and it's sad [to miss my class's senior year], but at the same time it's a once in a lifetime opportunity," Willis said.
For many, the word 'pageant' is synonymous with beauty contest, but the stereotypes surrounding such titles and competitions don't capture all that Willis' year off entails.
"I'm not 5' 10" with long legs and acting as a model — that's not what Miss Virginia Miss America does," Willis said. "Talent is 35 [percent of your score], interview is 25 — so really I'm more of a PR person, someone who can be in a business meeting with intellectuals … and go get dirty playing with kids and teaching them about good decision-making."
While Miss America originated as a beauty contest, it has evolved into something much more well-rounded.
"There's a big difference between Miss America and Miss USA," Willis' boyfriend Ryan Ferrera '13 said. "As Miss Virginia, she's part of Miss America, which is about service, scholarship and leadership."
In fact, the Miss America Organization is the world's largest provider of scholarship assistance for young women. Last year alone, the organization gave over $45 million in cash and scholarship funds. The opportunity for scholarship money initially drew Willis to the pageant world. As Miss Roanoke Valley, Willis received $3,000 and, at the state level, she won $18,000 for school expenses.
"You have girls from medical school to Ph.D. programs — they're very motivated women, and the organization is looking to support them in that and open doors," Ferrera said.
Supporting one's platform is another key focus of Miss America. Willis' platform is "Get Moving Today for a Healthier Tomorrow," an interest shaped in part by her experiences at the College minoring in Kinesiology & Health Sciences and in teaching Body Pump classes.
"She's very enthusiastic and a great voice on campus for fitness [and] caring for your body," Willis' roommate Delaney Janson '13 said.
Her passion for healthy living also developed through service. Willis worked with a local childhood obesity program through Children's Hospital of The King's Daughters in Norfolk, VA. Each week she met with a group of about 10 children and combined health education with fun workouts that encouraged teamwork.
"That really kicked off my platform work because I didn't start competing until freshman year in college, and [by then] this was obvious because this is what I live and this is what I love," Willis said.
Willis continued this commitment to health-oriented service by working with the elderly in Williamsburg as part of a Kinesiology class called "Fitness Leadership and Aging."
In promoting her platform, Willis also strives to act as a role model for healthy living.
"The Rec Center has been really supportive in getting me in shape and in encouraging me to always do it in healthy ways," Willis said. "As a role model, you want to do it the healthy way and never do anything too drastic."
Willis' platform work as Miss Virginia also builds on her career goals.
"This is opening doors for my future career," Willis said. "I want to start a non-profit that focuses on physical education and youth."
Recently she has worked closely with Washington, D.C.'s Healthy Weight Commitment Foundation as a blogger to support the foundation's efforts to reduce obesity and encourage children to be more active. Willis eventually hopes to expand on such programs.
"As much as I am advocating for reducing obesity, I also want to see exercise not as a chore or a means to a skinny body," Willis said. "I've seen it has a role in all aspects of our life — learning teamwork, having a healthy heart and bones, and sleeping well … so I'd love to include that in being connected with a non-profit."
The Miss Virginia title gives Willis a year to raise awareness about her platform issues and focus on scholarship, service and leadership.
"I'm not wrapped up in having [the] best-looking outfit, because it's more about what I have to say," Willis said. "I'd like to change perspectives of people about the pageant to show there are real people out to change the world and using the pageant to get there."