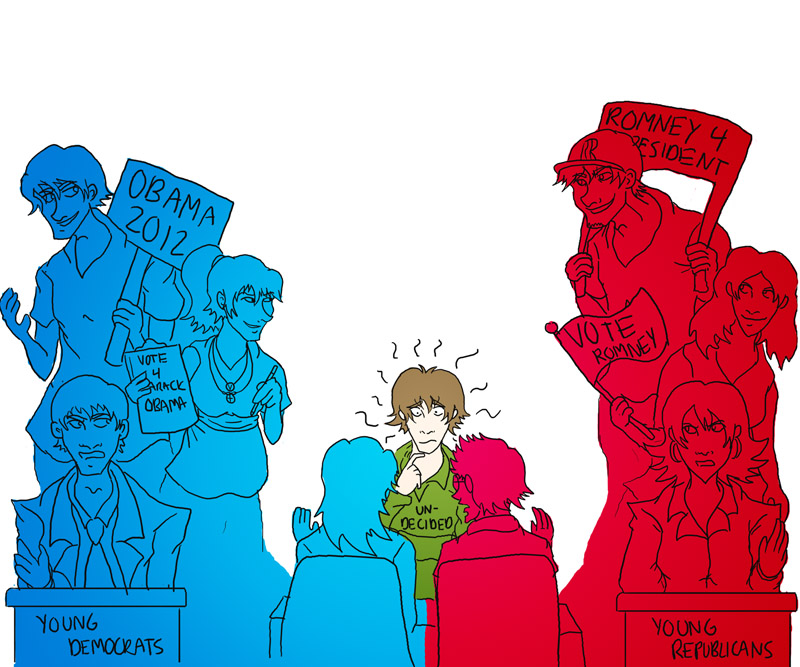 With only 53 days left until the Nov. 6 presidential election, the eyes of the nation are turning to Virginia to see if the new battleground state will change colors as it did in 2008.
President Barack Obama and Governor Mitt Romney have become almost as common a sight as state congressional candidates in the state of Virginia. Romney announced his vice-presidential pick, Wisconsin Rep. Paul Ryan, on a fitting platform — the USS Wisconsin in Norfolk. Not 17 days later, Obama called on young voters from Charlottesville to go to the voting booths as they did four years earlier.
As political campaigns move into high gear in the home stretch of the election, the political battlefield has spread to the College of William and Mary. Traditional College political organizations have joined forces with newer organizations that have developed as a result of the election. College Republicans are joined by the Young Americans for Romney and William and Mary Students for Romney while William and Mary for Obama joins the Young Democrats.
William and Mary College Republicans
The College Republicans have been the conservative voice on campus since 1976. Tyler Johnson '13, the organization's chairman, was excited to see that this election has jumpstarted involvement and education in the political process, most specifically regarding different candidates and ideologies.
Johnson noted that turnout for the club's initial meeting was strong despite common misconceptions about the group.
"Republicans are often wrongly dismissed as a collection of 'rich, white guys,'" Johnson said in an email. "This could not be farther from the truth, especially here at William and Mary. We have a great diversity within our membership, by gender, hometown, economic status, etc. The only aspect we are all similar in is the fact that we support the party of Lincoln and believe in the core principles of conservatism. I challenge anyone who harbors these misconceptions to come to one of our meetings or events so that they can see for themselves the extent of our membership."
The College Republicans have gathered top conservative voices to rally Republican voters in the coming months. Republican Party of Virginia Chairman Pat Mullins has already addressed the group. Congressman Rob Whitman (VA-1), Virginia Senate Majority Leader Tommy Norment, and Virginia Attorney General and 2013 gubernatorial candidate Ken Cuccinelli are some of the future speakers.
Young Americans for Romney/ William and Mary Students for Romney
Romney's campaign message on campus is also being channeled by organizations specifically geared toward the 2012 election. Madelaine Spangler '13, Chairwoman of the Young Americans for Romney, and David Branton '13, Chairman of the William & Mary Students for Romney, hope to show what Romney and the Republicans intend to do for the everyday student.
Spangler and Branton noted that Obama's higher education and economic policies contrasted with the Romney-Ryan economic plan for a stronger middle class.
"Unlike President Obama, Mitt Romney and Paul Ryan will put jobs first so those graduating from college can find a job and achieve the American dream," Spangler and Branton said in an email. "Governor Romney has proposed a number of initiatives to strengthen our education system and lower tuition costs, including strengthening and simplifying the financial aid system, welcoming private sector participation . . . replacing burdensome regulations with innovation and competition."
They stressed that it is easy for students to get involved in any of these organizations. College Republicans and members of each organization for Romney can be found tabling at public meetings, knocking on doors and phone banking.
William and Mary Young Democrats
Zach Woodward '14, president of the Young Democrats, sees the election as a time for the nation to come together and decide which vision they want to follow.
Supporting the incumbent in the presidential election, the group works to canvass for politicians around campus in the fall, but Woodward stressed that the group's and political affiliations are broad.
"Because of the media and stereotypes that surround campus activism, some people may think we're an exclusively liberal club," Woodward said in an email. "I'll say with 100 percent confidence that no one ideology dominates our membership.  We have liberals, moderates, conservatives, and people who don't quite fit into any label.  Like our party, our club is a big tent; all are welcome."
The group has sponsored a campus visit from Adam Cook this past week. Cook is the Democratic candidate running against Rep. Rob Whitman in Virginia's 1st District.
William and Mary for Obama
Another blue organization which has sprouted on campus specifically for the campaign season is William and Mary for Obama, the College arm of Organizing for America.
Organizing for America Fellow Noah Kim '13 emphasized the pertinence of Obama's policies for college students.
"President Obama has consistently supported [students]," Kim said. "President Obama doubled funding to Pell Grants and created the American Opportunity Tax Credit, worth as much as $10,000 over four years of school, making college more affordable to millions of Americans."
Kim also contrasted Obama's policies with Romney's plans.
"Mitt Romney and Paul Ryan's plans to repeal the Affordable Care Act, make deep cuts to Pell Grants and eliminate tax credits for recent college grads in debt, and Romney [is] telling students to 'shop around' for college or just 'borrow money from your parents' rather than working to make higher education more accessible and affordable," Kim said.
Many members of the Young Democrats join Kim and members of William and Mary for Obama for door-to-door campaigning every Saturday. William and Mary for Obama also hosts phone banks every Tuesday.  Kim and fellow members can also be seen conducting voter registration drives every weekday during lunch and dinner hours outside of the dining halls and at 8 p.m. nightly outside of Swem.