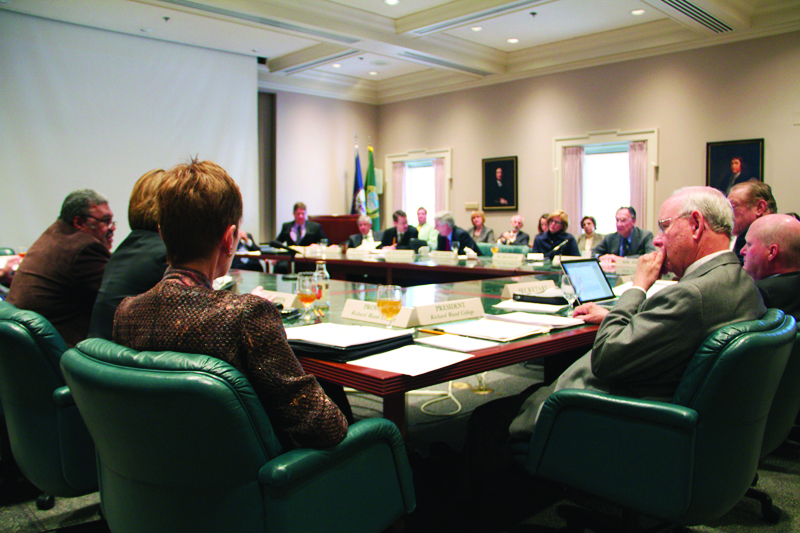 The Committee on Academics discussed its six-year plan concerning faculty compensation and academic innovation at its meeting Thursday.
"We're not going to really become the leader in academic innovation without being able to realize our six-year plan fully," Robert Scott '68, Chair of the Committee Scott, said. "But, conversely, we're not going to be realize the six year plan without continuing to work hard and make difficult judgments about the innovative mission."
The BOV adopted the six-year plan last fall with the aim to make the College the best liberal arts institution in the country by focusing on hiring and retaining excellent faculty. The plan had three components: striving to pay faculty at market rates, rewarding excellence in teaching and research, and academic innovation to find new ways of financing the aims of the College.
"This is a competitive market," Scott said. "If you want to the very best talent, you're going to have to be able to compensate at the rate at which the market demands. We currently do not do that."
Dean of Arts and Sciences Kate Conley pointed out that though the College has been able to retain some its faculty for lower than market rate, the lack of funds would make it difficult for the College to hire top candidates for jobs.
"In each case, they were being offered more than $50,000 dollars than they were being offered with the retention package … and in each case they decided to stay," Conley said. "I feel lucky that William and Mary is such a special place."
Scott pointed out that these steps Conley has taken are only stop-gap measures that are not sustainable over time.
The search for new ways of funding led to the creation of the Creative Adaptation fund last year, which gave $200,000 to professors in the form of seven grants to find creative ways to utilize the College's resources.
Faculty Assembly Vice-President Suzanne Raitt emphasized integrating non-tenure eligible faculty members into the campus community to a greater degree in light of the decision to shift the faculty toward more non-tenure eligible faculty.
"We're all watching that closely to make sure that in doing so we don't dilute some of our mission or start to affect close student-faculty relationships that we like to build and the kinds of research projects that students and faculty do together," Raitt said.