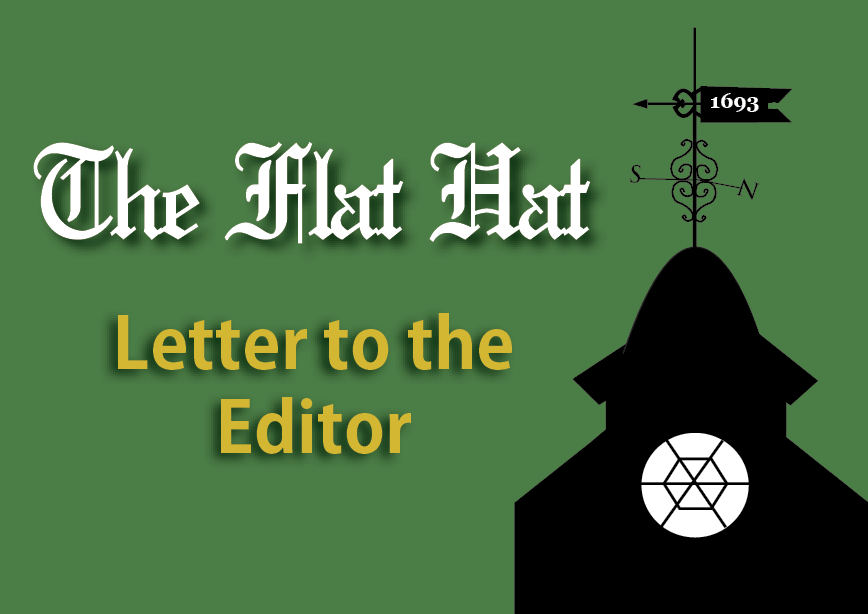 To The Flat Hat Editorial Board:
This letter is a response to the Sept. 20 editorial piece. The opinion that "the SA needs to become more efficient and to stop wasting both time and money," as well as the comment that the SA "needs to … seek student support to put these plans into action" are worthy of review.
The Student Assembly executive has been hard at work this semester to enhance student life. I will name a few examples here. Our Tribe Hosts initiative will pair international students with students from the Virginia area so that the former has a home to stay in over fall break. I have been working with Secretaries of Health and Safety, Public Affairs and Student Life to create a bike-sharing program on campus and in the City of Williamsburg. We have spoken openly with the administration and Williamsburg City Council in defense of student rights regarding the Arrest Disclosure Policy and police crackdowns. I am working with our Undersecretary of Environmental Initiatives to create a video that raises awareness about sustainability on campus. The Health and Safety Department is creating a Mental Health Awareness Week, implementing the condom dispenser program and purchasing wheelchairs to make the College of William and Mary experience more comfortable for those with temporary disabilities. We are organizing the first annual "Meeting of the Minds" that brings together leaders from Mental Health organizations and programs on campus so we can streamline accessibility to mental health services and collaborate more productively. I am meeting with the Busch Gardens event manager next week to install a second Busch Gardens Day during the spring semester. I have talked with Facilities Management about altering the stepping stones outside of the Sadler Center. I am working with Steer Clear to improve the efficacy of their program by creating an app that can be used by all students. We are also revolutionizing I Am W&M week by bringing in higher-caliber programing and incorporating campus organizations. The majority of these initiatives have been spearheaded by the executive and supported by leaders in student organizations including, but not limited to, Health Outreach Peer Educators, South Asian Student Association, Student Environmental Action Coalition, the Office of Diversity, the Wendy and Emory Reves Center for International Studies, Campus Buddies and more. There is also a tab on our website labeled "Get Involved" that allows individual students to voice their opinions, provide ideas and give feedback.
We have been back on campus for less than a month, and the initiatives that Curt Mills '13 and I detailed in our platform are coming to fruition. One of our main goals is pushing students to register to vote, and with the supreme efforts of our Undersecretary for Voter Registration, Zach Woodward '14, we have registered over 500 voters thus far. Furthermore, we are busying ourselves running freshman elections, representing student interests to the Board of Visitors at their first meeting of the year this week, and training the freshly-installed Senate in how to draft bills and be proactive. Instantaneous success in all areas is unrealistic to expect.
The editorial piece speaks of pessimism among students about the SA; however The Flat Hat perpetuates this attitude when it inaccurately portrays the true scope of SA activities and actions. While you criticize the fact that Curt and I hold weekly office hours, perhaps the editorial board would benefit from visiting them so we can head off these lapses in communication in the future.
Sincerely,
Melanie Levine
Student Assembly Vice President