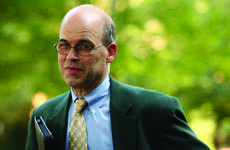 The full College of William and Mary Board of Visitors faced faculty resource issues in a time of increasing applicants during the presentation of the provost report Thursday afternoon.
Provost Michael Halleran, whose office encompasses academic and strategic planning for the College, remarked on the College's rankings in the U.S. News and World Report.
While he noted that the College has remained No. 33 among national universities, he also brought attention to the gap between that ranking and ranking the Provost characterized as "an extremely ugly number": No. 112 in resources.
"There is not a single university in the country that comes close to that kind of gap," Halleran said. "The single best way to improve our rankings is through new resources.… It has an impact on overall institutional resources; it also gets counted in faculty resources. That is where we lag."
English professor Suzanne Raitt, vice president of the Faculty Assembly, focused on the incorporation of technology and digital learning in the College's classes, a process that will be studied by an administrative committee. One of the successful examples Raitt cited is the use of synchronous online classrooms for marine science minors who reside on campus but have to take courses at the Virginia Institute of Marine Science.
"If we move more toward technologically delivered education, we want to make sure that we don't lose the things that we do value here: face-to-face contact, faculty-student research collaborations and so on," Raitt said.
Associate Provost for Enrollment and Dean of Admission Henry Broaddus presented on the College's recent admissions figures. Broaddus noted that there has been a 50 percent increase in applications in the past decade, with consistent increases every year. He also showed that out-of-state student enrollment has driven growth at the College over the past four years.
"From 2008 on — and this is very consistent with demographic projections for high school graduates — Virginia has leveled off and is even in modest decline through about 2014, so where we're seeing most of our growth is coming outside of the commonwealth," Broaddus said.
Broaddus detailed his office's comprehensive five-step "funnel" process to locate and attract prospective students as early as their sophomore  year of high school. Board members asked several questions about the admission office criteria for evaluating applicants, with members particularly interested in learning about the importance of class rank and legacies.