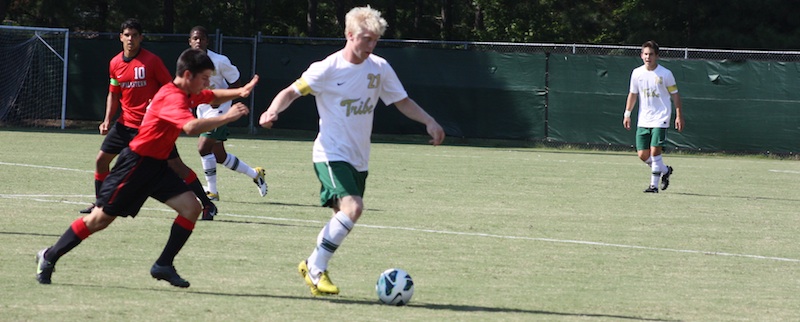 After two home games, William and Mary hit the road again Tuesday night, falling to the hosting High Point Panthers in a 1-0 nail biter. The Tribe (2-5-2, 0-0-1 CAA) found a difficult opponent in the undefeated Panthers, falling behind early and failing to strike back.
"We knew High Point would be a tough opponent. … They have a lot of good players," head coach Chris Norris said. "They're very athletic and very dangerous up front."
The Panthers wasted no time in igniting their offense, scoring in the third minute when Shane Malcolm received a pass from teammate Shawn Sloan and beat sophomore goalkeeper Bennett Jones for a breakaway goal. The score came off a turnover by the College that allowed High Point to grab an early lead that they never relinquished.
The Tribe initially found it difficult to generate scoring opportunities against the Panthers' tough defense, failing to tally a shot in the first half and generally struggling against a healthy dose of pressure defending.
Despite allowing an early goal, the Tribe's defense performed admirably, keeping the Panthers from extending their lead and helping to keep the Tribe within striking distance. Jones also had a good day, logging three first-half saves to ensure the deficit stayed at 1-0 going into halftime.
The second half was more favorable for the Tribe, as the defense held High Point without a shot on goal and the offense finally started generating chances to equalize the contentious match. Overall, the Tribe fired eight shots in the second frame to keep the Panthers on their toes.
One scoring opportunity came just after halftime when the Tribe lined up for a corner kick in the 46th minute. Freshman midfielder Ryan Flesch sent the corner to sophomore midfielder Marcus Luster, whose ensuing shot attempt was deflected away by a defender, preserving High Point's narrow lead.
The Tribe had a second near-goal when junior defender Roshan Patel fired a header off of senior midfielder Ben Anderson's corner kick. Patel's strike was just wide of the goal, however, slipping past the post and falling harmlessly out of bounds.
"After halftime I thought that we competed well, and there were times where I definitely thought we were going to get that first goal," Norris said. "We just didn't have it tonight."
Both teams played tough for all 90 minutes, and the result was a hotly contested defensive struggle. High Point certainly was the more bruising of the two sides, getting charged with 24 fouls, three yellow cards and even a red card in the 79th minute.
The Tribe kept its composure and never stopped battling for an elusive equalizing goal. Ultimately, time ran out for the College as the Panthers locked up their ninth win in as many games and sent the Tribe home with their fifth loss.
Although obviously disappointed with the result, the Tribe remains optimistic as it advances to conference play.
"We're certainly a little bit down, but this is a group that cares a lot about each other … and the lack of success is not for a lack of effort; and the nice thing about … conference play is that it has a chance to be a second season," Norris said.
The Tribe starts its "second season" in earnest, Friday, when it hosts rival Drexel at Albert-Daly Field at 7:00p.m.