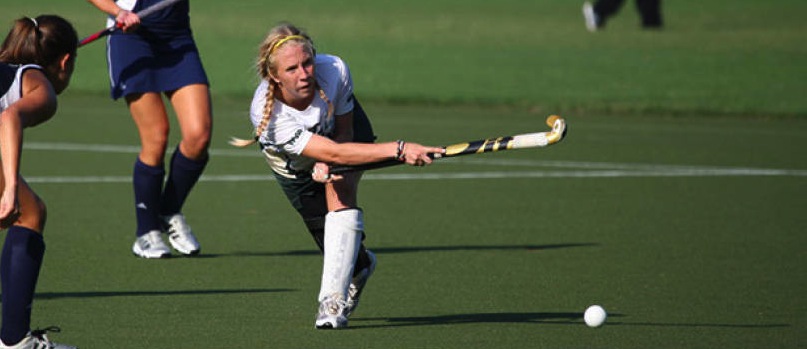 After successfully dispatching Delaware in a lightning-plagued contest Friday night, No. 19 William and Mary traveled up Interstate 64 for a Sunday matinee with in-state rival Richmond. The Spiders (6-4) slipped two goals past the Tribe defense in the first half and hung on for a 2-1 victory in Richmond. The loss drops the College to 9-3 on the season.
With the two teams locked in a defensive battle, points were precious. The Spiders got on the board first. After nearly 27 minutes of scoreless action, Richmond's Rebecca Barry took the ball, knifed through the defense, and passed it along to Taylor Deitrick, who slipped the ball past senior goalkeeper Elizabeth Frey, putting Richmond up 1-0.
Just four minutes later, the Tribe responded. Senior defender Christine Johnson made her way through the Richmond defense, and fired the ball toward the goal. Richmond goalkeeper Anna Zarkoski and the Spiders defense skillfully blocked the ball away, but freshman forward Pip Saunders collected the ball for the Tribe. Saunders launched the ball past Zarkosi and into the back of the net for the College's first score of the day.
With the count even at one goal apiece, play resumed. At the 23 minute, 7 second mark, Richmond struck again. Richmond's Chelsea Davies scored on an unassisted goal, giving Richmond a 2-1 advantage heading into the intermission.
The second half was a defensive struggle in which neither team managed to score. The College had its chances in the final period of play but was unable to capitalize on any of its chances. The Tribe had three shots and five penalty corners but could not convert any of those opportunities.
While the offense struggled to find its way, the defense played well in the second half under adverse circumstances. The Tribe played down a player for 10 minutes, and was without another player for another two-minute span. Regardless, the College kept the Spiders from scoring, and remained within striking distance.
Frey split time at goalkeeper with freshman Meredith Savage who made one save in her first taste of collegiate action.
The Tribe will look to rebound against No. 20 Drexel when the Dragons visit Williamsburg Friday.