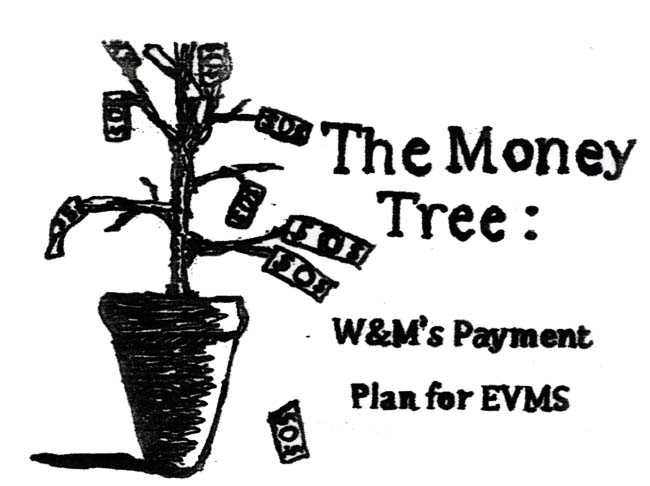 When the College of William and Mary and Eastern Virginia Medical School began discussing a possible merger over the summer, we were intrigued by the long-term benefits of a medical school associated with the College. The College is always looking for ways to improve its education program, and access to this medical school could help the school build a top-notch science program in addition to adding prestige to the College. In an ideal financial situation, we would encourage this type of merger; however, we believe the College currently does not have the money or resources to invest in such a program.
At the College, we hold ourselves to a standard of academic excellence, and we expect this same standard to apply to all graduate programs associated with the College. The 2010 National Institute of Health ranked EVMS No. 124 among medical schools, and U.S. News and World Report ranked EVMS No. 63 in primary care among medical schools. These rankings show that EVMS is not meeting the College's current standards. As such, we cannot see any immediate benefit from merging with EVMS.
The College would likely benefit from the merger after some time if by partnering with EVMS we could build a more highly ranked program; however, that move would require a large investment of time and money — resources the College does not have.
Money is clearly a pressing issue for the College. As we can barely afford to retain our own faculty right now, we cannot afford to spend more money recruiting the faculty that a premier medical school requires. Without this faculty, we cannot hope to mold EVMS into a school that will really benefit us. The College is attempting to use all of its resources to find ways to become more efficient in spending money. A merger with EVMS is not a wise decision for the College at this time; it would simply drain the College of more resources and only exacerbate the problems we already have.
If the state would give the College more money to build on the medical program at EVMS, we would support a decision to proceed with the merger. This kind of financial backing would make the decision seem more secure and less like a gamble with only long-term benefits to recommend it.
EVMS does enroll a number of students from the College every year, but students wishing to pursue a career in medicine go to many different schools depending on what program will best suit their interests. Our current plan with EVMS is working; we are unconvinced that we need to use our resources on what is not broken.
The College is trying to provide high quality education to all its students and still stay afloat during tough financial times. Resources are in high demand. In an effort to make the school most efficient for the time being, we believe the College should pass on a merger with EVMS.