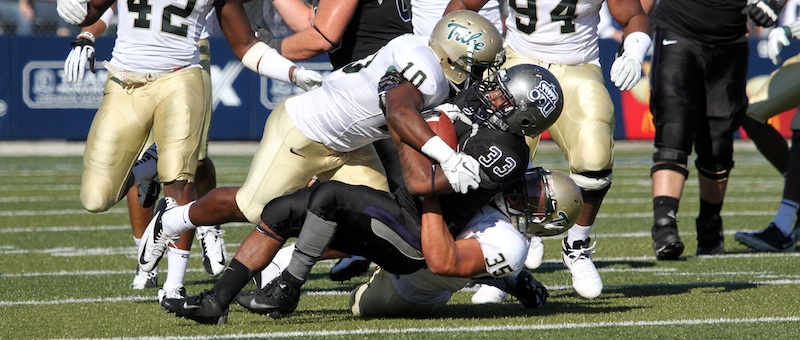 It's funny how much of a difference two years makes.
Two years ago, when William and Mary visited Norfolk for its first-ever meeting with Old Dominion on the gridiron, the Tribe was at the zenith of the Football Championship Subdivision world, and would eventually go on to win a Colonial Athletic Association crown.
The Monarchs, who had just restarted their football program, geared up for the most significant game in program history at that point and were primed to pull off a major upset by downing the Tribe. The College needed a late touchdown to escape Norfolk with a victory.
The scene Saturday at Foreman Field was similar to that of 2010, except that the roles were reversed. The No. 4 Monarchs, primed for a deep playoff run, braced for a tough game with the upset-minded College in the third, and likely, final installment of this short, yet intense, rivalry.
While the Tribe put up a valiant effort, ODU (9-1, 6-1 CAA) and star quarterback Taylor Heinicke prevailed late and avoided a monumental upset, 41-31. The Monarchs, who are moving up to Football Bowl Subdivision football beginning next season, captured the Silver Mace and lead the all-time series, 2-1.
"Obviously, we are disappointed," head coach Jimmye Laycock said. "I thought we came in here with a pretty good plan and played pretty well. I think there were two things that hurt us. One, we were not consistent running the football on offense like we felt like we needed to, and two, defensively, I don't think we tackled nearly as well as we need to against an athletic, quick team like ODU."
For the majority of the contest, the College went toe-to-toe with the top offense in FCS football. Junior quarterback Michael Graham threw for 353 yards, four touchdowns and three interceptions. Graham, the College's third-string quarterback, started in place of injured junior Brent Caprio and sophomore Raphael Ortiz.
Graham burned the Monarch defense with the deep ball, especially in the first half. All four of Graham's passing touchdowns came in the first half, three to sophomore wide receiver Tre McBride for 72, 7 and 4 yards, and one to sophomore wideout Sean Ballard for 51 yards.
"We had a great gameplan coming in and they did exactly what we thought they were going to do in the first half, [but] they changed it up a little bit in the second half," Graham said. "We knew exactly what they were going to do in the first, so we just took it to them."
The Monarchs answered every one of the College's first-half touchdowns with one of their own. ODU took a 27-14 lead with 10:32 remaining in the first half with a Heinecke touchdown pass. The College then reeled off 14 straight points to hold a 28-27 halftime advantage.
The second half was largely void of the offensive fireworks that characterized the first half. Instead, both squads dug in on defense, and points suddenly were at a premium with the College squandering a few second-half opportunities.
On the first possession of the second half, the Tribe drove down into Old Dominion territory, and unable to convert on fourth down, set up for a field goal. Sophomore kicker John Carpenter missed the 38-yard field goal, giving the Monarchs the ball. Carpenter, along with junior Drake Kuhn, have both struggled this season. The Tribe has made just 10 field goals this season on 20 attempts. Carpenter later converted on a 19-yard field goal in the third quarter for the Tribe's final points of the day.
The Tribe missed another late comeback opportunity when Graham was intercepted by ODU's Paul Morant at the Monarchs' 24 yard-line with 4:21 remaining.
"In the second half, we go down there a couple times, we missed one field goal, have to settle for another field goal because we couldn't punch it in … You like to be able to get touchdowns in those situations, and you don't want to turn it over late with interceptions and that kind of hurt us too," Laycock said.
As a result, the Monarchs orchestrated two late touchdown drives to secure the victory. With 13:32 remaining in the fourth quarter, Heinecke found Antonio Vaughn in the corner of the endzone for an 18-yard score. ODU tailback Tyree Lee then sealed the contest with a 16-yard run late in the fourth to make it 31-41.
While the College surrendered 488 yards of total offense to the Monarchs, they were largely made by Heinecke through the air. When it mattered though, the slippery quarterback extended plays with his legs, amassing 43 yards on 11 carries.
"They have a lot of weapons," senior cornerback B.W. Webb said. "Heinecke keeps a lot of plays alive with his feet. When you have a quarterback who can get you in and out of situations and keep his head down the field, that's real big for them."
Laycock, normally not one to comment on opposing players, was impressed with Heinecke.
"They are a good football team, I think Heinecke is a heck of a quarterback who is very difficult to contain. We took away his first, second and third read sometimes and he still kept the play alive. … I thought our guys battled like crazy on defense, we just had a few missed tackles and a few breakdowns in coverages that turned some guys loose."
The Tribe will look to finish its season on a high note by spoiling long-time rival Richmond's playoff chances. The Spiders will visit Zable Stadium Saturday.