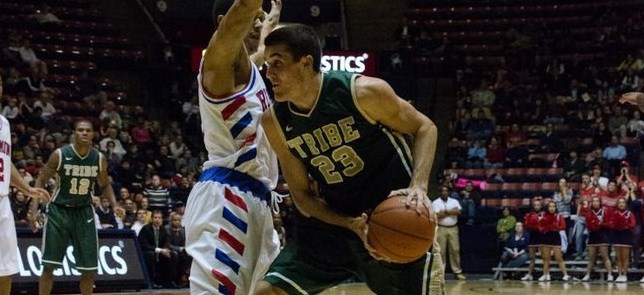 It's coming, but not quite yet.
William and Mary's quest for a signature win against fell short again Saturday as Purdue held off a late Tribe rally for a 73-66 win in West Lafayette, Ind. Purdue freshman center A.J. Hammons and guard Terone Johnson proved too much down the stretch, as the Boilermakers went on a late 8-2 run to seal the victory.
The Tribe (7-4, 1-0 CAA) held a one-point halftime lead and tied the game four times in the second half, but was ultimately unable to pull ahead.
"I thought we gave a championship effort, and we played with great toughness," head coach Tony Shaver said. "Every time Purdue made a little run in the first half or second half, our kids made plays."
The College appeared ready to make one last run late in the second half. With 2 minutes, 37 seconds remaining, Hammons went up for what could have been a thunderous dunk, but misjudged his release, and watched as the ball sailed out of bounds. Hammons' miss came as Purdue held a 66-62 lead, and gave the Tribe one last burst of momentum.
A few seconds later, sophomore guard Marcus Thornton received a pass from junior forward Kyle Gaillard, took half a step, and sank a fading jumper to cut the Purdue lead to just two with 2:21 remaining. In a span of 66 seconds, however, Purdue's Rapheal Davis and Ronnie Johnson both sank a pair of free throws and Jacob Lawson hit a layup to build an eight-point lead seal the Boilermaker victory.
The game resembled the Tribe's losses to other top non-conference teams this season — namely Wake Forest and Richmond — in which the College played well and battled down the stretch but was ultimately unable to secure the victory.
"It's a game that was within reach — I can't say we should have won it — but it was within reach, same thing down at Wake Forest," Shaver said. "I think we are playing at a high level, but maybe our composure isn't quite there yet."
Purdue, a top defensive team, used its size to challenge the College, especially in the second half. The College kept pace with Purdue on the boards in the first half, but the Boilermakers out-muscled the Tribe under the basket in the second period.
"I felt like in the second half, they probably out-rebounded us, and that was the key stat of the game," Shaver said.
The Tribe's offensive output was a tale of two halves, as the squad scored 40 points in the opening period, but managed just 26 second-half points. The Boilermakers, meanwhile, were much steadier, and were able to more consistently score down the stretch in the second half.
Thornton led all scorers with 21 points, while junior center Tim Rusthoven added 16 points and seven rebounds. Junior forward Kyle Gaillard provided another encouraging performance, adding 12 points and five assists.
While College turned in another encouraging performance, Shaver believes that his squad's hard work will eventually pay off in a big game.
"I do feel that if we keep playing with this kind of effort and this kind of passion, good things will happen for our kids," Shaver said.
The Tribe will get one last shot at a Power 6 opponent Wednesday when it closes out its non-conference schedule against Vanderbilt.