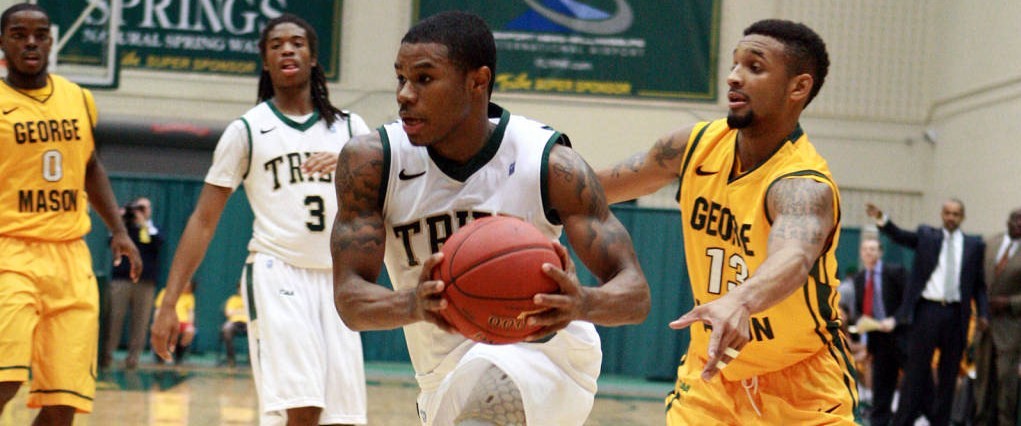 Rallies and runs change games, swinging momentum from team to team and bench to bench. William and Mary experienced the best of worst of runs, as it fell to George Mason 73-66 Saturday at Kaplan Arena.
The Tribe (7-6, 1-1 CAA) used a 14-2 run to enter the half with a 37-33 advantage. The offense pivoted around junior forward Tim Rusthoven, who finished with his first double-double of the season. But the momentum didn't stay long.
The College's slim vanished as the Patriots (8-6, 1-1 CAA) regained the lead in the second half. Guard Sherrod Wright led the way for the George Mason, finishing the night with 28 points. The Patriots shot nearly 60 percent in the second half, punctuating their effort with a 7-0 run in the final three minutes of regulation to seal the victory.
While the Tribe's scoring trio of Rusthoven, sophomore guard Marcus Thornton, and junior guard Brandon Britt all turned in highly productive performances, head coach Tony Shaver looks to the defense to improve.
"We do have to find a way defensively to get key stops down the stretch, and we're just not doing it right now. That's the step this club has to take," Shaver said. "We have to execute better in the last couple of minutes, especially on the defensive end."
While lackluster defense hurt the Tribe down the stretch, the first half was a different story. The College struggled to convert shots and limit turnovers. George Mason capitalized on the Tribe's sloppy play, extending their lead to as many as nine points.
"Tonight, they wanted it more than us in the first half. It took us awhile to get going. It's an area we need to improve on," Rusthoven said of the slow start.
As Rusthoven received more touches, the Tribe offense began to click. The Patriots defense collapsed on Rusthoven, opening lanes for Britt and Thornton.
"Timmy [Rusthoven] has such great hands, he is such an offensive threat that it makes other people better. It creates shots for other people," Shaver said. "Timmy [Rusthoven] is good, he gives you his heart and soul every day. I feel like sometimes we need to get him even more touches of the basketball, because usually something good happens when he gets it."
With George Mason focused on slowing the College's big man, Thornton drilled three three-point shots en route to a 19 point performance. Back-door cuts and open looks seemingly appeared everywhere for the streaking Tribe. The College converted six of nine shots during the run, while George Mason missed all five of their shots. Everything worked, and the 14-2 run gave the College a four point lead at the half.
Then momentum swung yet again. This time, George Mason used a 12-6 run in the first ten minutes of the second half to reestablish its lead. Wright came up with timely shots again and again for the Patriots.
"I said before the game, if [Wright] gets 15 to 18 [points] we can win this game. If he gets 25 or 30, we're in trouble. And he got 28, so we didn't do a good job on him," Shaver said. "He's a big guard that really makes them good. Even when he didn't score late in the game, he was getting the ball to the right people."
George Mason never looked back, and withstood a late Tribe run to seal the victory.
Britt, who finished with 18 points and 3 steals, Rusthoven and Thornton accounted for all but ten points of the College's offensive output. The Tribe's bench contributed only 2 points; the Patriots; bench chipped in 22 points. With no support from either the bench or underperforming starters, Shaver was left scrambling for points.
"I felt earlier in the year we were a very balanced basketball team. Right not, we're not. We're leaning too heavily on three players right now," Shaver said. "We've got some good players not playing well. We have to get some better production from some guys starting right now. And we need better production from the bench. To be a great team, they'll have to play better."
As the College enters the bulk of its Colonial Athletic Association schedule, Shaver knows the College needs to find ways to win close games.
"I think we're good. We're not where we need to be. As I just told our team, and I mean this sincerely, I don't think there's anybody in this league we can't beat, but I don't think there's anybody in this league that can't beat us," Shaver said.
The College hits the road Wednesday as it takes on Towson University at 7:00.
***
INJURY NOTE: Sophomore guard Marcus Thornton hobbled off the court early in the second half. Thornton returned moments later and played the remainder of the game. Shaver doesn't think the injury is serious: "I think he's OK. I wasn't going to ask what's wrong with him. We need him to play. He actually just banged knees; I don't think it's a structural thing or anything like that."