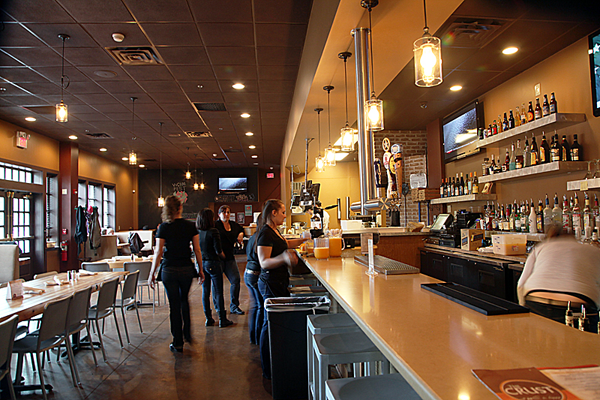 Campus police responded to a report of a shooting in Tribe Square just before 1 a.m. Saturday morning. The notification sent to students and their parents — sent via text over an hour later — angered some community members and raised questions about security protocol in cases where violence and uncertainty commingle.
Aubrielle Gardner '17, who lives in the Delta Sigma Theta house a few hundred feet down the road from the shooting, saw police lights come through her window as she prepared for bed. When she received the notification an hour later, she worried about her housemates.
"I felt like the text came way too late considering that the shooter could have been in fact very close to our house and we would have been in danger had we gone outside," Gardner said in response to written questions.
The first confirmation of the shooting came from The Flat Hat, which posted a message on its Twitter timeline at 1:35 a.m.
Williamsburg Police Department received reports of a shooting at The Crust on Richmond Road tonight at 12:48 a.m., more to follow.

— The Flat Hat (@theflathat) August 27, 2016
At 1:58 a.m., the College of William and Mary's emergency alert system sent a text that said: "From WMPD – Gun Shots fired Tribe Square, NO student injuries. Shooter has fled the area."
Independent campus security consultant S. Daniel Carter said that an hour delay is not unusual, but he agreed with those who preferred that such notifications be sent earlier.
"An hour is probably normal, but I think the question is, under the circumstances, is it something that the community is comfortable with?" Carter said. "If there is potentially a shooter at large, as we learned in the Virginia Tech case, the warning needs to go out sooner rather than later."
Colleges do not need to have conclusive evidence in order to issue a notification, Carter said. He said the original intent of campus-wide notifications was to enable students to take precautions to protect themselves and prevent similar crimes.
According to College spokeswoman Suzanne Seurattan, campus officers who responded alongside the Williamsburg Police Department worked immediately to secure the perimeter and block traffic along Richmond Road, noting that the incident occurred outside the jurisdiction of the William and Mary Police Department.
"Part of that process was the determination very quickly that there was no immediate threat to campus, no immediate danger," Seurattan said. "When they're able to determine that imminent danger does not exist, then it goes to another kind of message, and that's what went out."
Seurattan didn't say what information WMPD had that allowed them to make the determination that there was no imminent threat.
"What I can tell you, is that generally in an incident where William & Mary Police are called for mutual aid they may be provided information by the jurisdictional agency to use for immediate decision making and response," Seurattan said in an email following a phone interview. "In a case like that, WMPD would not be authorized to share that information."
Williamsburg Police Department Major Greg Riley, who was involved in the investigation Saturday morning, said he spoke to campus police at the scene when he arrived, about a half hour after the shooting. The busy atmosphere of the club made any thorough investigation complicated, he said.
"It took quite a bit of time to get anything as far as a coherent story," he said. "We had no information whatsoever, other than we knew that the shooter had left the scene."
Riley said as soon as he arrived on the scene he spoke to an officer from WMPD, who confirmed that the College would be sending out a notification. That notification went out about a half hour later, though Riley said he couldn't say exactly how much time passed.
Riley said the Williamsburg Police Department occasionally advises the College to limit the information it disseminates in emergency situations to maintain the integrity of ongoing investigations. But Riley said that was not the case this time.
Students shared news and concern for each other on social media as reports unfolded — and alarm that they had not received a notification sooner.
"The police took over an hour to send out an alert and I feel like that's an issue," Kenan Perry '19 wrote on Overheard at William and Mary, a popular Facebook page used by students and community members.
College President Taylor Reveley sent an email to students Aug. 28 about the incident.
"William & Mary Police concluded very quickly there was no immediate threat to the campus community," Reveley said.
He added that the Emergency Management Team would be reviewing the College's response to the incident.
Saturday's shooting, in which the bouncer was injured, occurred a week after the College's emergency alert system erroneously alerted students to an active shooter situation on the VIMS campus. William and Mary Police Department Chief Deborah Cheesebro apologized Aug. 22 for the error.