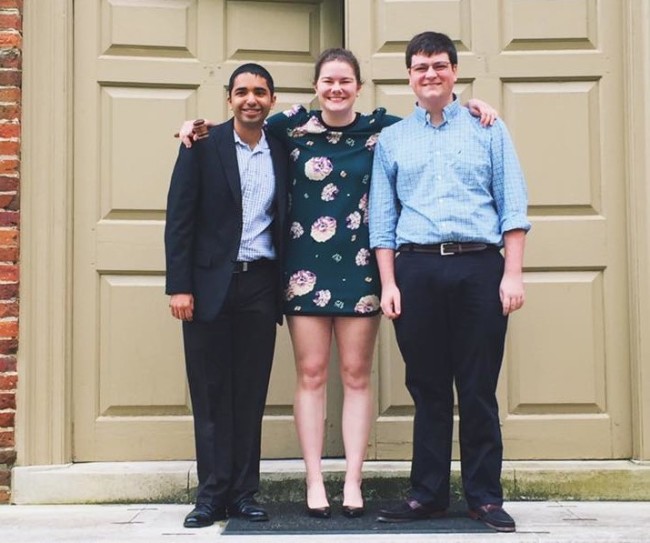 A train ride from New Jersey and a love of political science brought Sahil Mehrotra '17 to the College of William and Mary and a few bites of a curry chicken salad sandwich from Aromas convinced him to stay. Three years later, his love of politics — and a continuing love for that same sandwich — have shaped his involvement at the College and his aspirations for the future.
"I came here, I loved orientation, from day one I was sold," Mehrotra said. "That's kind of it. I came on Day for Admitted Students, but I had already paid my deposit at that point."
Before his first day of classes, Mehrotra had already found a home in the government department. The summer before his freshman year, a post in a Monroe Hall Facebook page inspired him to apply for a position in the Social Networks and Political Psychology Lab, where he's been doing research on political polarization ever since.
He said his love for the government department inspired him to declare a government major, and he added a computer science minor because of an interest in the topic.
"I like to talk to people about how my favorite part of the government department is the faculty, they're really an interesting group of people," Mehrotra said. "I am very much of an Americanist — all of my interests are in U.S. politics … the Americanist faculty are such a wonderful group of people, they're all so funny in the best way, interesting and so unique. I love to just go into Tyler [Hall] and see whose doors are open just to talk to them."
Beyond the faculty, Mehrotra said that some of his most memorable experiences have come from working with the SNaPP lab and taking classes that went beyond the traditional government department curriculum. One of his favorite classes was Race, Rhetoric and Poetry.
"It's probably my favorite class I've taken here just because it's such a unique perspective on issues you don't talk about in other classes, especially in the government department," Mehrotra said. "The rhetorical aspect of it is something you really don't study. There are racial components to other classes — you can't talk about a lot of subjects in the government department without talking about race, but the rhetorical aspect of that course was so cool to experience."
From the basement of Morton Hall to the newly renovated Tyler Hall, Mehrotra said that he valued his time with the government department. This past summer, this passion led him to London, Ireland, France and Berlin to study political polarization.
When he's not traveling internationally to study or hanging out in government professors' offices, Mehrotra can be found in neon-yellow working as an Orientation Aide, assisting the Student Assembly Executive Branch as chief of staff or planning direct action events as  president of the Young Democrats.
Mehrotra, who previously served as the SA undersecretary of voter registration, said that he has really enjoyed getting to participate in something similar to a traditional government.
"I think people know less about the executive side of Student Assembly," Mehrotra said. "It's quite large; it's really great I think. Student Assembly Senate is really important too, and we implement a lot of things that [the legislative side] assigns. "
While Mehrotra said working in SA doesn't compare to his "West Wing" dreams, it still helps him feel like he is giving back to the College.
"As a 'West Wing' fanatic — I'm a huge fan of 'The West Wing' — the whole concept of it really appeals to me. The idea of working in that setting seems like a lot of fun," Mehrotra said. "Admittedly, 'The West Wing' is fiction, Student Assembly in no way compares to the federal government. But I still wanted to see what the role of chief of staff fulfills on a day-to-day basis. I love William and Mary, I really like this school. But I think the sign of really liking it is admitting that it has places to grow. Both during [SA President Eboni Brown '17 and SA Vice President Hannah McKiernan '17's campaign] and after I saw genuine places that William and Mary could have been better. There are still places where we can be better. How can I best improve this place that I really love so much? I think a sign of loving it is that I want to improve it. So that's kind of been my goal, it's a really great way to make a big impact on campus for generations to come."
Mehrotra's involvement in campus politics doesn't end there. This semester, he was elected president of Young Democrats after previously serving as webmaster and then vice president. During his semester as president, he hopes to get more students involved with the Young Democrats.
"There's a lot of energy on campus that is in opposition to what is going on in the federal scale right now," Mehrotra said. "We want to harness that into direct action. This is something I spend a lot of time thinking about, I want to do the most that we can to make our voices heard against what is on the federal agenda right now. I've been thinking about doing events where we encourage people to call their congressmen. It was really awesome that so many students went to the women's marches or really wanted to go. I want to harness that energy into meaningful change."
Mehrotra said that while being at the College hasn't changed his political beliefs, his three years on campus have changed the way he thinks about politics and affirmed that politics were at the center of his life.
"I found this Young Democrats table in Kaplan with 1,000 of my new classmates walking around me and I just wrote down my name," Mehrotra said. "Honestly I needed the push to really start doing things on my own, to start actually canvassing and phone-banking on my own. While I enjoy following updates on Twitter, I wasn't changing any minds by liking a few tweets. It was time to show up and start acting on my beliefs. The one big change is the fact that I really started acting, I started calling, not just having beliefs."
Mehrotra said he tries not to think about graduating in a few months and is enjoying his last months on campus by watching movies in the Tucker Hall theater. He plans on working for a Democratic campaign when he graduates.
He said he hopes to work on one of the 2017 gubernatorial campaigns, either in New Jersey or in Virginia. A few years down the road, he said he'd like to transition into an administrative role in someone's office.
"My goal is to work in Democratic politics, hopefully soon," Mehrotra said. "I think I've enjoyed the kinds of experiences I've had in SA, which has been working with people to get bills passed. I really want to work in the office of someone I really believe in."