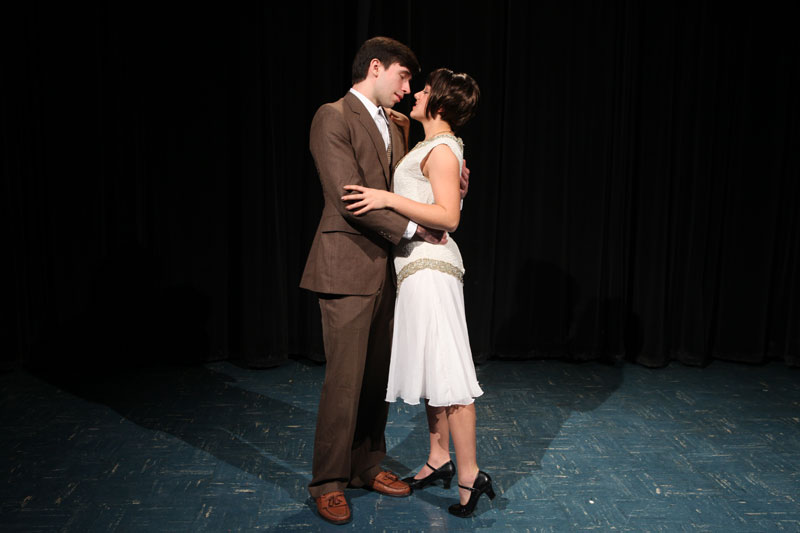 There's really only one occasion on which the words "white slavery" shouted in a large room full of people can send the audience into laughter. Here's a hint: it's not the Board of Visitors meeting. Still stuck? It's the Sinfonicron Light Opera Company's presentation of "Thoroughly Modern Millie," where raucous laughter abounded last weekend.
For those who are unfamiliar with the musical, "Thoroughly Modern Millie" is a farce set in 1922 New York City. It tells the story of Millie Dillmount, a naive country girl who moves to the city expecting glamour and instant success, only to be met with rampant crime and danger. Throughout the play, she encounters robbery, illicit speakeasies — oh yeah, and human trafficking. Meanwhile, Millie just wants what every modern girl wants — to become a stenographer and marry her boss.
I can usually tell within the first minute of a play if I am going to enjoy it or if I am going to spend the next two-and-a-half hours trying to pull the fire alarm with my mind. Understandably, this puts a lot of pressure on the opening number to be fantastic — and "Millie" did not disappoint. From the minute she steps onstage, Addie Schafer '13 brings a tangible energy to the song "Not for the Life of Me" that only increases as the show progresses. Schafer makes Millie's sassiness and naivete not just likeable, but downright adorable.
It would be easy to fade into the background next to Schafer, but each supporting actor holds his or her own. Andreas Moffett '15 shines as Jimmy Smith in the second act song "I Turned the Corner," while Celeste Hall '14 makes Dorothy Brown, a wealthy aspiring actress trying to learn "How the Other Half Lives," irresistibly ditzy. Meanwhile, Alexander Blaha '13 first charms the audience as Millie's boss, the hilariously unlikeable Trevor Graydon III, in "The Speed Test," and only continues to impress.
There are points, however, where the less prominently featured cast members find themselves in the spotlight. In "The NuttyCracker Suite," a scene that takes place in a speakeasy, all eyes are on Megan Tatum '15, whose unbelievable dancing as the Pearl Lady makes the scene memorable. Later, after everyone in the club is arrested (this is during Prohibition, after all), it is a little bit difficult to concentrate on Millie and Jimmy's conversation when everyone is laughing at the ridiculous poses the others are striking for their mug shots. What really brings down the house, however, are the scenes between brothers Bun Foo (Dylan Echter '12) and Ching Ho (Emerson Sieverts '15), spoken entirely in Mandarin but keenly narrated by Nathan Alston's '13 supertitles.
Despite impressive performances all around, it is clear who the true star is; Rebekah Rochte '12 steals the show as Mrs. Meers, eccentric hotel owner by day and villainous washed-up-actress-turned-human-trafficker by night. What makes Rochte stand out is her ability to juggle these personalities using masterful physical comedy. Everyone, including the audience, is initially fooled by Mrs. Meers's high voice, her heavily accented, broken English, her unassuming posture and her tiny, tiny steps. However, once she is alone, a deep, drawling, and distinctly American voice is exposed, as creeping, lunging strides replace her alter-ego's little shuffles. Rochte's growing dominance is at last firmly established in her solo, "They Don't Know," where she abandons her Oriental-style robe for something more representative of her inner diva — a glittering gown.
It is clear that the all-star cast is the focus of this performance. The set is relatively basic; the second level to the set is its most interesting feature. Costumes and props adequately reflect the time period without standing out as particularly remarkable. The choreography, though, is worth noting – while throwing in a little Charleston here and there could probably have sufficed, choreographer Jessica Kyle '12 goes above and beyond in creating period-style dances that show off the cast's talent, doing justice to the famous steno pool tap number in "Forget About the Boy." While you can never avoid that one person who suddenly realizes he or she is on the wrong foot and stands there with that deer-in-headlights facial expression, the dancing is overall very good.
The only part of "Millie" that fails to impress is the sound. Unlike in "Cabaret," many actors actually wear microphones. However, these microphones only turn on during musical numbers. This does help to project the actors' voices over the orchestra, but unfortunately does nothing for the dialogue, which is often difficult to hear (though this is no fault of the actors, whose voices project as well as could be expected).
Taken as a whole, "Thoroughly Modern Millie" is a show about going to any lengths to make your dreams come true — whether your dream is to marry your boss, become an actress, or bring your mother to America from Hong Kong. And the moral of the story? "So ya see, snookums? You can marry the boss, after all."