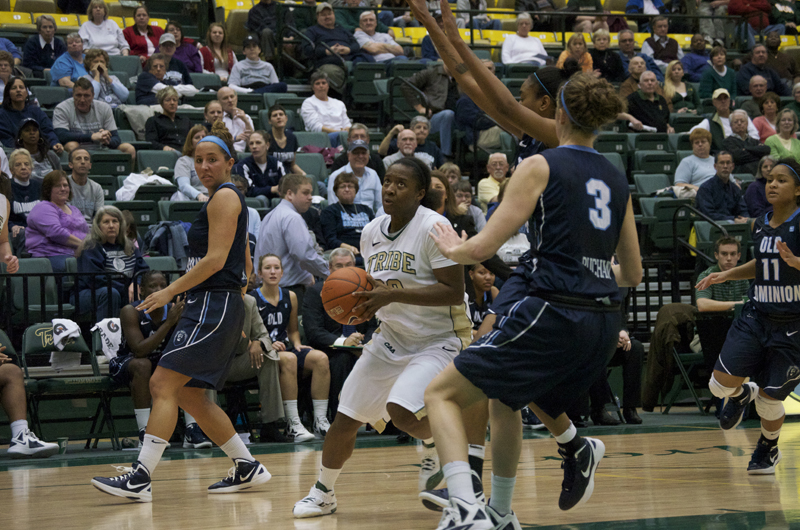 Storylines abound as Old Dominion visited Williamsburg to take on the Tribe Thursday.
The second-longest Division I winning streak over a single opponent was on the line, as the Monarchs's 52-game streak against the College was only slightly shorter than Stanford's 53-game streak over Washington State.
On top of that, the College entered in the midst of a five-game losing streak and a 1-6 conference record.
With the Tribe up 82-80, senior guard Katherine DeHenzel stepped to the free throw line with 10 seconds to go and a chance to change it all. She hit one, and the College came away with an 83-80 win.
"Just gotta make one. Just gotta make one. [Head coach Debbie Taylor] does a great job of putting us in pressure situations in practice, so really it was just another free throw," DeHenzel — who shot 2 for 4 from the free throw line and finished with five points — said.
For the first time since 1975, the Tribe (9-10, 2-6 CAA) bested the Monarchs (6-14, 3-5 CAA). And for the first time in about a month, head coach Debbie Taylor's squad pulled out a win in a close game.
"We had a big meeting yesterday and kind oftalked about what it takes to be successful in this league and 35 minutes doesn't do it," Taylor said, "and to get a close win, especially against Old Dominion was something to propel us forward. I think we know we're capable but to actually finish a close game, come from behind and get the win tonight is really essential as we go forward from here."
A back-and-forth first half that featured six ties and nine lead changes finished with neither team holding a decisive lead as ODU took a 34-32 lead into the locker room. See the full box score here.
The Tribe had plenty of chances to get on top in the first, but 12 turnovers over the first 20 minutes plagued the College's offense. Like in the Tribe's 10-point los to JMU just four days prior, the College stumbled in the face of high defensive pressure as ODU head coach Karen Barefoot employed a high-court press.
Junior center Emily Correal led the way for the Tribe in the first, scoring nine points. Junior guard Janine Aldridge's two three-pointers and two assists in the opening period were also key.
"I think I did a better job of sealing out the girl in the second half. My first two shots were not very good shots of the game, I just forced it up — should have kicked it out," Correal, who finished with 18 points and eight rebounds, said. "I just really wanted a win so bad that I went harder, a lot harder."
The big difference in the second half: senior guard Taysha Pye. After a 1 of 7 shooting performance in the first, Pye exploded to finish the game with 23 points, six rebounds and five steals.
"I started finishing," Pye said. "I took quite a bit of shots in the first half and they were pretty similar shots and they just weren't falling. I just attacked more and got lucky I guess."
With the clock ticking to below nine minutes, the Tribe went on an 11-0 run sparked by physicaloffensive play from Pye.
"I was just playing, I think we were all just playing hard and that's just the end result of it. Getting fouled, finishing the foul shot and just getting good looks at the basket. So it's just us all trying to work hard and attack the basket," she said.
Regardless of it being an uncharacteristically bad season for the Monarchs, getting a 36-year-old monkey off its back has been one of the highlights of the 2011-2012 campaign for the Tribe.
"We were definitely all aware of the streak," DeHenzel said. "I remember being recruited here and I came to the ODU game and it was like a two point game and I remember the look on Coach Taylor's face after that game, and since I've been here we haven't been able to pull it out. I know how important it was to her and I think the win tonight was for her."
The College will continue conference play when it heads up to Boston to take on Northeastern Sunday.