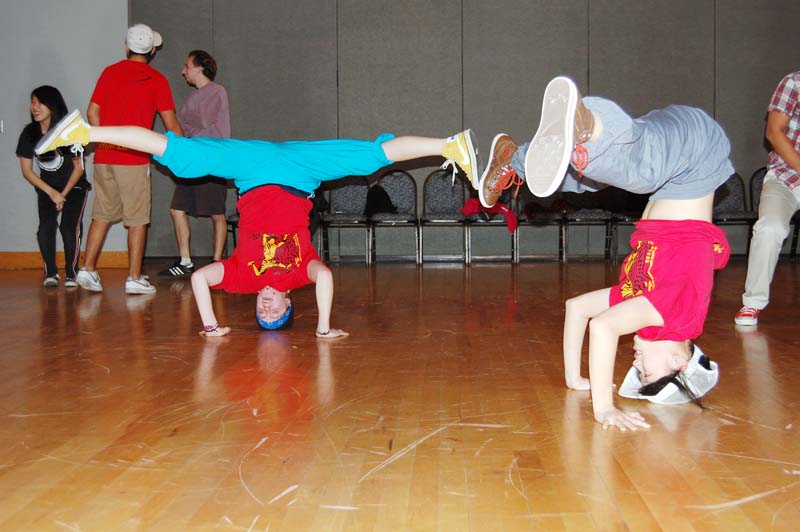 William and Mary's B-boy team, S.M.I.L.E.S. Crew, is a student organization made up of a diverse group of TWAMPs who practice and cultivate their breakdancing skills. The S.M.I.L.E.S. Crew, which stands for Styles Mastery Instantly Leaves Everyone Speechless, began sharing its passion for dance and hip-hop culture on campus just five years ago.
Each member of the crew has a nickname that mimics his or her particular style of dance or personality, but they're all B-boys, regardless of gender. These superhero alter-egos, like "Chowdah," "Shuffle" and "Bones," come alive in their breakdance. Surprisingly, most members of the S.M.I.L.E.S. crew have had little to no experience in dancing before they joined.
"The [crew members] encourage you and, despite being an individual activity, you get a lot of energy and advice from the group," crewmember Tigist "Tigger" Tamir '12 said.
Tamir has been on the team for three years and explained that when she started she was a bit intimidated by the challenging choreography.
The B-boy era began in the early '70s in New York and has blossomed into a worldwide movement, which extends into Williamsburg. Soulful beats, colorful dance moves and a heavy sense of swag define B-boy culture everywhere.
"[The founders] wanted the campus to enjoy the group's choreography, come out to learn how to break-dance, and share in the awesomeness that is B-boy," crew captain Alice "Malice" Yeh '12 said.
Although the founding members graduated last year, the family-like atmosphere that is shared among the crew has cemented their legacy. S.M.I.L.E.S. is a relatively new organization but the passion of its members speaks to its staying power.
Innovative steps and rhythmic music are a part of the B-boy culture, as is the confidence that comes with the refinement of practice and the motivation of fellow teammates. Yeh, who only began dancing her sophomore year, says that talent can be developed.
"All you have to have is a willingness to learn," she said.
As an accounting major, Yeh sees B-boy as a creative outlet from the restrictions of her studies.
"Dancing is a way to let out stress; once you connect to the music it's the best," she said.
Stephen "Shuffle" Arquieta '14, a kinesiology major, views the team as an outlet for creative energy as well.
"When I dance, it's a chance for me to express myself along with the music," he said.
Majors, hometowns, and other extracurricular activities vary widely among individual S.M.I.L.E.S. crew members. The diversity of interests and majors within the crew speaks to the universality of B-boy culture. All different styles of dance are welcome, as well.
"I actually was trained in ballet, but I like learning this new style of dance," Jay Cho '14, who has yet to get a crew moniker, said.
Newcomers are welcome and educated on the basics: top-rock, floor work/six-step and freezes. The club trains its members in perfecting professional B-boy skills and encourages novices to learn some of the more challenging moves at their own pace. The members of the crew have a flair for footwork and for floor-work, which emphasizes style, as well as a talent for "power" techniques that involve a bit of athleticism. Tom "Chestnut" Chester '14 believes that the dancing is a chance "[to do] your own personal thing."
Right now the B-boy club is trying to increase its visibility on campus and to encourage new membership. The club will perform its spring hip-hop show titled Origins, in which S.M.I.L.E.S. crew will be showcasing its skills as well as those of professional hip-hop crews from all over America. Another event the campus can look forward to is Tribal Breaks, the College's annual jam sponsored by the B-boy club.